Ryan Reynolds plays the movie's namesake, Guy, a non-player character (NPC) in the new movie Free Guy. In it, Guy begins to realize he wants to be more than just an NPC after meeting a beautiful player, Molotov Girl (Jodie Comer.)
Outside the game, Molotov Girl's controller, Millie, seeks out answers after she suspects her code has been stolen to create the Free City game.
She and Keys (Joe Keery) created their game before selling the idea of it to the egotistical Antwan (Taika Waititi) but she suspects there is something fishy going on inside Free City, which will show Antwan has stolen more than they agreed.
As the story progresses, some incredible cameos and Easter eggs appear, meaning there is much for video game, comic book and pop culture nerds to enjoy.
Every Easter Egg in Free Guy Explained
(Ahead are some spoilers for Free Guy)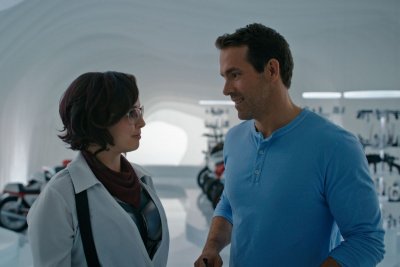 Speaking recently to Screen Rant, director Shawn Levy said he and Reynolds asked for permission for some of Disney's recent acquisitions to turn up in Free Guy.
Surprisingly, the production behemoth obliged, meaning there are a number of fun moments to pick-up on.
Levy said: "The movie got greenlit when 20 Century Fox was a standalone studio. While we were in pre-production, Disney basically swallowed Fox.
"As Ryan and I started making the movie, it occurred to us, "Well, wait a second. Now that we're owned by that big behemoth conglomerate, they've got all these other cool things in their vault. Maybe they'll let us play with some of those toys."
"We didn't know whether we get a yes or no, but we knew we would regret not asking. So, we made certain special requests of the powers that be at Disney to play with some of those tools; some of those toys.
"And to our astonishment, they said yes to every request. So, the movie is filled with some pretty great surprises."
One character which does not appear (disappointingly for fans) is Deadpool, despite a recent spoof reaction video being release that shows Deadpool and Korg (Taika Waititi's MCU character) watching parts of the movie.
Reynolds told Cinemablend: "No, I mean, for me, the thing that I love most about Free Guy is that we're doing something that I think is very increasingly rare, and very hard to do in this current marketplace. Which is open a big blockbuster movie that's based on nothing but an original idea.
"I mean, it really isn't an IP, it's not a sequel, it's not based on a comic book, it's not based on anything. It's based on a concept and an idea that people are familiar with, which is the video game world. I love that we had that opportunity, so no, I never really felt like I needed to put Deadpool in. He wouldn't really fit in there.
"We do have some massive surprises in the movie that are courtesy of getting to work at Disney. But yeah no, I never thought of putting Deadpool in there."
While we know what is not there, what is there are two major Easter eggs which catch your attention straight away.
They come when Guy is fighting another character, Dude, who has the body of actor Aaron Reed and the face of Reynolds.
He is not fully programmed, meaning he gets confused easily, so Guy has to be quick off the mark to fight.
Having earned a huge number of points by being kind and friendly, he quickly grabs a shield from his arsenal to protect himself against Dude.
It is not just any shield however, but that of Captain America, at which point Avengers music blasts out of the cinema speakers.
The camera then moves to another Free City fan who is watching the livestream: Captain America himself, Chris Evans.
After this, Guy uses a Hulk hand to punch Dude away, which is successful but only for a short moment.
He must use another weapon to beat Dude again, this time opting for another franchise favorite: a lightsaber.
At this, Star Wars music also comes blaring from speakers, as he fights valiantly against Dude.
In the end, he distracts Dude with his glasses while he continues on his mission to save the day, with the livestream meaning all the players in the real world can see his work.
Alongside the Easter eggs are also some pretty epic cameos, though these are even harder to spot.
Free Guy is in movie theaters now.