French Bulldogs Are Among the Most Popular Breeds to Dognap
If you happen to own one of the most popular dog breeds, you may also be at risk of having one of the dog breeds that get stolen the most often. Among them are French bulldogs, which happens to be the breed that two of Lady Gaga's stolen dogs are.
According to the American Kennel Club via Reader's Digest, French bulldogs, Siberian huskies, poodles, Labrador retrievers, Shih Tzus, Malteses, German shepherds, Chihuahuas, Yorkshire terriers and bulldogs are the dog breeds that get stolen most often in the United States.
"The most stolen breeds tend to correspond with the most popular breeds in the country at the time. Thieves also steal easily to carry dogs, which is why there are a lot of toy breeds on the list," vice president of American Kennel Club Brandi Hunter said, via Reader's Digest.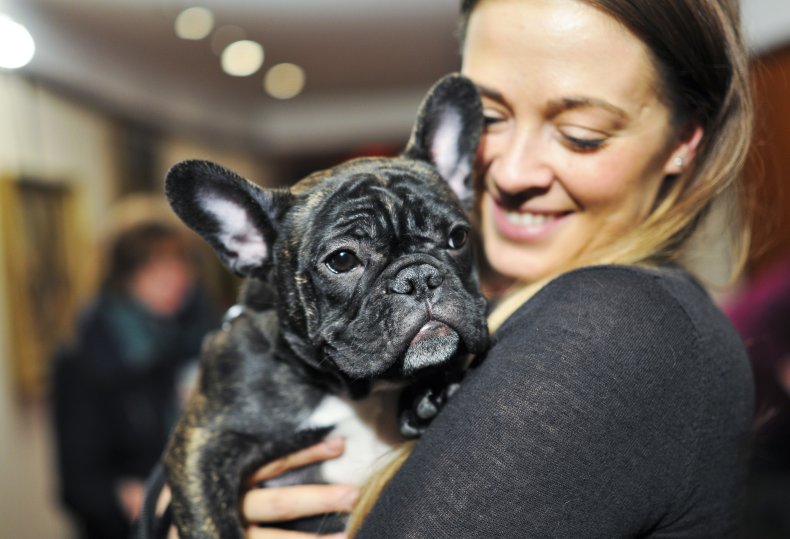 French bulldogs also are among the most in-demand breeds for dog thieves in the U.K., charity Dog List reported to outlet Tyla. Cocker spaniels, English Springer spaniels, Jack Russell terriers, and Staffordshire bull terriers are also among the most sought-after breeds. In 2020, there were 465 dog thefts reported to Dog List, up more than 200 percent from the year prior when there were 172 reported dog thefts.
French bulldogs are beloved for their portable and compact size, Reader's Digest notes, and are super popular in Chicago and New York City. They also don't bark as much as other dogs, making them ideal pets for folks living in apartment buildings. However, when they do start barking, it could mean something isn't right. Unfortunately, their size also makes them easy to dognap.
Tara Bruno, founder of the Short Noses Only Rescue Team (SNORT), told People that the main motive for stealing French bulldogs is for their resale. "Thieves know they can get a couple thousand dollars for them," she said.
On Wednesday evening in Hollywood, Lady Gaga's dog walker was shot in the chest while taking her four-legged friends for an evening walk. He was critically wounded and taken to a hospital. Two of her French bulldogs, Gustav and Koji, were stolen by the gunman. Her third Frenchie, Miss Asia was recovered by the police.
As of publishing time, there are no known leads to the dognapping case. Gaga, who is currently in Italy, is offering a $500,000 reward for the return of her pups, and tips can be sent to KojiandGustav@gmail.com. The pop star also noted that no questions will be asked upon the return of her beloved dogs.