The Real Life People Brought Back to Life by 'The French Dispatch'
Wes Anderson's new film, The French Dispatch, is his loving tribute to journalism generally and the history of the New Yorker specifically.
The movie is an anthology film of sorts, which has four journalists (played by Anderson's usual cast of A-list stars) introducing their best stories. This allows Anderson to pay tribute to some of his favorite writers from across the magazine's 100-year history.
Among these figures are some of the magazine's founding editors, a controversial art dealer, and one of America's most famous writers, and everything is given the usual Anderson twist.
Here are the stories behind the characters in the movie played by Bill Murray, Tilda Swinton, Frances McDormand and others.
The True Stories Behind The French Dispatch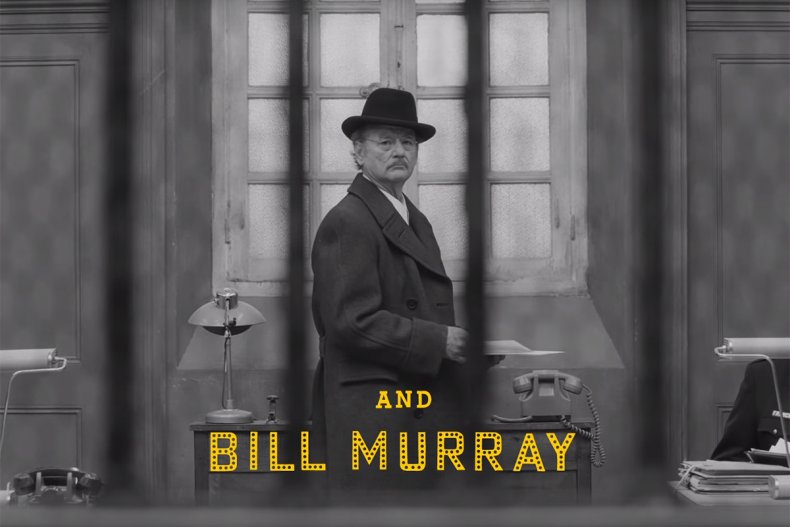 Arthur Howitzer Jr. (played by Bill Murray)
In an interview with The New Yorker, Anderson said that the blunt, but protective editor in his movie is based on the first two editors of The New Yorker, Harold Ross and William Shawn.
"Bill Murray's character has a bit of the surface of Ross," the director said, "and more of the feeling of Shawn, which is really that he's so deeply protective of these writers."
Per the article, Ross was famous in the magazine for his witty memos about the shortcomings of his writers' pieces, while Shawn was more subtle in his criticism.
In another New Yorker piece, Anderson went into more detail about the real people who inspired him. "They [Ross and Shawn] don't really go together particularly.
"Ross had a great feeling for writers. It isn't exactly respect. He values them, but he also thinks they're lunatic children who have to be sort of manipulated or coddled, whereas Shawn seems to have been the most gentle, respectful, encouraging master you could ever wish to have. We tried to mix in some of that."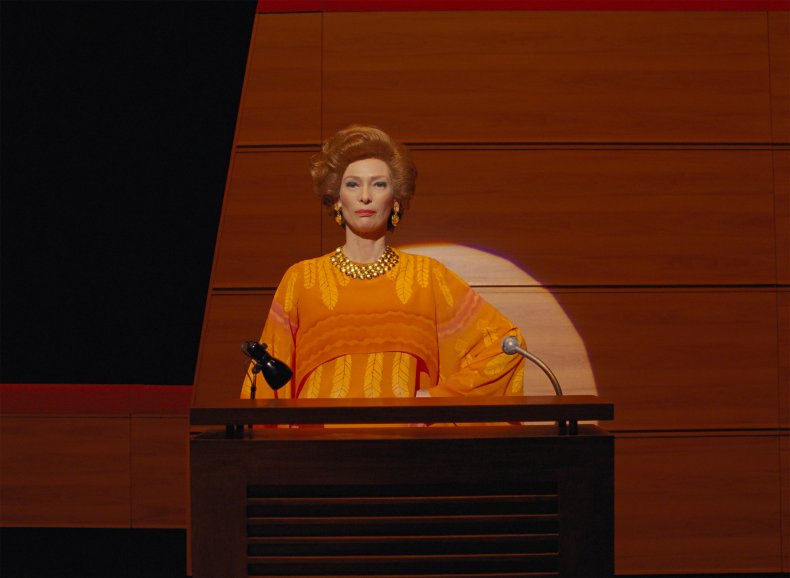 J.K.L. Berenson (played by Tilda Swinton)
In a Sight and Sound interview, Tilda Swinton revealed that she had based the character on Rosamund Bernier, who the actor said she could copy with "ham-fisted mimicry." Described by Swinton as an "art groupie," she was friends with artists like Pablo Picasso and Henri Matisse before becoming a famed lecturer on art at America's major museums. She was also the creator of her own art magazine, L'Oeil (The Eye).
Per Anderson in the same feature, the idea to have Swinton play a character based on the lecturer had been percolating for a while. He said: "When I saw a clip of one of her lectures on the New York Times website, I thought, 'Tilda should play this character some time.' That has to be at least five years ago."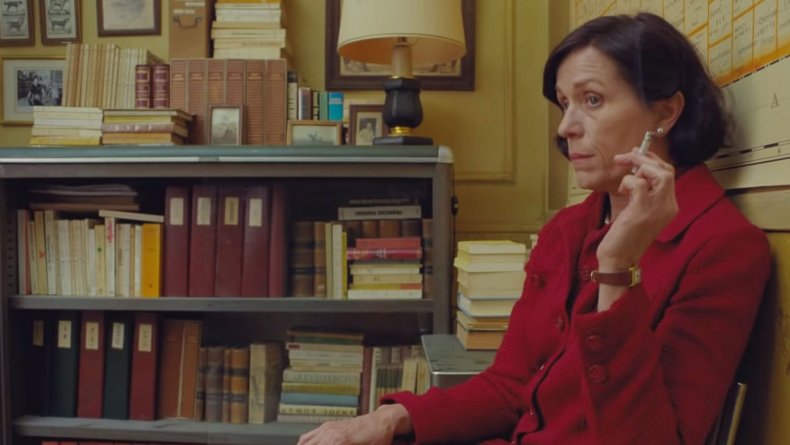 Lucinda Krementz (played by Frances McDormand)
In The French Dispatch, Krementz presents a story about the Parisian student protests of 1968. This was inspired by an actual New Yorker article by a Canadian writer called Mavis Gallant, who wrote 116 stories for the New Yorker.
Per Anderson speaking to the New Yorker: "Lillian Ross also gets mixed into that character, too—and, I think, a bit of Frances herself. I once heard her say to a very snooty French waiter, 'Kindly leave me my dignity.'"
Lillian Ross is something of a New Yorker legend, who worked at the magazine from 1945 until her death in 2017 and is known as a pioneer of what is called "literary journalism." Anderson also has a personal connection to Ross – he is the caretaker of her New Yorker collection.
As for the name, Krementz was the surname of New Yorker photographer Jill Krementz, the widow of Kurt Vonnegut.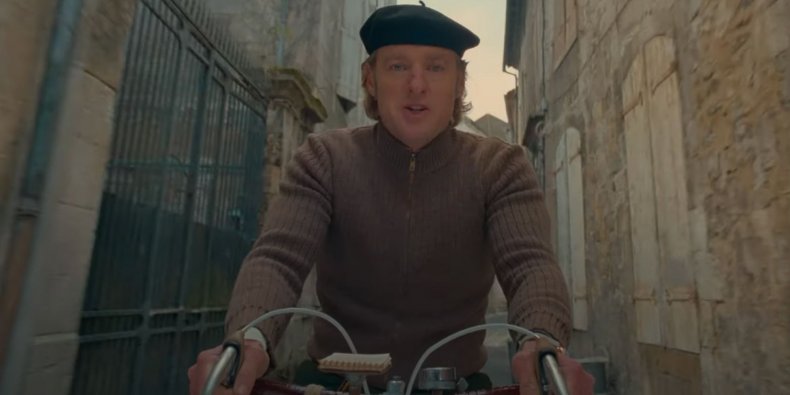 Herbsaint Sazerac (played by Owen Wilson)
Wilson's character, in the sort of whimsical touch that sends Anderson haters into a frenzy, is named after two drinks that come from New Orleans. The man who inspired the character had a more prosaic name, Joseph Mitchell.
Mitchell has a story that could only really happen at the New Yorker. After being a prolific chronicler of city life in the 1950s, he never published anything in the magazine after 1964, and yet turned up for work and kept getting paid until his death three decades later.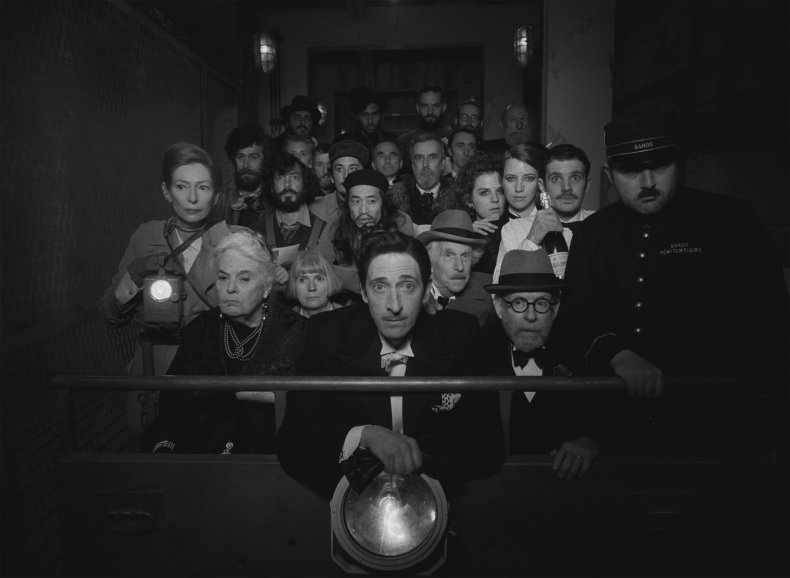 Julian Cadazio (played by Adrien Brody)
Berenson's story concerns art dealer Julian Cadazio and his relationship with outsider artist Moses Rosenthaler (Benicio del Toro). Cadazio is based on the subject of a New Yorker piece, Lord Duveen.
His story was told over six articles in the magazine in 1951. Considered one of the greatest art dealers of all time, he was also controversial. He was sued by the owner of a Leonardo da Vinci after he questioned its authenticity, sold a number of works that turned out to be fake, and ordered restorations that led to the damage of some historical masterpieces, including on the British Museum's Parthenon Marbles.
Roebuck Wright (played by Jeffrey Wright)
Wright's character is inspired by one of the most famous American writers of the 20th century, James Baldwin. Like many figures in the French Dispatch, Baldwin was an American who moved to Paris – though in his case it was to escape the racial prejudice of his home country.
Per Wright speaking to the Guardian, the character is a mix of the Notes of a Native Son writer and another figure who wrote for the New Yorker. "He described the character as this kind of Frankensteinian mixture of nonfictional figures," the actor said of Anderson's pitch of the character. "He mentioned James Baldwin. He mentioned AJ Liebling, who was a food critic for the New Yorker. He mentioned a little bit of Tennessee Williams."
The character appears on a talk show in the movie, in homage to Baldwin's appearance on such shows. However, Wright added: "This character is an homage to Baldwin but he's not biographical in any sense. Because my character, with his focus on food, veers away considerably from Baldwin's focus on culture and politics, particularly as they existed in the U.S. during the civil rights movement."
The French Dispatch is in theaters now.