French President Wants Ukraine Win Without 'Crushing' Defeat for Russia
French President Emmanuel Macron told reporters over the weekend that while he supports Ukraine in its war with Russia, his country does not wish for Russia to be destroyed as a result.
"I don't think, like some, that Russia should be totally defeated, attacked on its soil. These observers want, above all, to crush Russia. This has never been France's position, and it never will be," Macron said on Saturday, according to French newspaper Le Figaro.
Macron made the comments to members of the press during a flight back from the Munich Security Conference. During Munich's annual gathering of Western leaders and diplomats, the war in Ukraine was a central topic of discussion. On Friday, Macron addressed the conference and called for increased support for Ukraine's defense but also pressed the need for a negotiated peace with Russian President Vladimir Putin.
"I want Russia to be defeated in Ukraine, and I want Ukraine to be able to defend its position, but I am convinced that in the end, it will not be concluded militarily," Macron told reporters on his Saturday flight, Le Figaro reported.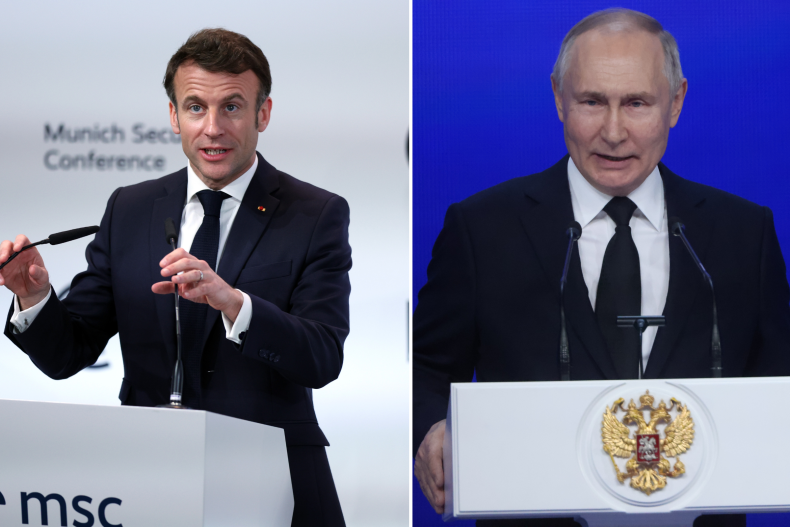 While Macron said during his Munich Security Conference address that negotiations were the eventual route for peace in Ukraine, he also noted he does not feel such talks are possible at this time.
"At the moment, the hour of dialogue hasn't come yet because Russia chose war...and to commit war crimes...For the short term, the solution is simple: Russia cannot and must not win this war, and Russia's attack must fail," the French leader said at the meeting.
Macron also broke away from the stance of many world leaders by telling the conference that he does not necessarily support Putin being removed from power.
"I do not believe for one second in regime change," Macron said. "When I hear a lot of people advocating for regime change, I would just ask them for which change, who is next and how do you implement it? We have experienced in the past decades regime change many times and it has been a total failure."
He reiterated this sentiment in comments recorded by Le Figaro, saying that other options for a Russian leader "seem worse" than Putin.
"Do we sincerely think that a democratic solution will emerge from the Russian civil society present on the spot after these years of hardening and in full conflict? I really want it, but I don't really believe in it," he said.
Macron said he feels Ukraine's best strategy is to hit Russia hard enough on the battlefield that Putin is left with no other option but to enter into peace talks.
"What is needed today is for Ukraine to lead a military offensive that disrupts the Russian front in order to trigger a return to negotiations," Macron said, according to Le Figaro.
On Sunday, Russia's Foreign Ministry spokeswoman Maria Zakharova addressed Macron's Munich speech and referenced Napoleon Bonaparte's failed invasion of Russia.
"France did not begin with Macron, and the remains of Napoleon, revered at the state level, rest in the center of Paris. France—and Russia—should understand," Zakharova said, according to Reuters.
Newsweek reached out to the French and Russian ministries of foreign affairs for comment.