French 'Spiderman' Climbs Skyscraper to Thank Kim Jong Un and Moon Jae-in for Peace Efforts
French urban freeclimber Alain Robert was arrested in South Korea after attempting to scale the world's fifth tallest building without permission nor safety gear on Wednesday morning.
Robert was bare-handed and did not use any ropes to climb the Lotte World Tower in Seoul. He scaled 75 floors for about two hours as security pursued him from the inside, before he gave himself up. "I climbed about 75 stories and then after that, it was a bit like cat and mouse," he told Agence France-Presse. "Finally, I decided to surrender."
Police said that Robert was lifted to the rooftop on a maintenance cradle, arrested and charged with "obstruction of business," according to South Korean news agency Yonhap. "Robert was not wearing proper safety gear," authorities were quoted as saying. "We'll decide how to handle him after investigating his motive for the crime and other details."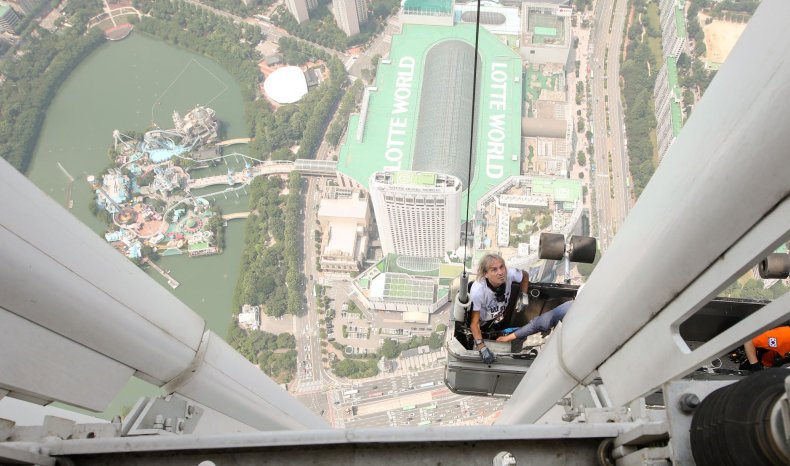 On his website, the daredevil said he can accept offers to climb for various special events. His latest stunt, however, was meant to celebrate improved relations between North and South Korea, whose respective leaders Kim Jong Un and Moon Jae-in met for the first time at the end of April pledging to work toward bringing peace and denuclearize the peninsula. Kim and Moon have since met a second time last month to discuss the summit between the North Korean leader and President Donald Trump.
"I may get a hefty fine ... but I did it because of what is happening now between South Korea and North Korea," Robert told AFP. "That is my way of saying thank you to Kim Jong Un and Moon Jae-in," he added.
A 55-year-old with years of experience in defying gravity, Robert won the nickname "French Spiderman" after staging some climbs in the superhero's trademark costume. Robert, who claims to be suffering from vertigo, has climbed some of the world's tallest and most famous landmarks including the tallest of them all, the 2,717-feet Burj Khalifa in Dubai in just over six hours in 2011—often facing arrests for his exploit. The falls and accident he's survived in his career have left him "up to 66 percent" disabled, he said on his website.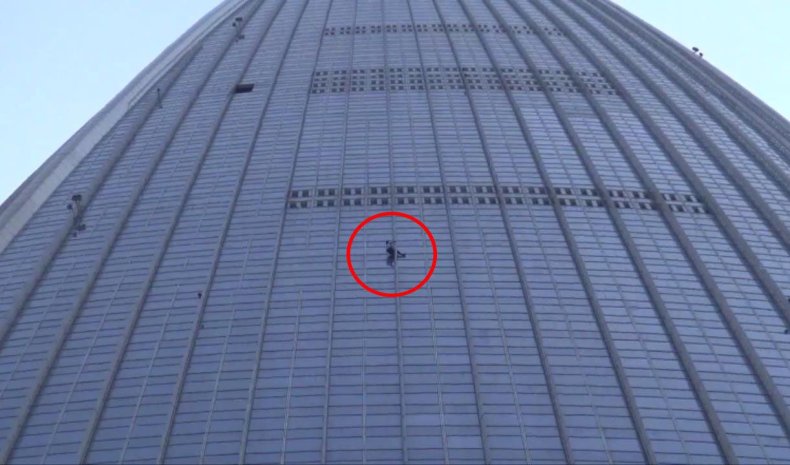 A spokesperson for the Lotte World Tower condemned Robert's stunt as "regrettable" in a statement to AFP. "He climbed without permission. It's dangerous," the spokesperson said.
Robert did not seem upset about the unfinished climb, sharing the news with his fans on Facebook, saying "It doesn't work all the time" and "Next one!" while his followers continued to express admiration for his stunt. A few days ago, he shared a meme that was circulating online that read "Can someone explain to Alain Robert he is already a French citizen?" referring to the Malian national Mamoudou Gassama who was given French citizenship after free-handedly climbing four floors to save a child dangling from a balcony.
Robert praised Gassama, who was also nicknamed "Spiderman," for his courage in an interview to the Huffington Post although, he noted, it wasn't a difficult climb from a technical point of view.