Full List of Iranian Celebrities Who Have Spoken Out Against the Regime
A wave of Iranian celebrities from the worlds of music, acting, and sports have been defying their homeland's strict regime—risking unrelenting punishment from the ruling theocracy.
Demonstrations throughout Iran have continued at pace following the death of Mahsa Amini, a 22-year-old woman who was arrested by morality police in Tehran in September for an alleged breach of the country's strict dress code for women.
Reports that Iranian woman Amini had been beaten with a baton contrasted with the morality police's claim that she had suffered a heart attack three days later—an explanation that was deemed implausible by many in the country.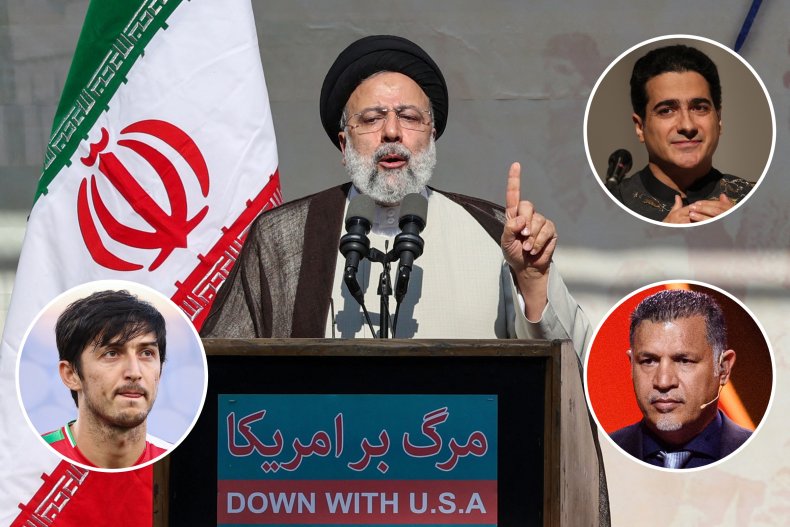 Anger expressed in protests at her funeral in her home city of Saqqez in Kurdistan province swelled and morphed nationally into demands for freedoms and an overthrow of the state.
Videos show women defiantly setting their headscarves on fire and cutting their hair in public to chants of "Woman, life, freedom" and "Death to the dictator" in reference to Supreme Leader Ayatollah Ali Khamenei.
With protests spreading across the globe, local stars have refused to back down, and have faced arrest, harassment, and the confiscation of their passports.
Shervin Hajipour
One prominent case is that of singer Shervin Hajipour, whose song "Baraye" has become something of an anthem for the country's army of protestors.
The track echoes the sentiments young Iranians shared on Twitter, such as dancing in the streets and kissing. It ends with a slogan that has been widely chanted during the protests: "For women, life, freedom."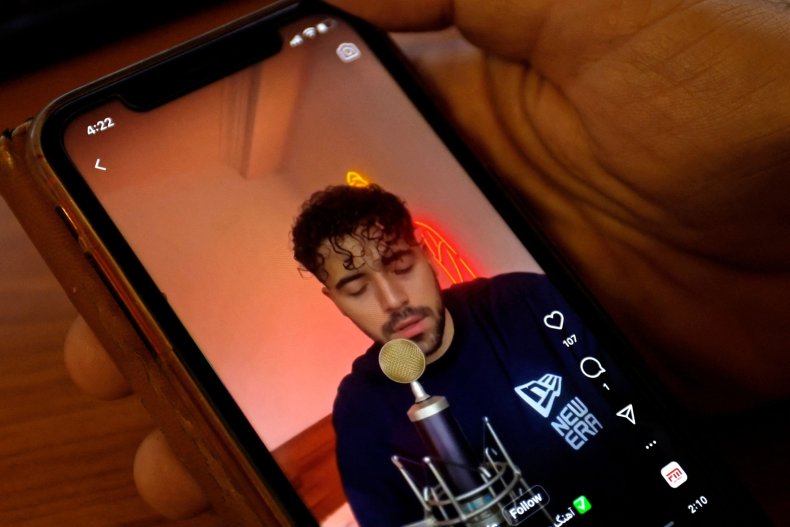 Hajipour, 25, soon faced consequences for the release of his track, which garnered more than 40 million views in 48 hours. He was arrested on September 29—two days after the song was unveiled on Instagram—and forced to remove it from social media. He was released on bail on October 4.
In a statement that critics of the regime say was likely coerced, Hajipour expressed regret that the song was being used by political groups outside of Iran.
The track, which has been performed by Coldplay, has been pushed for a trophy in the new Grammy Award special merit category Best Song for Social Change.
Saman Yasin
A petition to save the life of Kurdish rapper Saman Yasin, who could face the death penalty in Iran, has been signed by thousands of people in a matter of days.
The 27-year-old musician was arrested at his home on October 2 for supporting the protests. He was charged with waging "a war against God."
Iran's penal code prohibits acts of "rebellion," including aiding and abetting anything that "causes severe disruption in the public order of the state and insecurity."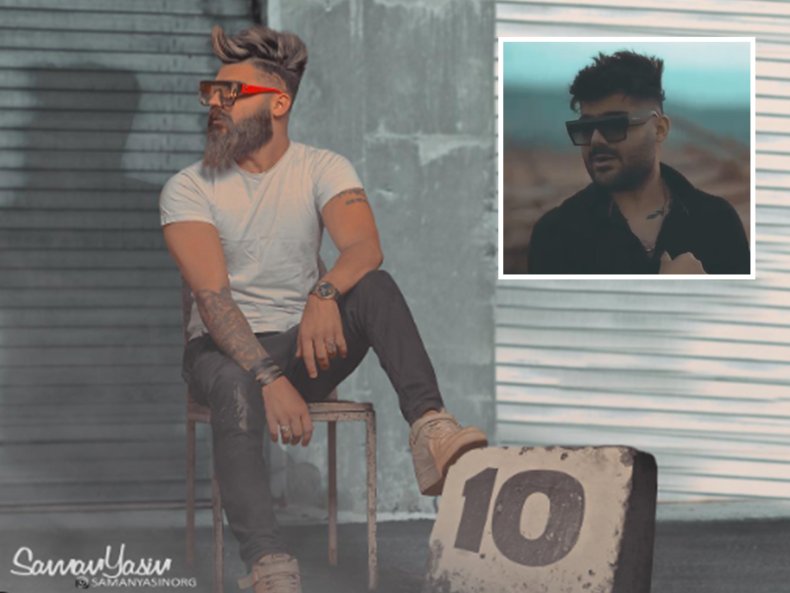 Any person found guilty of doing so will be considered "corrupt on earth" and sentenced to death.
A contact close to Yasin's family said they had not been able to speak with him since October 17, when he was able to tell them he was being held in Tehran's Evin prison, which is known for housing political prisoners.
Yasin's supporters have described his situation as "terrible" and accused the Islamic Revolutionary Court of not giving him the due process of law.
Homayoun Shajarian
Homayoun Shajarian, a popular performer of classical Persian music, added his voice to the protests during a tour in Australia in September. While singing the traditional song "Dawn Bird," an image of Amini was projected behind him onstage.
The song includes the line: "The tyrant's oppression like a hunter has blown away my nest. God, Sky, Nature, bring dawn to our dark night."
On his return to Iran, Shajarian's passport was seized by authorities at the airport. Actress Sahar Dolatshahi, who was traveling with Shajarian, was also stripped of her passport. In a statement shared on Instagram, Shajarian, 47, said that he was barred from traveling.
Ali Daei
Days before World Cup kicks off in Qatar, Iranian soccer legend Ali Daei announced on Monday that he has turned down an offer to attend the sporting event as he stands in solidarity with his country's protestors.
"In the days when most of us are not feeling well, I declined the official invitation of FIFA and the Qatar Football Federation to attend the World Cup with my wife and daughters, to be with you in my country and express my sympathy to all the families who have lost their loved ones," he wrote on Instagram.
"Hoping for bright days for Iran and Iranians."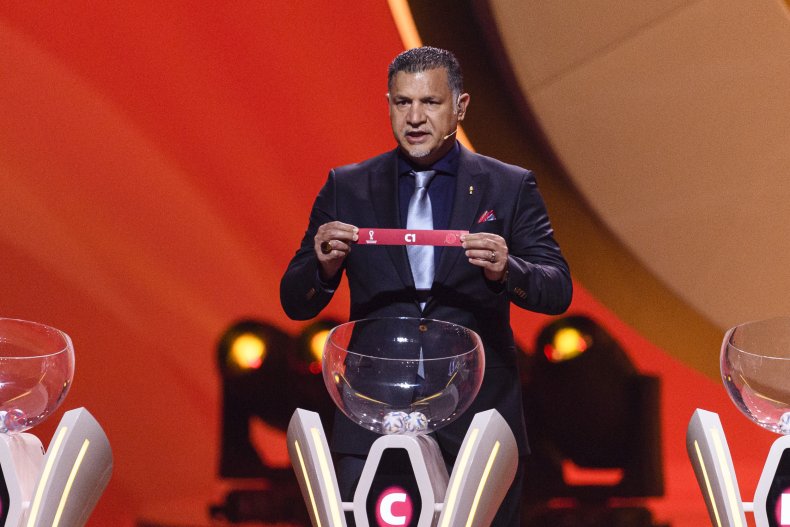 The former Bayern Munich striker, 53, scored 109 goals for his country between 1993 and 2006, an international record that was only broken last year by Portugal's Cristiano Ronaldo.
Before his announcement, Daei had shown support for the protestors, writing in another Instagram post in September: "Instead of repression, violence and arresting the Iranian people, solve their problems."
His passport was briefly confiscated on his return from travel abroad.
Sardar Azmoun
Soccer player Sardar Azmoun will be among those representing his nation at the World Cup—even though he has spoken out against the government's actions.
"That is worth sacrificing for one strand of Iranian women's hair," Azmoun stated in an Instagram Story post. "Shame on you who kill people so easily. Long live Iranian women."
Despite his post, Azmoun, 27, who plays for German team Bayer Leverkusen, was named as one of the players who will be among Iran's World Cup squad.
Other Stars
Other soccer players who have spoken out against the Iranian government include Hamidreza Aliasgari and Hossein Mahini. Both were arrested and released on bail.
Former soccer captain Qasim Haddadifa expressed his pride in young women protesting as he posted photos of them on his Instagram account.
In a display of group solidarity, some players from Tehran-based soccer team Persepolis wore black armbands during a recent match.
Amirhossein Esfandiar, a national volleyball player, reposted a video of violent confrontations between security forces and protesters, writing: "You have no sense of humanity, why do you beat and kill innocent people?"
Actress Hediye Tehrani, songwriter Mona Borzoui, and TV personality Mahmoud Shahriari are among those who have expressed their support, with the latter two having been arrested and facing charges.
Local Anger
There has also been anger directed at President Ebrahim Raisi, who since he took office in 2021 has increased policing of the dress code for women. Human rights groups say Raisi should be held accountable for the executions of 30,000 detained leftists in 1988 while chief prospector of the Tehran revolutionary court, although he has denied any involvement.
Violent clashes have broken out at times, with protestors torching buildings of the security forces. The crackdown on protests across 191 cities over 33 days led to around 400 deaths and 20,000 detentions, according to the People's Mojahedin Organization of Iran, an opposition group looking to establish a democratic Iran.
Strikes have been reported in schools, universities and the oil sector. Demonstrations have also spread to European capitals with women cutting their hair to show solidarity.
Last month, President Joe Biden stated that the U.S. stands with the women of Iran and that Tehran has to end the violence against its own citizens simply exercising their fundamental rights.
Raisi responded by accusing Biden of trying to "fan the flames of unrest" and referenced the U.S. as the "Great Satan."