G7 Shows United Front Against China Military Drills Near Taiwan
China's live-fire military exercises around Taiwan have been branded "threatening" and "escalatory" in a joint statement by G7 foreign ministers.
Beijing began the unprecedented four-day exercises on Thursday, warning other ships and aircraft to avoid six zones surrounding Taiwan, some of which overlap with Taiwanese territorial waters. The drills follow Chinese fury over a visit to Taiwan by House Speaker Nancy Pelosi.
In response to the Chinese exercises, the Taiwanese military announced it is "preparing for war without seeking war," and said it will "stick to its posts" during the maneuvers.
The joint G7 statement was released by the foreign ministers of Canada, France, Germany, Italy, Japan, Britain and the United States, along with the EU's high representative.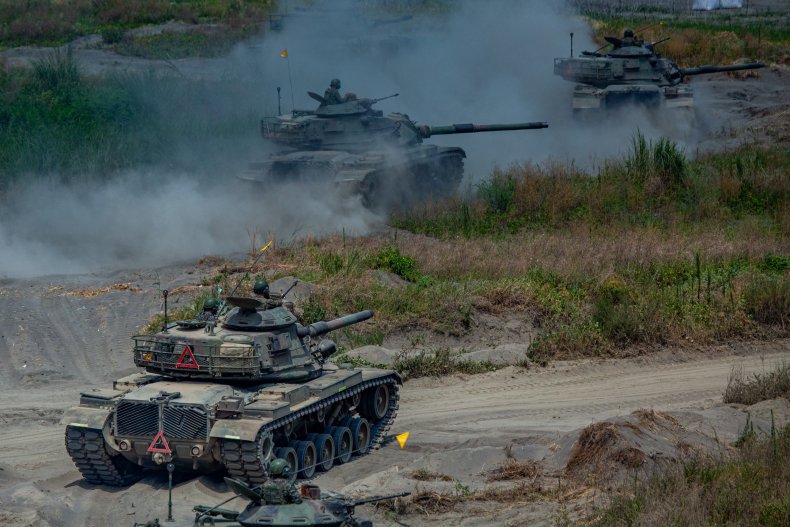 It reads: "We are concerned by recent and announced threatening actions by the People's Republic of China (PRC), particularly live-fire exercises and economic coercion, which risk unnecessary escalation. There is no justification to use a visit as pretext for aggressive military activity in the Taiwan Strait.
"It is normal and routine for legislators from our countries to travel internationally. The PRC's escalatory response risks increasing tensions and destabilizing the region.
"We call on the PRC not to unilaterally change the status quo by force in the region, and to resolve cross-Strait differences by peaceful means. There is no change in the respective one China policies, where applicable, and basic positions on Taiwan of the G7 members."
After the statement was published, China canceled a planned bilateral meeting between Foreign Minister Wang Yi and his Japanese equivalent, which had been due to take place in Cambodia.
Hua Chunying, a spokesman for the Chinese Foreign Ministry, said Beijing is angry about the statement, during a routine media briefing.
Wang Yi told the Association of Southeast Asian Nations that China will "never allow its core interests to be hurt," though he insisted Beijing is making the "greatest diplomatic efforts" to resolve the crisis.
Beijing received rhetorical support from its Russian ally, with Putin's spokesman Dmitry Peskov branding Pelosi's visit "purely provocative."
CCTV, China's state broadcaster, said: "Important military training exercises" are ongoing around Taiwan, adding that "all ships and aircraft should not enter the relevant sea areas and airspace" for the duration of the maneuvers.
The Taiwanese defense ministry has accused China of launching a de facto partial blockade of the island, though it has not been completely shut off.
In a statement it said: "The ministry of national defense stresses that it will uphold the principle of preparing for war without seeking war, and with an attitude of not escalating conflict and causing disputes.
"The national army will continue to strengthen its alert, and troops at all levels will conduct daily training."
During her visit to Taipei Pelosi met Taiwanese President Tsai Ing-wen, along with other leading figures.
One China Policy
The U.S. officially maintains a "one China policy" and only has unofficial relations with the Taiwanese government, though in practice it's one of the island's closest allies.
In October 2021, President Joe Biden said the U.S. would defend Taiwan militarily if the island is attacked, though the White House later insisted America's policy of "strategic ambiguity" hasn't been abandoned.
Taiwan split from China in 1949 when the anti-communist Kuomintang Government retreated there, after losing the Chinese civil war.
It later went through a transition to democracy, while the mainland remained under authoritarian Communist Party control.
The Chinese Foreign Ministry has been contacted for comment.
Update 08/04/22 at 6:05 a.m. ET: This article was updated with China's foreign minister canceling a meeting with his Japanese counterpart.