Gab Founder Andrew Torba Claims Trump Endorses RINOs for Financial 'Kickbacks'
Andrew Torba, the founder of the right-leaning social network Gab, has accused Republican former President Donald Trump of endorsing RINO candidates in exchange for financial kickbacks.
"RINO" is an initialism that stands for "Republican in Name Only." It's used as an insult for Republicans who allegedly don't represent the political party's values.
Torba made his comments on the far-right network TruNews.com, a site that has promoted promoting racist, homophobic, Islamophobic and antisemitic views. Torba's comments were highlighted by Right Wing Watch.
In his comments, Torba mentioned his rejection of a business proposal allegedly put forth by Trump in January. Referring to Trump's son-in-law, Torba said that "Jared Kushner's cronies" wanted to make money off of Gab's user data and its email list. Kushner also allegedly wanted Gab to change its user policies to "clean up" the social network's public image, Torba said.
Torba mentioned that his two grandfathers warned him against making any deals with Trump.
"They said, 'Do not do any deals with Trump'.... All that the people around Trump are interested in was grifting," Torba said.
"So, you know, that's what we see Trump endorsing these, you know, RINO candidates and these people that you're kind of scratching your head and you're like, 'This person is not America first. Why is he endorsing this person?' Really, it's about the kickbacks with the endorsement," Torba said.
A kickback refers to an illegal bribe, often paid to someone who facilitates a transaction or appointment. Torba didn't specifically name the RINOs that he suspected of giving kickbacks to Trump. Trump is expected to endorse other candidates who support his agenda leading up to the 2022 midterm elections. Newsweek was unable to independently confirm Torba's claims.
Trump has previously used the term RINO to refer to Republican political candidates who publicly opposed or criticized him. Trump called RINOs "the lowest form of human life."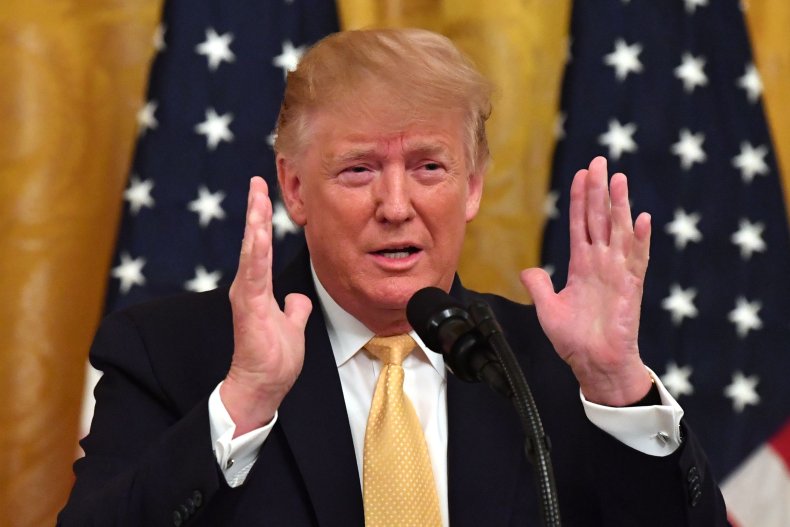 Torba founded Gab in 2016 as a "free speech" platform similar to Twitter except with fewer censorship rules. The site has been used by white supremacists and neo-Nazis who've been barred from posting hate speech on other social networks.
In 2018, Gab temporarily shut down after its hosting provider GoDaddy dropped the service. GoDaddy stopped hosting Gab after the suspected Tree of Life Synagogue gunman was found to have posted racist and antisemitic messages on the site before allegedly killing 11 people.
In 2017, Google removed Gab from its app store for violating its policies banning hate speech.
Trump began negotiating with Gab and another right-leaning social media network, Parler, after long accusing Facebook and Twitter of "stifling of free speech" and being "unfair" towards conservatives. Parler offered Trump money to join their site, but negotiations reportedly ended after the January 6 Capitol riots.
Trump remains banned on Facebook and Instagram. Both Parler and Gab have a few million users compared to the hundreds of millions offered by Facebook and Twitter.
"As I have said many times, [Trump] is welcome to join Gab anytime and speak freely," Torba wrote on Twitter in March 2021. "But Gab is not for sale and under no circumstances will Gab change our free speech policies, Mr. Kushner."
Newsweek contacted Trump's office for comment.