Gabby Petito Movie Slammed Ahead of Release: "Absolutely Disgusting"
Lifetime is receiving backlash online for making a film about the death of Gabby Petito.
The Gabby Petito Story, which premieres on October 1, "Follows Gabby's tragic murder," a synopsis by IMDb reads. "Centering in her complicated relationship with her fiancé Brian Laundrie and what may have gone wrong during their cross-country trip."
The film, which is part of the network's "Stop Violence Against Women" campaign, is directed by actress Thora Birch, who also plays Petito's mother, Nicole Schmidt. Skyler Samuels portrays Petito, while Evan Hall stars as Brain Laundrie.
Vlogger Petito, 22, was an aspiring social media star who went missing in August 2021 during a cross-country road trip from New York to Oregon with Laundrie, 23. A body that was later confirmed to be Petito's was found in Wyoming's Grand Teton National Park.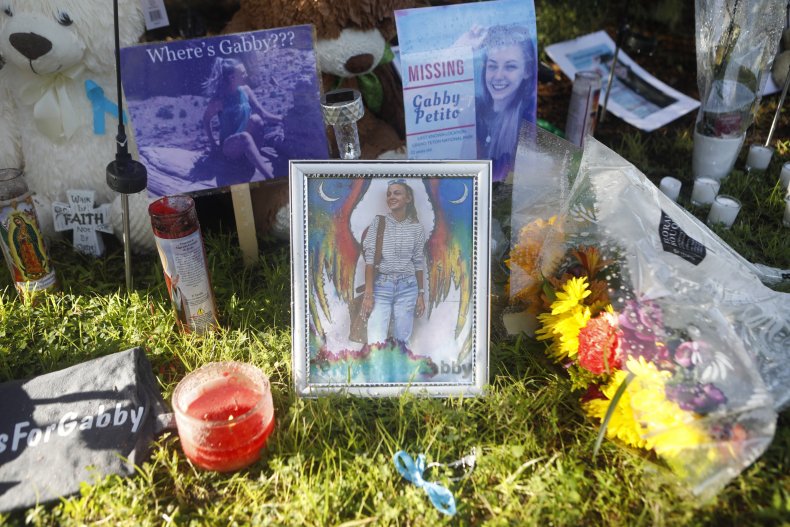 Over a month later, Laundrie's skeletal remains were discovered inside the Myakkahatchee Creek Environmental Park in Florida. Autopsy results showed Petito died from strangulation, while Laundrie died from a self-inflicted gunshot wound.
A notebook alongside Laundrie's remains contained a message claiming responsibility for the murder.
"I ended her life," Laundrie wrote in the notebook.
He alleged in his confession that Petito had been hurt after falling in a creek.
"I thought it was merciful, that it is what she wanted, but I see now all the mistakes I made," Laundrie wrote. "I panicked. I was in shock. But from the moment I decided, took away her pain, I knew I couldn't go on without her."
In the days leading up to the movie's release, people posted countless messages on Twitter condemning the film.
"How does Lifetime have a 'Gabby Petito Movie' out already?" Twitter user @BiasedGirl wrote via her verified account on Thursday.
Another person tweeted: "Lifetime Movie Network is already coming out with a Gabby Petito movie. This is absolutely disgusting. Foul. It's barely been a year since she went missing. There's just so much wrong with this."
"Lifetime has been making movies based on true events for forever but idk, something about that Gabby Petito movie feels extra icky to me," another Twitter user wrote.
"Alright this is BIG for ME to say something, but I feel like all of these Gabby Petito movies coming out are in a bit of poor taste," a fourth said. "Like I understand the news coverage and the documentary and stuff, I've watched all of that, but a whole a** movie?"
"Lifetime is making a movie about Gabby Petito... this s*** feels like it just happened. Like what the f*** is wrong with y'all @lifetimetv?" a fifth asked.
A separate user wrote, "@lifetimetv Y'all are ruthless and should be ashamed of yourselves for profiting off a girl's death and a family who's still traumatized and grieving."
Someone else noted, "Lifetime really wrote, directed, filmed and edited a movie about Gabby Petito's murder in less than a year after it happened."
Meanwhile, another said, "Lifetime's Gabby Petito movie commercial just threw me off… it JUST happened. Too soon? I think so."
"Lifetime making a s***ty movie about the Gabby Petito case a year after it happened without the parents approval is f***ed imo [in my opinion]," a different tweet read.
Petito's family made it clear that they disapprove of the film in a statement from Schmidt that was shared by The AWARE Foundation.
"We thought our followers should know that the Lifetime movie on Gabby Petito has no connection to the Petito family nor did they give their approval," the statement read. "Lifetime took it upon themselves to make the movie."
The Gabby Petito Story follows the release of the 2021 documentary The Murder of Gabby Petito: Truth, Lies and Social Media.