Gambia's Yahya Jammeh 'Looted $11 Million in Two Weeks:' Official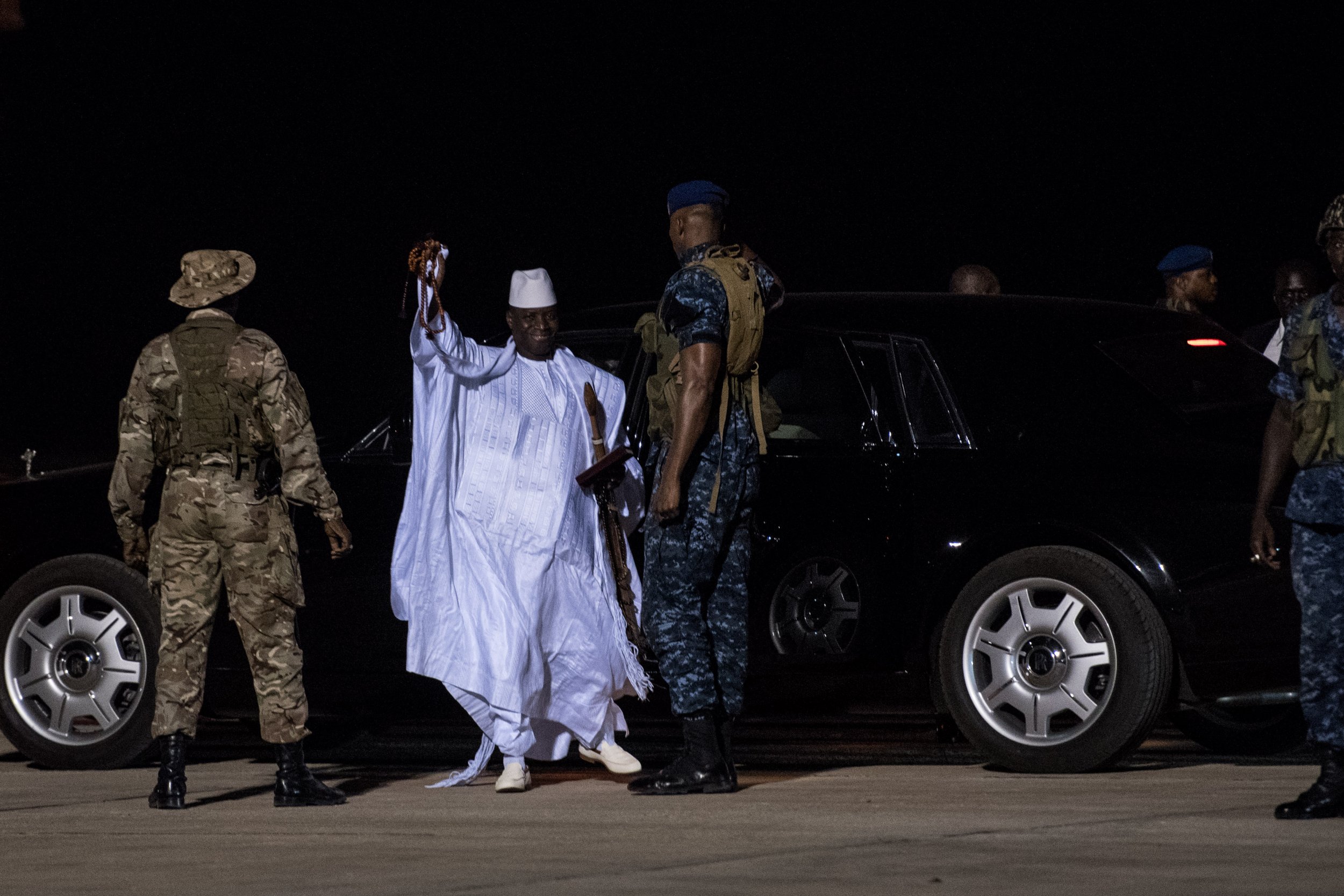 Gambia's former president Yahya Jammeh looted more than $11 million from the country's treasury over the past two weeks, according to the new administration.
Mai Ahmad Fatty, an adviser to Gambian President Adama Barrow, told reporters that "the [state] coffers are virtually empty," the BBC reported.
Barrow defeated Jammeh in the December 2016 presidential election. After initially accepting the result, Jammeh performed a U-turn and said he would remain in power until a fresh vote was held.
Regional body the Economic Community of West African States (ECOWAS) sent troops into the tiny West African country in a bid to convince Jammeh to step down. The former president, who ruled Gambia for 22 years after grabbing power in a 1994 military coup, finally left the country Saturday evening following negotiations led by Mauritanian President Mohamed Ould Abdel Aziz and President Alpha Conde of Guinea.
Fatty said that the scale of the losses was still being evaluated. President Barrow told radio station RFM in Senegal—where he remains awaiting return to Gambia—that he would confirm the state of the country's finances "the day we actually take office," according to Reuters.
Jammeh has not publicly commented on the allegations. He has reportedly fled to Equatorial Guinea, although the government of that country has not confirmed his presence. Equatorial Guinean opposition Convergence for Social Democracy (CPDS) said it rejected the decision to offer Jammeh asylum, adding that the country "never welcomed political exiles," AFP reported.
Gambia's economy is already struggling; the country is heavily reliant on tourism and agriculture, industries that are vulnerable to external shocks. World Bank data estimated that the economy contracted by 4 percent in 2016, and thousands of Gambians have left the country and attempted to migrate to Europe, many for better socioeconomic opportunities.
Barrow stayed in Senegal for the week before the inauguration date on January 19, reportedly due to security concerns. He has said that he will return to Gambia as soon as he is assured by ECOWAS that it is safe to do so.
Human rights organizations regularly accused Jammeh of cracking down on political opposition and freedom of expression during his presidency. Jammeh also made open threats against LGBT people in the West African country. Barrow told Newsweek in December 2016 that he did not intend to prosecute Jammeh, and more recently told The New York Times that he intended to set up a truth and reconciliation commission in the country before deciding how to deal with his predecessor.
ECOWAS, the African Union and the United Nations released a declaration Saturday in which the three organizations pledged to protect the security of Jammeh and his family, and that the former president would eventually be able to return to the country. Barrow said that the document had not been signed and was not binding, Reuters reported.