'Game of Thrones' Romance? Yara Greyjoy May Be in Love with Daenerys Targaryen, Says Gemma Whelan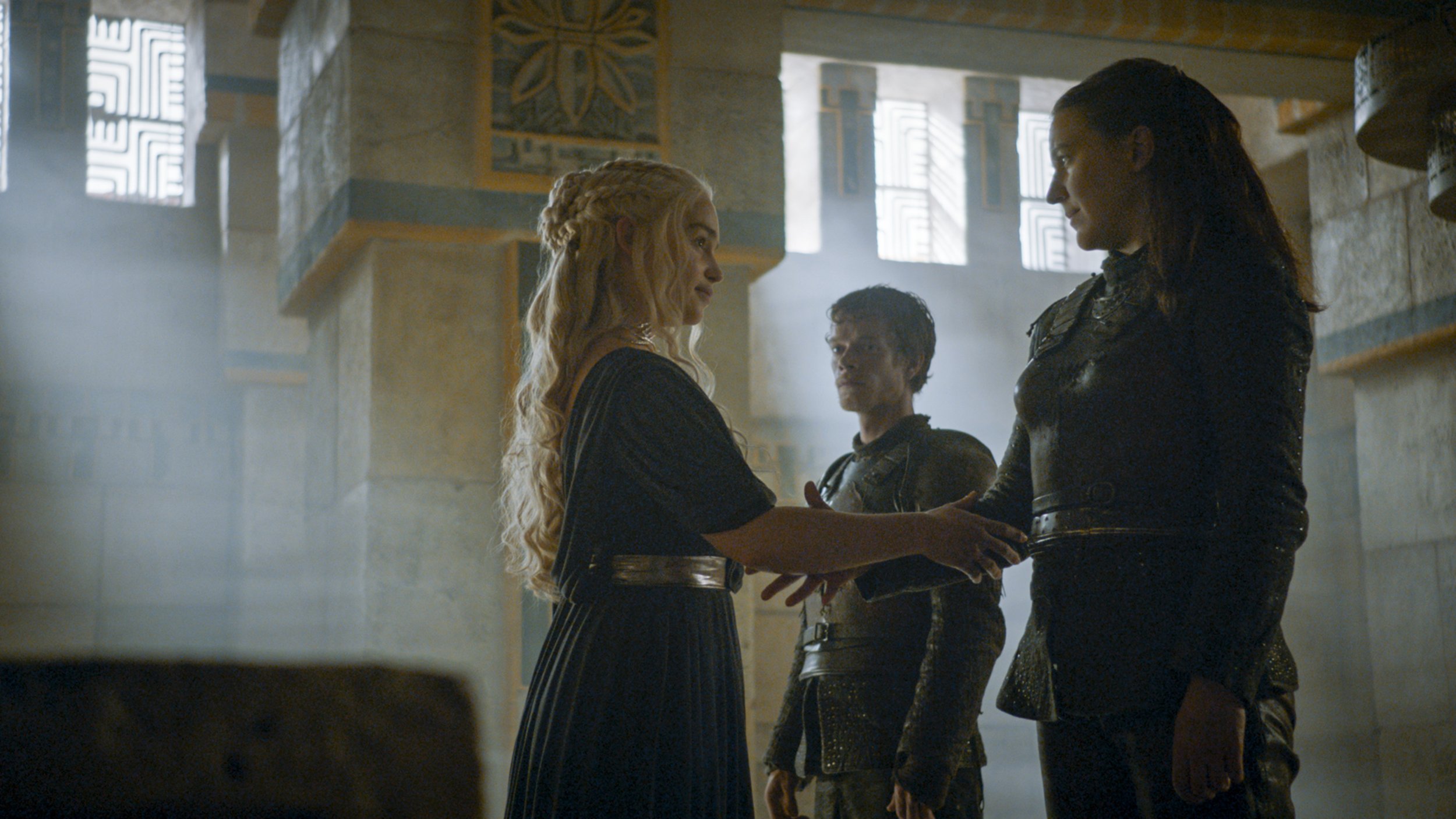 Game of Thrones star Gemma Whelan has been at the center of some of the show's most explicit queer scenes. Her character, Yara Greyjoy, recently kissed Ellaria Sand (Indira Varma) in a scene that was partially improvised, and she also seems to have a strong attraction to the Mother of Dragons, Daenerys Targaryen (Emilia Clarke).
In Yara and Daenerys' first scene together in the Season 6 episode, "Battle of the Bastards," there was a palpable chemistry between the equally strong female characters that bordered on flirtation. It's something that fans picked up on, on social media, and it wasn't lost on the actors either.
"I think Emilia and I didn't realize how much chemistry they had [from what was] written into the script that day. We didn't know we had that chemistry," says Whelan.
Yara and her brother Theon (Alfie Allen) have pledged themselves to the Khaleesi as her royal subjects. But could Yara perhaps be in love with her queen?
"Certainly, she likes a powerful woman, and she recognizes a reflection of herself in Daenerys—they both have terrible fathers and they both want to go forward and make a difference," Whelan says. "I think she does like her, in many ways. And [Daenerys] is beautiful. Who's not going to like her?"
Yara's kiss with Ellaria in "Stormborn" has elicited a huge online response. In Season 6, Yara also expressed her sexuality with a prostitute in a brothel, with her brother looking on.
GoT has offered a multitude of sex scenes over the years, featuring an array of different couples—some heterosexual and some homosexual. Whelan says it's important that the series represent the diverse array of romances that exist in the real world.
Related: Is Euron Greyjoy more evil than Ramsay Bolton?
"I think everything that we see, whether we like it or not, has gone on at some point, whether it's Tudor times or the War of the Roses," she says. "Brothels, sex, it's happened in real life. It's very unapologetic and unpatronizing in that it shows every side of humanity, I think.
"So, of course, why not represent someone that likes to go both ways, or likes to go all the way one way? It's absolutely important. I'm very happy to be representing it," Whelan says.
Game of Thrones airs Sunday at 9 p.m. on HBO.
For more Game of Thrones coverage from Newsweek, click here.