Gaming Star 'Ninja' Joins GameSquare in Top Creative Role
GameSquare on Thursday announced gaming star Tyler "Ninja" Blevins will be joining the international gaming and esports company as chief innovation officer.
"When I think about the gaming space and innovation, I think Ninja. He is known as the godfather of the space," Justin Kenna, CEO of GameSquare, told Newsweek. "This is an evolution of his career. He's really excited in terms of getting involved and helping us build our strategy to connect with brands in really creative ways."
Blevins will help lead GameSquare's growth opportunities, which includes Ninja Labs, an incubator for what a company statement called developing "first-of-its-kind concepts and products directly focused on connecting with youth culture."
GameSquare hopes Ninja Labs will allow the company to connect with young gamers while developing consumer products and original intellectual property. Kenna said the company's new CIO will allow GameSquare to reach a new level of growth within pop culture, as well as help the company identify and expose new technologies.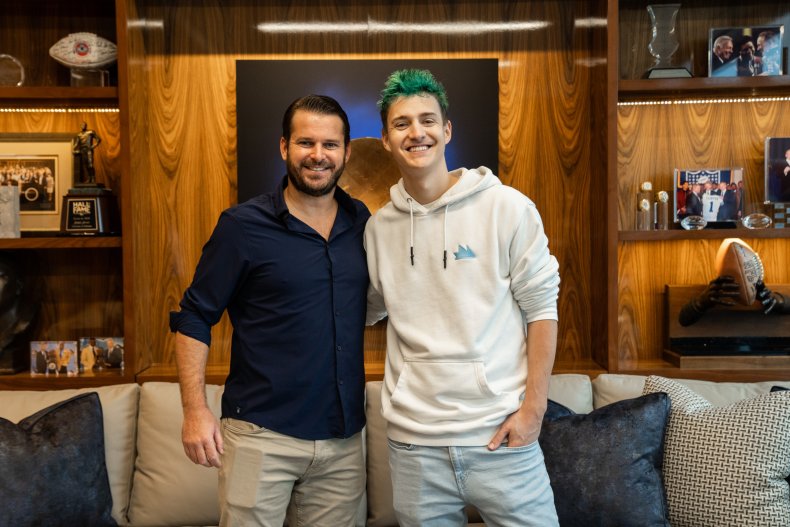 "I want to build the next big thing in gaming, and I found that in GameSquare," Blevins said in a press statement. "Justin and the team have put together a world-class platform that will help me innovate and create engaging experiences to inspire the next generation of streamers and leave a lasting impact on the industry."
Blevins will also certainly bring a great deal of celebrity spotlight to the company. Not only has he garnered mainstream attention by being featured in stories by ESPN and Forbes, but Ninja set a Twitch streaming record when he played Fortnite with Drake in 2018.
On top of that, Blevins has more than 74 million followers across his multiple digital platforms. He's also the first streamer to get an exclusive skin in both Fortnite and Raid: Shadow Legends as a playable champion, and he even had a cameo in the 2021 film Free Guy, which starred Ryan Reynolds.
Blevins joins other popular gamers who have been brought on by GameSquare to help broaden its fanbase. TimTheTatman, the Baka Bros and Cloakzy are also included on the company's roster of gaming personalities.
Aside from those names that are well-known to the gamers, there is one prominent figure in GameSquare's sphere who is known throughout the sports world: Jerry Jones, the owner of the Dallas Cowboys.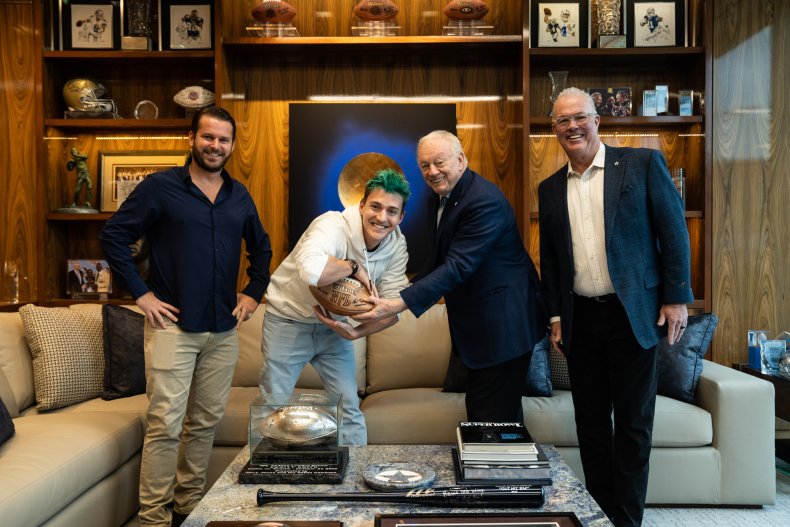 Jones and John Goff, who owns Crescent Real Estate, formed the esports team Complexity in 2017 before selling it to GameSquare in 2021. In December, GameSquare merged with Engine Gaming & Media, and Jones remains one of the largest shareholders in the combined company.
Tom Rogers, executive chairman at Engine Gaming & Media and CEO of TRget Media, told Newsweek that having GameSquare's headquarters at the Dallas Cowboys training facility has created an "incredible company culture."
"Adding somebody of Ninja's caliber to the authenticity mix, I think causes the culture of the company to really stand out," Rogers added.
Kenna said that being in business with Jones has others perks, such as getting a lift on the Dallas Cowboys' bus and riding in Jones' helicopter en route to the Super Bowl.
"Jerry has taken risks since day one, not just with the Cowboys, but his business life in general. I think they're pretty smart and calculated risks, and he quite often knows where trends are going and what's coming in the future," Kenna said.
"Jerry has been great. I wouldn't say he's necessarily sitting on Twitch every night streaming Fortnite, but he's been great," Kenna added.
The GameSquare CEO also noted that when he brings on a new addition to the company, he describes the talent to Jones by comparing them to football players.
Kenna said that when he told Jones about Ninja, he said the analogy he used was "we're signing Tom Brady."