Gas Station Glitch Gives Drivers 69 Cents Per Gallon Price
As gas prices across the U.S. continue to be painfully high, drivers in Rancho Cordova, California, were met with some unlikely good luck on Thursday, when they filled their tanks with gas selling for just 69 cents a gallon.
The impossibly cheap price was the result of a glitch in the system of the Rancho Cordova Shell gas station. By word of mouth, families and friends of people who had discovered the mistake flocked to the station to fill their tanks too.
CBS Sacramento writes that there was a mistake in the price advertised, as the decimal point was mistakenly moved from $6.99 to 69 cents per gallon. The station took reportedly three hours to fix this costly error.
Sacramento resident Darryl Surita shared a video on his Instagram account showing the advertised gas price at the station, writing "We got to fight these gas prices some how 69 cents a gallon I am loving this!"
"I posted [this] on my Instagram and replied to anyone who messaged me," Surita told Newsweek. "I called my mom and told her, and called my brother and told him too. I thought it was to good to be true until I checked the gas meter in the car and it was full but I only spent 14 dollars."
"I filled my car up left, came back with a second car, filled it up, then left again and came back with my cousin and filled up 150 gallons of a 500 gallon tank," Surita told Newsweek.
"The whole gas station was filled with cars and people with extra gas cans," he added.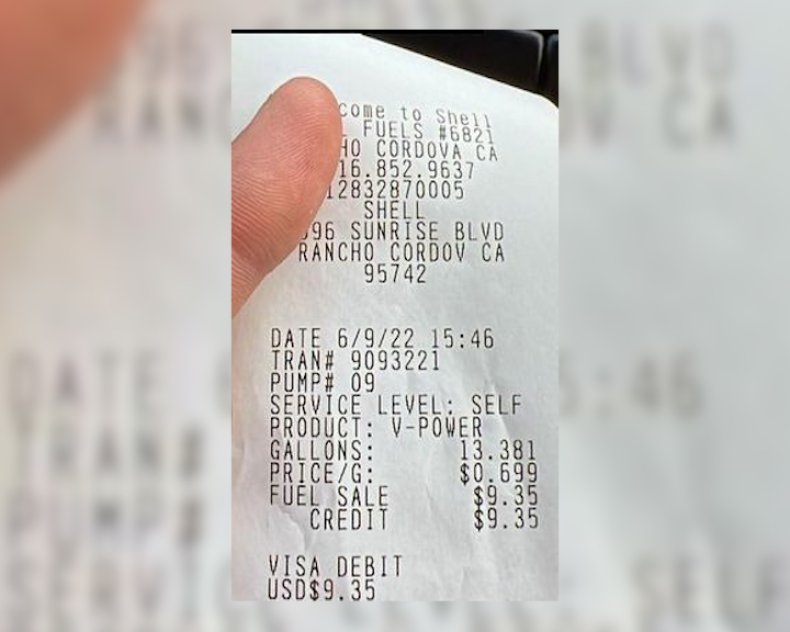 The current average price in the U.S. for regular gas is $4.986, according to the latest data collected by the AAA. That's the highest recorded average price to date, reported the driving organisation.
The highest average gas price is in California, where gas goes for an average of $6.420 per gallon. In Alpine, it reaches a staggering height of $7.799.
The reason why gas prices are so high in California is because of the way extremely high demand combines with disruptions hitting gas supply chain for the state, including refineries in the West Coast that have shut down during the pandemic.
The whole country is struggling with an unprecedented surge in gas prices, which has been in part fueled by the Russian invasion of Ukraine.
It is expected that things will get worse (before they get better), as summer will bring more drivers on American roads, hungry for gas for their cars and trucks.
Filling the tank for the summer holidays is going to be one expensive ordeal: right now filling up a car might set you back from $60 to $80.
The surge in gas prices, which have been rising steadily since the beginning of the war in Ukraine, has alarmed authorities, as they pile up additional costs on Americans in the midst of growing inflation and a cost of living crisis which is being felt across the U.S. and Europe.
The erroneous gas price of the Rancho Cordova's gas station on Thursday was something of a mirage for Californian drivers: gas prices have not been as low as 69 cents per gallon since the late 1970s.
Update 6/10/22, 11:28 a.m. EDT: This article has been updated to include comment from Darryl Surita.