Gas Prices So High It's 'Cheaper to Buy Cocaine,' Senator John Kennedy Says
Republican Senator John Kennedy lashed out at the Biden administration's handling of the economic crisis in the United States while suggesting that gas prices are currently so high it would be cheaper to "buy cocaine and just run everywhere."
The current average price for a gallon of regular gasoline in the United States is $4.95, up from $3.06 this time last year, according to AAA. The highest average price is in California at $6.34 as of publication time and 10 states have surpassed $5.
In a brief but heavily critical appearance on Fox News' Jesse Watters Primetime on Tuesday, the Louisiana lawmaker attacked a number of leading Democrats while making the cocaine quip. Kennedy told Watters that when he feels "inadequate, I just look around" at his colleagues in Washington, D.C. "On really bad days, I see liars and frauds and meatheads and every direction."
The senator criticized Treasury Secretary Janet Yellen's recent remarks in which she said the country's decades-high levels of inflation will remain high, and not "transitory" as she previously claimed.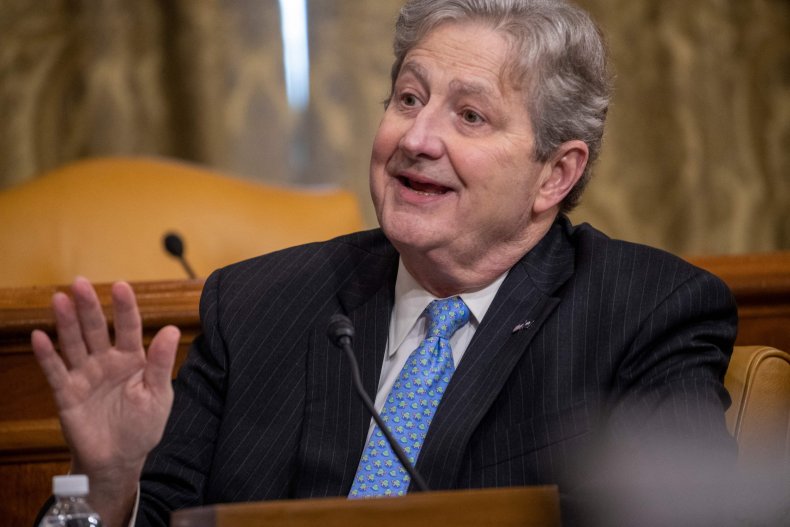 "Meanwhile, her boss, President Biden, continues to campaign for more economic chaos by trying to convince us in Congress to raise taxes by three and a half-trillion dollars by expanding an already generous welfare state and by turning cops into social workers," Kennedy said. "Meanwhile, I don't know about where you live, Jesse, but in my state, the price of gas is so high that it would be cheaper to buy cocaine and just run everywhere."
Kennedy then turned his attention to Vice President Kamala Harris and her proposals to invest billions of dollars into Central American countries in order to help reduce migration into the U.S.
"This is not satire. She said that. I will wait a moment while you stop laughing," Kennedy said. The senator continued his attacks on the vice president by suggesting that there is "no force in history none more powerful than self-delusion."
"The root cause of the illegal immigration is that people are coming into our country illegally, and people are coming into our country illegally because you and President Biden are letting them in," Kennedy said. "Enforce the law. Do what we were doing the day before you took office. The American people understand that, and that's why President Biden is about as popular right now as a sinkhole."
Harris was tasked by Biden to lead efforts to control illegal immigration at the southern border and the record amount of migrants who were illegally entering the U.S. from Mexico soon after Biden entered office.
A recent ABC News/Ipsos poll published Sunday found that just over a quarter of Americans approves of the way Biden is handling inflation. The survey revealed that just 28 percent of voters backed how the president is coping with the rising levels of inflation, with 27 percent approving how he is handling record-high gas prices.
Newsweek reached out to the White House for comment.