Treasury Secretary Janet Yellen Admits She Was Wrong About Inflation
Treasury Secretary Janet Yellen admitted that she miscalculated the severity of inflation the U.S. economy would experience coming out of the COVID-19 pandemic.
Yellen made the acknowledgement during an appearance Tuesday on CNN, a marked reversal from her remarks a year ago when she described inflation as a "small risk" and manageable. President Joe Biden has faced sagging poll numbers as consumers have watched their purchasing power shrink in the face of historic inflation.
"I think I was wrong then about the path that inflation would take," Yellen told CNN's Wolf Blitzer on The Situation Room when asked if she was wrong to downplay the risk of inflation from a year ago.
Biden earlier said inflation would be short-lived, after Congress early in his presidency signed off on his American Rescue Plan, which included $1.9 trillion intended to normalize the economy after pandemic-induced shocks. In January, Yellen likened the act to a "vaccine for the American economy," touting how it helped local and state governments respond to the pandemic while slashing child poverty rates and boosting job creation.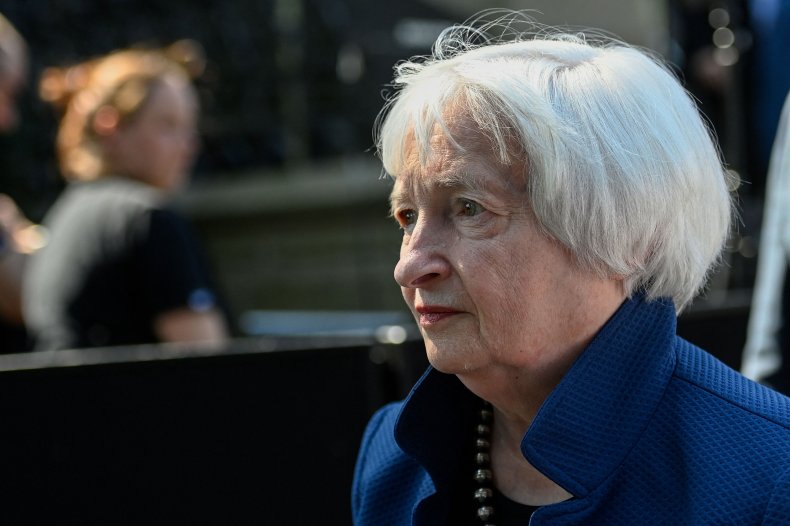 In a statement sent to Newsweek, a Treasury spokesperson said: "The Secretary was pointing out that there have been shocks to the economy that have exacerbated inflationary pressures which couldn't have been foreseen 18 months ago, including Russia's decision to invade Ukraine, multiple successive variants of COVID, and lockdowns in China.
"As she also noted, there has been historic growth and record job creation and our goal is now to transition to steady and stable growth as inflation is brought down."
Consumer prices have risen sharply, with March seeing their largest 12-month increase in more than 40 years. Earlier this month, the Consumer Price Index rose 8.3 percent from a year ago. Rising prices have meant consumers have held off on buying new cars and homes, despite unemployment reaching historic lows.
"As I mentioned, there have been unanticipated and large shocks to the economy that have boosted energy and food prices and supply bottlenecks that have affected our economy badly that I didn't—at the time—didn't fully understand, but we recognize that now," Yellen said on CNN.
Biden administration officials have recently sought to shift the blame to Russia's invasion of Ukraine. Yet Biden's approval rating is at a near-record low six months before voters head to the polls in the 2022 midterm elections. Republicans, who've made a near constant issue of inflation, could be poised to retake the House and Senate.
On Tuesday, Biden met with Yellen and Federal Reserve Chair Jerome Powell to discuss ways to reduce inflation. Biden stressed he respected the independence of the Fed, which controls the amount of money in the economy by setting interest rates.
In an essay published in The Wall Street Journal Monday, Biden defended his economic record, pointing out that business investment was up along with manufacturing jobs.
"The U.S. is in a better economic position than almost any other country," Biden wrote. "According to the International Monetary Fund, the U.S. economy will be larger at the end of this year—relative to its prepandemic size—than any other Group of 7 economy. The U.S. economy may grow faster this year than China's economy for the first time since 1976."
Biden pointed to how he approved the largest release from global oil reserves in history to help bring down gas prices. He said the cost of goods could be lowered by fixing broken supply chains, improving infrastructure and addressing "exorbitant fees that foreign ocean freight companies charge to move products." The president also said his clean energy and prescription drug pricing proposals would bring down consumer costs.
But Biden wrote that the "Federal Reserve has a primary responsibility to control inflation."
The Fed signaled in March it would raise interest rates for the first time since 2018 to rein in inflation.
Newsweek reached out to the White House for comment.
Correction 6/1/22, 5:12 p.m. ET: The headline and story have been adjusted to better reflect what Yellen said.