Gas Station Worker Fired After Accidentally Charging 69 Cents a Gallon
A worker at a Northern California gas station was fired Monday after he accidentally charged 69 cents a gallon for premium fuel.
A Shell gas station in Rancho Cordova lost $16,000, according to KGO-TV, after John Szczecina, who worked as a manager for a Shell gas station in the city, mistakenly put a decimal point in the wrong place, and ended up charging 69 cents a gallon of premium, instead of $6.99 a gallon.
"I put all three prices on there, except the diesel. The last one kind of didn't go. So, I just took responsibility for it and said yeah, it's my fault, and I'm to blame," Szczecina told ABC News Fresno station KFSN.
Hundreds of drivers took advantage of the drastically reduced fuel prices after word quickly spread on social media.
Drivers called friends and family, and cars lined up to fill their vehicles with cheap gas for hours, before the error was discovered.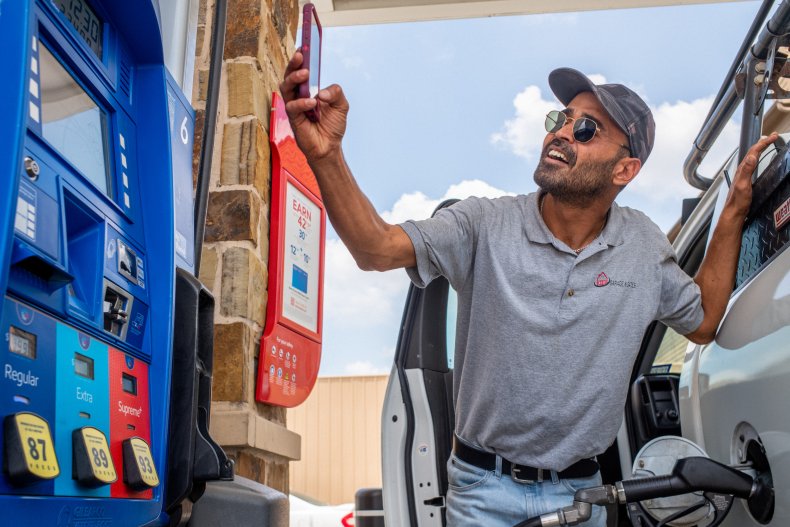 The former manager's sister, Paula Jackson, has since launched a GoFundMe page with a $16,000 goal to help Szczecina recover as much money as possible.
Szczecina told ABC News Fresno station KFSN that he fears he will be sued by the owners of the shell station for the mistake he made.
Business attorney Craig Zimmerman told KOVR that Szczecina could be protected from legal action.
"The only way he would be responsible, absent a written agreement, is if he was acting outside the scope of his employment," Zimmerman told the news outlet. "For instance, if his boss said, 'Whatever you do, don't ever set the price on that gas pump.' And then he did."
Fuel prices have been soaring nationwide, particularly in the last few months, following Russian President Vladimir Putin's invasion of Ukraine in late February.
In a historic first, the cost of U.S. gasoline averaged more than $5 per gallon on June 11, data from AAA showed.
As of Wednesday morning, the national average price per gallon of gas is $5.014, according to AAA. In California, the District of Columbia, Hawaii, Illinois, and Nevada, the price per gallon of premium fuel is currently above $6.
President Joe Biden is hoping to reduce energy prices ahead of November's congressional elections. He is visiting the Middle East next month, and the trip includes a stop in the oil-rich kingdom of Saudi Arabia.
News of the visit, announced by the White House on Tuesday, came after the group of oil-producing nations called OPEC+, led by Saudi Arabia, agreed recently to ramp up oil production to help reduce prices.