Gavin Newsom Admits to Mistakes Amid Pandemic as Recall Election Looks More Likely
California Governor Gavin Newsom, a Democrat, admitted that he's made mistakes amid the COVID-19 pandemic, with the recall petition against him surpassing 2 million signatures.
The recall effort—RecallGavin2020—announced last Wednesday that it had secured more than 2 million signatures. Just 1.5 million are required to spur a recall election—which would have to take place within 60 to 80 days of the signatures being verified. The Republican organizers behind the campaign take aim at Newsom for a slew of problems in the Western state, while the governor's defenders argue it's just a long-shot GOP bid to take control.
During a Friday interview with KQED, Newsom admitted that he and his administration had made mistakes throughout the pandemic. But he argued that the recall effort was not actually about his response to the COVID-19 crisis and that he'd learned from his mistakes.
"This thing got started before the pandemic...Look at the petition that's out on the streets," the California governor said.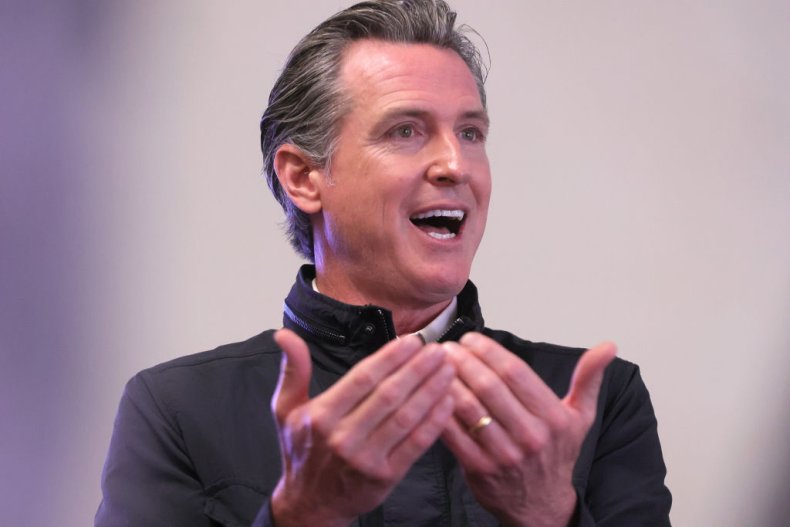 "It's about immigration. It's about our health-care policies. It's about our criminal justice reform. It's about the diversity of the state. It's about our clean air, clean water programs, meeting our environmental strategies. So they were crystal clear what this is about," he said.
Newsom drew national attention and significant backlash after he joined a November 6 dinner with friends and associates at an upscale northern California restaurant called French Laundry. The attendees did not wear masks, and leaked photos showed them eating indoors, which went against the Newsom administration's pandemic-related public health directives at the time. The governor apologized after the news broke, but he addressed the dinner again during the KQED interview, saying "of course" he regrets the decision.
"That's those things you can never get back. And, you know, I owned up to that. And no one hid it from that. And that was a mistake. Crystal clear," he said.
Newsweek reached out to the RecallGavin2020 campaign for comment but did not immediately receive a response. The initiative points to: "Unaffordable housing. Record homelessness. Rising crime. Failing schools. Independent contractors thrown out of work. Exploding pension debt. And now, a locked down population while the prisons are emptied." It urges Californians to "hold Gavin Newsom accountable."
"This campaign is not about political power brokers, it is about The People, The People and All of the People of California," said Randy Economy, senior advisor and official media spokesperson for RecallGavin2020, in a Wednesday statement announcing that the petition had secured more than 2 million signatures.
In late February, California's Lt. Governor Eleni Kounalakis dismissed the recall effort, slamming it as partisan.
"I'm also very hopeful that Californians will recognize that this is a Republican-driven effort built on a fantasy that they can slip a Republican governor into the bluest state in the country," Kounalakis told CNN.
A poll published in early February by the UC Berkeley Institute of Governmental Studies showed that 43 percent of Californians said that Newsom and other state leaders had done a poor job of responding to the pandemic. Additionally, over a third of the state's voters said they'd support Newsom's ouster, while 45 percent said they'd oppose the effort.