Gavin Newsom on Shaky Ground Six Weeks Out From California Recall Election
Gavin Newsom has six weeks remaining before he defends his office in California's upcoming gubernatorial recall election, and recent polling indicates voters are split on whether to keep him for the remainder of his term or elect a replacement.
If Newsom defeats the recall effort, he will remain in office and get the opportunity to run for a second term in the 2022 midterm election. But if more than 50 percent of California voters cast their ballots in favor of removing the Democrat from office, the recall candidate who receives the greatest number of votes will replace him and run the state until the midterms.
Newsom has faced six recall efforts since he was elected with 61.9 percent of the vote in 2018, but the current petition is the only one that qualified for a ballot. The petition was launched by Recall Gavin Newsom, a group led by former Yolo County Sheriff's Office Sergeant Orrin Heatlie, and collected more than 2 million signatures by its mid-March deadline.
State officials determined recall organizers succeeded in collecting at least 1,495,709 valid signatures, the minimum number needed to trigger a recall election for Newsom. The state's lieutenant governor set September 14 as the recall election date, and California Secretary of State Shirley Weber released a list last month of 46 candidates who qualified to challenge Newsom for his seat.
Only one California governor has been recalled from office in the state's history. In October 2003, 55.4 percent of voters cast their ballots in favor of removing Democratic Governor Gray Davis. Davis was replaced by Arnold Schwarzenegger, a Republican, who received more votes than any of the other more than 100 recall candidates.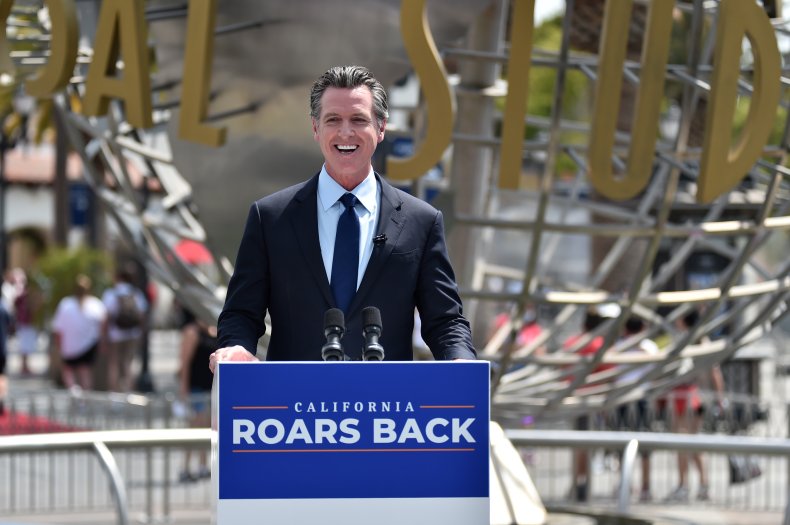 As September's recall election inches closer, Newsom and his challengers are hitting the campaign trail and urging voters to participate. According to polls released last week, voters are relatively split on whether they want Newsom to remain in office. Newsom's Stop the Republican Recall campaign acknowledged the recent polling numbers were not ideal in fundraising emails sent to voters last week.
"Let us be very direct and very honest: if we do not have the resources we need to turn out our voters, we could lose this recall," Stop the Republican Recall wrote in one email distributed on July 28.
The campaign cited poll results released on July 27 by the University of California Berkeley Institute of Governmental Studies (IGS). In that survey, 50 percent of respondents who were identified by pollsters as most likely to vote in the recall election said they preferred to keep Newsom in office, but 47 percent said they wanted him recalled.
"We can't afford to lose this recall," Newsom's campaign concluded in its fundraising message. "The stakes are too high."
Though nearly half of motivated voters told pollsters they wanted Newsom out of office, only 36 percent of all polled voters said they wanted the recall election to be successful. That percentage has remained consistent through earlier Berkeley IGS polls conducted in January and April. Meanwhile, 51 percent of the full group of respondents said they wanted Newsom to remain governor—a 6 percent increase over the institute's January poll.
Another change the Berkeley IGS poll documented was the decline in undecided voters. While 19 percent of survey respondents told pollsters in January—nearly two months before the recall organizers hit their signature collection deadline—they weren't sure if they wanted the recall to succeed or not, only 3 percent of respondents were undecided in the institute's latest poll.
A few days before Berkeley IGS released its July poll results, another poll conducted by Emerson College for Inside California Politics found 48 percent of voters wanted to keep Newsom in office, while 43 percent said they wanted him recalled.
After the Emerson College poll results were released, Newsom campaign spokesperson Nathan Click told Newsweek the governor's team was encouraging Californians to prepare to vote so Democrats could put a stop to the "Republican recall."
"Democrats can't get complacent—we have to vote," Click said. "If Californians vote, we win."
As Newsom's team works to raise awareness about the special election, several of the recall candidates are similarly visiting with voters to explain why they believe they are the best person to lead California.
Of the 46 candidates who will be on the ballot, conservative radio host Larry Elder led the pack in both the Berkeley IGS and Emerson College polls. Businessman John Cox and former San Diego Mayor Kevin Faulconer tied for second place in each poll—followed by fellow Republicans Kevin Kiley, a state lawmaker; and Caitlyn Jenner, a reality television personality.
While recall organizers credited the restrictions Newsom introduced in response to the coronavirus pandemic as key to fueling signature-collection efforts, the virus is one of many topics of interest among Newsom's challengers, who also focus on issues like homelessness and wildfire prevention.
But voter turnout among Democrats is ultimately expected to be the deciding factor in the recall election, Berkeley IGS co-director Eric Schickler said at the time of the institute's July poll release.
"These results make plain that the big question surrounding the recall will be whether the Newsom campaign and Democratic activists are able to get Democratic voters more engaged and interested in voting in September," Schickler said.