Gays for Trump Founder Peter Boykin Calls Transgender Troops 'Mentally Challenged'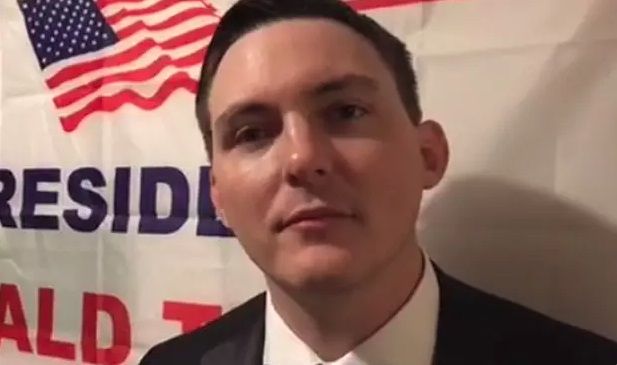 Peter Boykin, founder of the campaign group Gays for Trump, is running for the North Carolina House of Representatives under the slogan "MAGA for everyone." It seems that his slogan doesn't include transgender soldiers, whom he described as "mentally challenged."
LGBT activists have called the comments "offensive" and misinformed. Boykin, 40, hopes to use recent changes to district boundaries to turn the seat in Guilford County 58th district red in the autumn election.
Boykin will challenge African-American Democratic incumbent Amos Quick. According to a press release, Boykin's campaign focuses include schools, the church, public safety including "proper gun training," as well as employment and job security.
"I want to ensure people of all walks of life are treated with dignity and respect so long as they also return the favor," Boykin said in the statement. "Equality is treating everyone with equal respect regardless of race, sex, sexual orientation, religion, political party, or opinions."
In a recent interview with The Daily Beast, Boykin said that "people already have enough problems with PTSD" and argued a trans person "might snap and turn it [a weapon] on their fellow soldiers."
Sarah Kate Ellis, president and CEO of LGBT advocacy group GLAAD told Newsweek, "Every credible mental and medical health organization has stated unequivocally that the lies pushed by anti-trans fear mongers about transgender people are false.
"Study after study shows that transgender people are fully fit for military service, and indeed, have served this country admirably for decades," she continued. "As a member of a community who has had to fight for basic human rights, Boykin 's statements are offensive, rooted in misinformation, and fly in the face of support that Americans have shown for trans military service."
In a separate interview with Triad City Beat, Boykin suggested that he wanted to remove the "trans" from the LGBT acronym. "I prefer gays, lesbians, bisexuals and allies," he said.
Read more: Erika Harold: Illinois Governor Defends Republican Attorney General Candidate Haunted by 'anti-gay' Adoption Comments
His controversial comments come after President Donald Trump signed a directive banning transgender military recruits last year. In the autumn, a preliminary injunction was made against the move and at least two openly trans recruits have signed up to the military since then, WLTZ.com reported.
Boykin defended the president's policy and told The Daily Beastthat Trump's plan was "a business move, not a transphobic move." Boykin, who runs the MAGA One Radio outlet, added that Trump is "probably still friends" with Caitlyn Jenner.
While the status of their friendship remains unclear, Jenner recently told Newsweek, "As far as trans issues, this administration has been the worst ever." She added, "They've set our community back 20 years, easily."
Jessica Stern, executive director of LGBT non-profit Outright International told Newsweek, "It just goes to show that the LGBTIQ community is as diverse as any other, with our own share of internalized prejudice. Those of us who actually work within the LGBTIQ movement know that transgender Americans are among the most oppressed and most in need of resources."
Stern added, "We also know that gun control, non-discrimination laws, and immigrant rights are indivisible from LGBTIQ rights. This guy is a stunt, nothing more, using the community's good name to advocate for no one but himself."
This is not the first time that Boykin's views have come under the spotlight. He previously made headlines for turning up at Trump rallies sporting a MAGA hat and "Gays for Trump" shirt. His husband, David Smith, was seen ejecting an anti-Trump protester from a rally in Greensboro.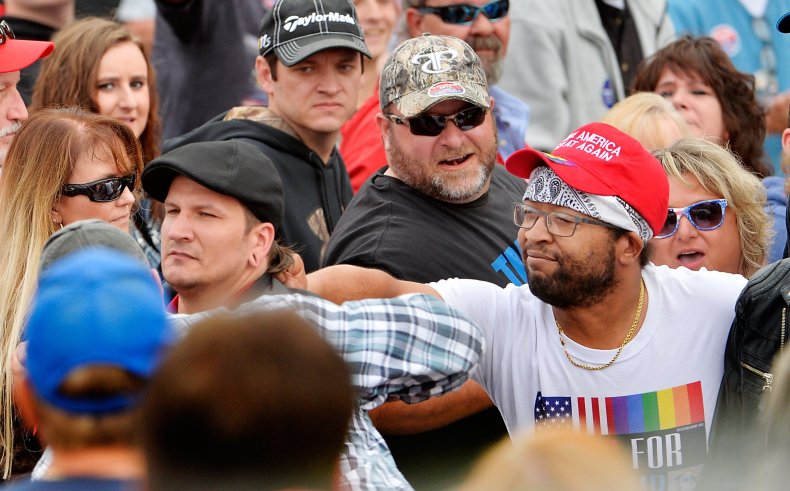 Boykin also has controversial views on Islam. In June 2017, Boykin spoke as an emcee for the Raleigh March Against Sharia, an event organized by Act for America, a group described by the Southern Poverty Law Center as "an anti-Muslim hate group" that "pushes wild anti-Muslim conspiracy theories, denigrates American Muslims and deliberately conflates mainstream and radical Islam." On the Gays for Trump website, the banner head reads "just say no to radical Islam."
Residents of the 58th District have the chance to shun or support Boykin on November 8.
Boykin did not immediately respond to a request for comment.