'Genius' Bride Praised for Giving Bridesmaids 'Crazy' Survey
A bride-to-be earned praise from viewers after she shared the in-depth survey that she sent to her bridal party in a viral TikTok video.
TikTok user @geneybaby posted the video, which showed a glimpse of the survey, to her account where it amassed 1 million views.
"POV: you're a member of my bridal party who just got the link to my bridal party planning survey asking everything from dress color preference to budget for a [bachelorette] party," the text over the video read.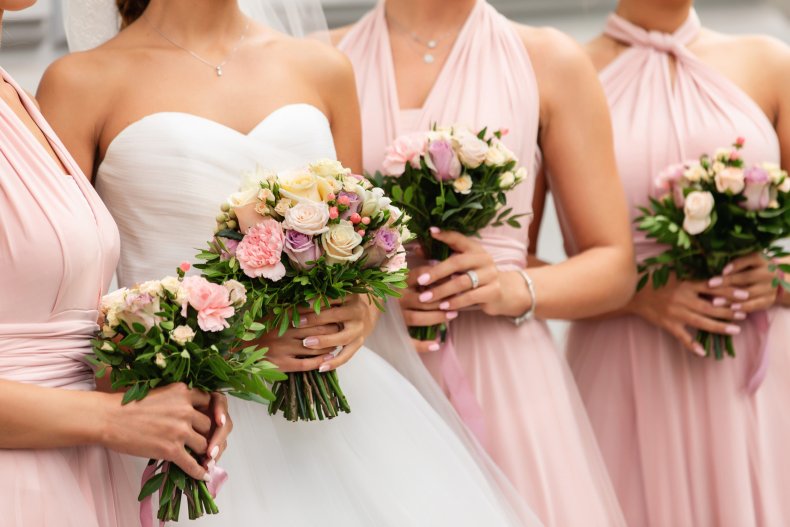 For many, agreeing to be a part of a wedding party can be a major commitment, but there are ways that a bride can be considerate of their needs.
An article published by Martha Stewart Weddings recommended that brides be thoughtful of their bridesmaids' budgets.
"If you know that certain members of your bridal party have financial restraints, keep that in mind when it comes to your activities and bridesmaid attire," the piece said.
It also said to limit the number of outings that bridesmaids are expected to attend.
"Even if loved ones offer to throw more events for you, try to limit the number of obligations placed on your bridal party," the article said. "And if they can't make it to something, let them know they will be missed but don't pressure them to attend."
In her video, @geneybaby quickly scrolled through the in-depth survey that she sent to her bridal party.
"We are channeling giving our bridal party choices in this process," @geneybaby's video caption read.
In a second video, she went into detail about what was covered in the survey.
She said there were three sections to the survey—one as it relates to the wedding weekend, one about the bachelorette party and one that contained miscellaneous questions.
Questions about whether members of the bridal party wanted their hair and makeup professionally done, how much money they were comfortable spending for bridal party attire and what color they wanted to wear were included in the wedding weekend portion of the survey.
When it came to understanding what they were able to do for the bachelorette weekend, @geneybaby offered several destinations with the ability for bridesmaids to rank her personal favorite options.
"It also takes a lot of time and money to attend a bachelorette, so I added some questions to understand if they were willing to have a long weekend or just a weekend, like Friday night to Sunday," she said.
TikToker @geneybaby added the chance for bridesmaids to express where they preferred to spend most of their time and money by asking about budgeting for traveling, activities and food.
She also asked about the bridesmaids' expectations for what they can be involved in throughout the wedding party.
"I'm so lucky to have them as part of my bridal party, so I want to make sure this is an experience that they get a lot out of," @geneybaby said.
TikToker @geneybaby, a former event planner, wrote to Newsweek that she wanted to ensure her bridal party felt taken care of and that they had a voice in their involvement in the wedding, which was why she created the survey.
She said it took about two hours to create the survey. The questions, she said, were based on her own experience as a wedding planner and former bridesmaid.
TikToker @geneybaby said her bridal party "loved" the idea of the survey and she began selling the survey template on her Etsy shop.
"I pitched the idea to them ahead of sending it to see if it was even necessary, but they advocated for it as it allowed them to share their thoughts and needs," @geneybaby said.
Viewers of both videos applauded @geneybaby for the consideration she put into the survey and for her bridal party.
"I respect you [so much] for this," a viewer wrote. "When a friend gives me options it makes me actually want to celebrate and spoil them even more."
"This is the best thing you can do," commented another. "May seem crazy, but in reality it makes it easy to respect everyone or as many members as possible."
"I'd rather be asked a million questions than stuck in a dress I hate and forced to pay for a trip I can't afford," one viewer wrote.
"Literally such a genius idea," a viewer commented.
TikToker @geneybaby said that while some viewers may have initially thought she was a "Bridezilla" for creating the survey, she said it was done with the opposite intention.
"I'm so thrilled to be partnering with my bridesmaids on what they're involved in with the wedding and letting them have control rather than just telling them what to do, where to go, and what to pay," she said.
Other videos have gone viral as it relates to wedding planning.
A wedding planner posted a video on TikTok in which she shared some tips on how couples can save money with their seating charts.
One bride shared a video about how she was able to plan her wedding for less than $10,000 despiting having more than 100 guests.
Another video showed the process it took for a couple to turn their backyard into their private wedding venue.
Updated 08/23/2022, 3:38 p.m. ET: This story has been updated with comments from @geneybaby.
Updated 08/23/2022, 5:38 p.m. ET: This story has been updated with a verified video of the incident.