On Anniversary Of George Floyd's Murder, Activists Push to Divest Police Funding
One year ago, George Floyd was murdered in Minneapolis. His death galvanized millions, who took to the streets in cities across America and worldwide in protest.
Floyd, a 46-year-old Black man, was killed on May 25 last year when then-Minneapolis police officer Derek Chauvin pressed a knee into his neck for more than nine minutes while Floyd repeatedly pleaded for air.
Cellphone footage of Floyd's final moments was captured by a teenage girl and watched by the world, triggering a summer of unrest and a national reckoning on race.
Last month, Minneapolis was at the heart of celebrations after Chauvin, who is white, was convicted on murder and manslaughter charges in Floyd's death.
But as the nation marks the one-year anniversary of Floyd's death, activists have told Newsweek the fight for change is far from over.
The number of officers who are tried and convicted over the killings of Black people in the U.S. is "abysmally low," said Amara Enyia, policy and research coordinator for the Movement for Black Lives (M4BL).
"The fact that it took millions of people and an uprising to create the public pressure for it to even get to a trial, and then get to a conviction, just tells you how deeply problematic and how deeply entrenched the issues with policing in the U.S. are," she told Newsweek.
"We don't believe that one conviction in these circumstances equates to justice. We're pushing for systemic and transformational change to these institutions that will have a material impact on the millions of people who've been affected."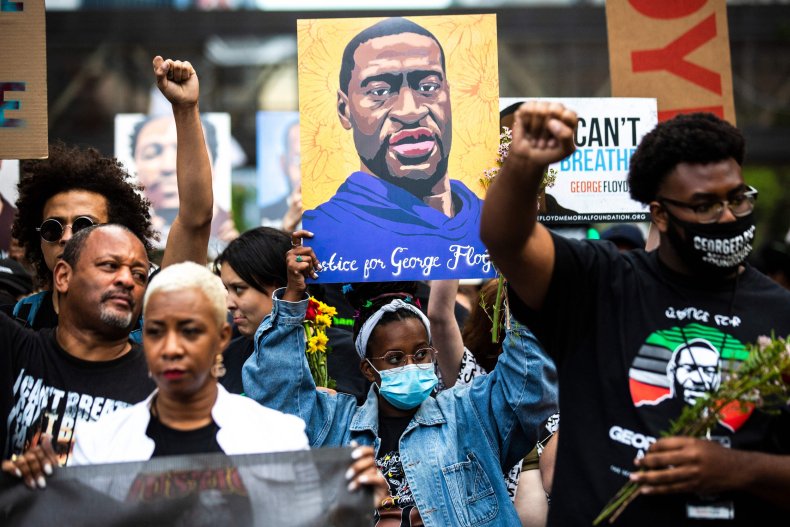 Jamecia Gray, the manager of political partnerships at M4BL, a coalition of dozens of organizations representing the interests of Black communities, said she believes the verdict in the Chauvin trial could not have gone any other way because of how drastically the climate has shifted since last summer's protests.
"We had over 25 million people take to the streets, making it the biggest social movement to date," she told Newsweek.
Yet she noted that the police killing of Daunte Wright in the Minneapolis suburb of Brooklyn Center while the trial was underway, and then the fatal shooting of 16-year-old Ma'Khia Bryant by a police officer in Columbus, Ohio, shortly before the verdict was returned, shows that very little has actually changed in policing in the past year.
"It's not surprising," she said. "And what it does say is we have more work to do, and we're not done."
At a rally in Minneapolis on Sunday, Floyd's family members called on the Senate to pass the George Floyd Justice in Policing Act, a bill passed by the House in March that would ban chokeholds and "qualified immunity" for law enforcement, as well as creating national standards for policing.
President Joe Biden, who will meet with Floyd's family at the White House on Tuesday, set May 25 as the deadline for signing the police reform legislation into law during his address to Congress last month.
A bipartisan group of lawmakers have been negotiating over the legislation for weeks, but White House press secretary Jen Psaki acknowledged last Friday that Congress was not likely to meet the president's deadline.
But Gray said the Justice in Policing Act is "not the way to go" because it actually gives more funding to police departments, some of which already have exorbitant budgets.
It's an "unnecessary amount of money when you have Black and brown and indigenous communities that are being over-policed," she said.
Enyia added: "We believe that it is absolutely critical to invest in those communities and those people, as well as divest from the carceral state, because so much of our funding and resources currently goes to police and police infrastructure.
"For example, in Chicago, policing is a third of the budget while people don't have access to mental health care services or reduced access to mental health care services."
Scott Roberts, the senior director of criminal justice campaigns at Color of Change, a nonprofit civil rights advocacy organization, agreed that a "reduction in the size and scope of policing" is what is needed, noting that Floyd was ultimately killed because police were called over an alleged counterfeit $20 bill.
"We have over-invested in policing as a solution to community challenges," Roberts told Newsweek. "We believe there are better alternatives to address violence and crime in our communities."
Roberts pointed to the police killings of Rayshard Brooks and Daniel Prude as reasons the organization has "doubled down" on that position.
"We've been working in places like Minneapolis and Rochester, to reorganize city budgets, to decrease the investment in policing, and reallocate those funds to alternative programs," he said.
Roberts added that the culture of policing is "resistance to change," and racial bias and violence is too prominent in policing culture.
"Our job is to take that energy from protest movements, directed into the campaigns for systemic change, that we want to see," he said. "Obviously, we still have a long way to go... and outrage alone is not going to change policing."
Enyia added that the protests triggered by Floyd's murder prompted Americans to "really examine the racist grounding of so many institutions," from education to healthcare.
"We saw that, I think, because of the millions and millions of people that came out in the uprisings and the persistence to push for structural change."
The continued police killings of Black people show that "we can't continue to focus on policing when we think about what creates safety and what justice means," Enyia added.
The Justice in Policing Act "follows within the same pattern of reaction, a focus on policing and police infrastructure measures that essentially funnel more resources to police," she added, "when in fact the millions of people that came out over the past year were demanding what they believe creates safety for them.
"And that requires investment in their community, investments in education, health care and housing. That's actually where the focus should be.
"There is no more stark evidence of that than the fact that as the verdict was being read in the Chauvin trial, police were killing a Black teenage girl in Ohio... it just shows the status quo is certainly not what we need in this moment."
Roberts agreed. "As we continue to run these campaigns, to push for divestment from policing, in prisons... we see people continuing to be eager to take action with us," he said.
Gray said several local governments have taken steps to divest funding from policing. "We're seeing those shifts, that's a win for us," she said.
But the M4BL is pushing for the passage of the BREATHE Act, sweeping legislation that would divest federal resources from policing and incarceration.
"We're committed to moving forward in spite of other conversations that are taking place, and in spite of the Justice in Policing Act," Enyia said. "Because we don't think that settling for the bare minimum, just to say that you got something passed, is going to work nor will it be sufficient, and nor does it respect the millions of people who came out who are demanding substantive change."
She added: "It's easy to take that sigh of relief and say, 'Okay, maybe things are really changing for the better.' But we know that as soon as you let your foot off the gas... the system is so deeply entrenched that they simply recreate it, sometimes come back even stronger [and] more harmful."