George Floyd Family Urges Need to 'Change Current System' After City Votes to Keep Police
The family of George Floyd is calling for a change to Minneapolis's criminal justice system after residents rejected a measure to disband the city's police department.
The proposition, included on the ballot during Tuesday's election, would have replaced the police with a "public-health oriented" Department of Public Safety.
But a majority of voters, 56 percent, chose to keep the Minneapolis Police Department (MPD). The decision comes nearly 18 months after the death of Floyd, an unarmed Black man who was killed after former Minneapolis police officer Derek Chauvin kneeled on Floyd's neck for roughly nine minutes.
Shareeduh Tate, Floyd's cousin and president of the George Floyd Foundation, reiterated the need for police reform following Tuesday's vote.
"I believe that there is as much of an opportunity for police reform measures to be pushed within the Minneapolis Police Department," Tate said in a statement. "The voters have spoken and they did not want to replace the MPD with a department of public safety. Now they must do the hard work to change their current system to ensure that officers don't murder another black man in broad daylight with cameras rolling the way they murdered George!"
Floyd's death on May 25, 2020, sparked nationwide protests over police brutality and racial injustice. The police killing was captured on video, as Floyd said "I can't breathe" more than 20 times and called out for his mother.
Chauvin was convicted in April of second-degree unintentional murder, third-degree murder, and second-degree manslaughter. He was later sentenced in June to 22-and-a-half years in prison. Three other Minneapolis police officers present at the time of the fatal incident will also stand trial.
Several states across the U.S. implemented police reforms in the wake of Floyd's death. More than a dozen states banned the use of chokeholds, and the Justice Department announced in September it would prohibit the use of carotid restraints unless deadly force is authorized.
In Washington D.C., House Democrats passed the George Floyd Justice in Policing Act. The legislation, which has yet to be taken up for a vote in the Senate, would end qualified immunity for officers among other reforms.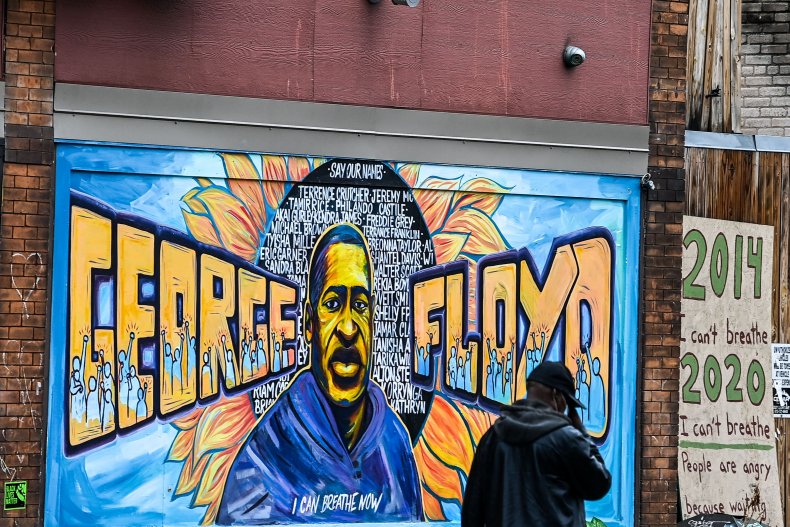 Other activists are also calling on the Minneapolis police to implement changes after the ballot initiative was struck down on Tuesday.
"We have to do something because I still don't feel comfortable calling the police," said grassroots organizer Brian Fullman. "People are still where they were before the elections, which gives us the opportunity to organize and drive our base to deliver the transformation we all in this room know we need."
The Minnesota Police and Peace Officers Association, which represents thousands of law enforcement officers, said Tuesday's election results should be a "wake up call" for politicians calling to defund the police.
"Let's work together for increased safety for all, instead of pursuing reckless policies which only empowers criminals," the association said in a statement.
The MPD told Newsweek it had no public statement on Tuesday's election results.
Correction 11/03/21, 4:45 p.m. ET: A previous version of this story erroneously referred to the Minnesota Police and Peace Officers Association (MPPOA) as a union. It has been updated to clarify that the MPPOA is an association.