Protests that started in Minneapolis over the death of George Floyd have continued into a third night and spread nationwide, sparking acts of violence, vandalism and looting.
Huge demonstrations took place again in Minneapolis and St. Paul Thursday from those angry at the death of Floyd.
Floyd, an unarmed black man, died after a white police officer placed his knee on his neck for several minutes during an attempted arrested while the 46-year-old cried: "I can't breathe."
During Thursday's protests in Minneapolis, demonstrators stormed and set fire to a police station. Minneapolis Police Department said the 3rd Precinct station had been abandoned that night "in the interest of the safety of our personnel."
The St. Paul Police Department said more than 170 businesses were damaged or looted during protests in the city, with dozens of fires also breaking out.
Similar demonstrations have now broken out across the country, with cities also seeing violence and disorder during the protests.
New York
A total of 40 people were arrested in New York during a protest on Manhattan's Union Square that turned violent.
People were arrested for a number of offenses, including one who was allegedly seen brandishing a knife and second who attempted to remove a gun from an officer's holster.
One officer was hit with a garbage can and another punched in the face during the unrest.
Denver
Demonstrators blocked the roads in downtown Denver with police using tear gas in an attempt to dispel the crowds.
Video emerged showing a car appearing to purposely drive into protesters near the Capitol, with several shots being fired. It is unclear if the protesters were the target of the shooting.
Columbus
Areas of downtown Columbus were vandalized and projectiles thrown after violence broke out during Thursday's protest, attended by hundreds of people.
Several businesses were looted during the disorder, with people also storming the Ohio Statehouse
Franklin County Sheriff Dallas Baldwin described the destruction as "heartbreaking" in an interview with WBNS.
Memphis
Two nights of protests have taken place in Memphis. Five people were arrested for offenses such as obstruction of highway and assaulting a police officer during Wednesday's demonstration.
Los Angeles
A number of relatively peaceful demonstrations took place in Los Angeles and Santa Monica, although dozens blocked the 101 Freeway and then attacked two California Highway Patrol vehicles in the downtown area of L.A.
Minor disorder reportedly broke out at a rally in Fontana after demonstrators began throwing rocks and bottles at businesses and cars.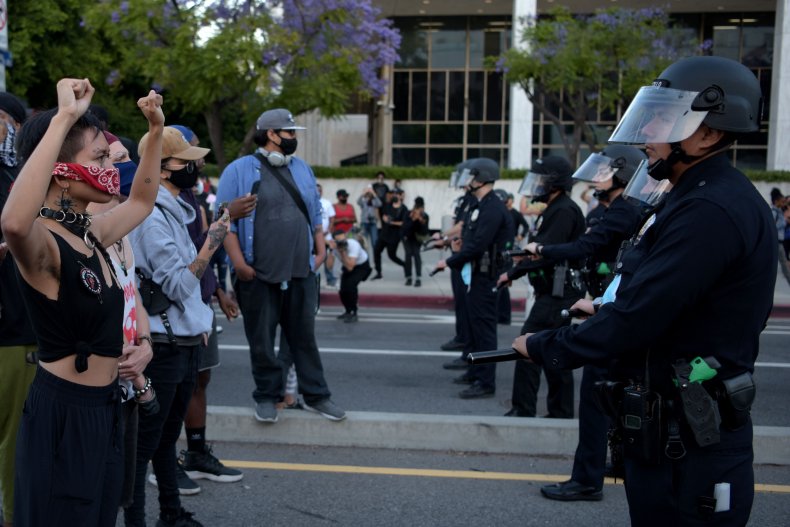 Oakland, California
A small protest took place on Thursday in Oakland, with a second demonstration set to go ahead at Frank H. Ogawa Plaza outside City Hall on Friday.
"The killing of George Floyd is our American travesty, repeated," Oakland Mayor Libby Schaaf tweeted. "It's a nauseating act of government violence against a Black man, and it angers our city and communities across the country.
"We can, and must, undo the systems that allow it, and build a more beloved community right now."
Elsewhere, the Minnesota National Guard confirmed it is sending 500 soldiers to St. Paul and surrounding communities in order to "protect life, preserve property and the right to peacefully demonstrate."
In a tweet, President Donald Trump threatened that those taking part in the disorder will be shot by the army. "Any difficulty and we will assume control but, when the looting starts, the shooting starts," Trump said.
Twitter said Trump's message broke the social media site's rules on glorifying violence.