As George Floyd Protests Rage, Chinese Officials and State Media Accuse U.S. of Hypocrisy Over Hong Kong
Chinese officials and state media have mocked the U.S. government and accused American leaders of hypocrisy as protests rage nationwide following the death last Monday of George Floyd, the African American man who died while in police custody in Minneapolis.
"All lives matter. We stand firmly with our African friends. We strongly oppose all forms of racial discrimination and inflammatory expressions of racism and hatred," Hua Chunying, a spokesperson for China's Foreign Ministry, tweeted Monday. Hua retweeted a post from Chairperson of the African Union Commission Moussa Faki Mahamat, which called on the U.S. to address nationwide discrimination.
"I further urge the authorities in the United States of America to intensify their efforts to ensure the total elimination of all forms of discrimination based on race or ethnic origin," Mahamat wrote.
On Saturday, Hua tweeted "I can't breathe" when sharing a screenshot from a tweet by her American counterpart, Morgan Ortagus. The State Department spokesperson's tweet criticized the Chinese Communist Party for cracking down on freedom of speech and protests in the special administrative region of Hong Kong.
Floyd can be heard saying "I can't breathe" in a viral video of his arrest, which showed white police officer Derek Chauvin pinning him down while kneeling on his neck. Chauvin kept his knee on Floyd's neck for nearly nine minutes, despite concerns expressed by onlookers. Floyd was later declared dead at a nearby hospital.
Although Chauvin and three other officers involved in the incident have been fired, and Chauvin has been charged with manslaughter and murder, protests have persisted across the country. Black Lives Matter activists and their allies have held peaceful demonstrations, but many of the protests have turned violent, with some demonstrators looting local businesses and setting police vehicles and facilities on fire.
"I highly suspect that Hong Kong rioters have infiltrated American states. Attacking police stations, smashing shops, blocking roads, breaking public facilities, these are all routine in their protests," Hu Xijin, editor-in-chief of Global Times, a daily English-language newspaper published by the Chinese Communist Party, tweeted on Sunday, in what appeared to be a sarcastic and mocking post.
"Vicious HK rioters obviously are mastermind of violent protests across the US," Hu wrote.
Newsweek reached out to the State Department and the Chinese Embassy in Washington, D.C., for comment but did not hear back before publication.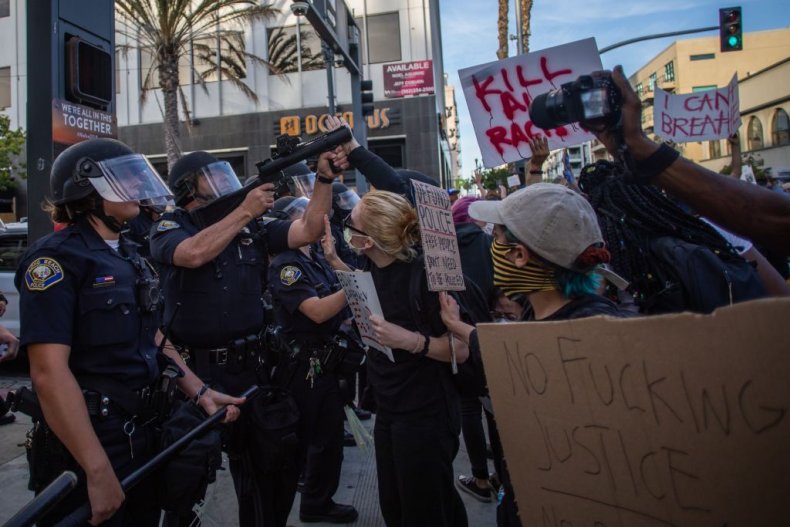 U.S. leaders have been highly critical of China's efforts to crack down on pro-democracy demonstrations in Hong Kong. The former British colony was transferred back to Beijing's control in 1997 and has enjoyed relative autonomy and freedom under the "one country, two systems" policy. But China has increasingly been working to implement more authoritarian control over the region in an effort to bring it in line with the mainland.
Last week, Chinese lawmakers approved a national security law that activists have warned would do away with many of the freedoms Hong Kong citizens have enjoyed for decades. The region had already been rocked by protests throughout 2019, as pro-democracy demonstrators raised concern about Beijing's increasingly authoritarian control.
Secretary of State Mike Pompeo said last week that "no reasonable person can assert today that Hong Kong maintains a high degree of autonomy from China, given facts on the ground." The Trump administration also moved to end Hong Kong's special trading status with the U.S. and is expected to add new sanctions targeting China in response to the new national security law. Many protesters in Hong Kong have welcomed the support from the U.S.
"I have a question for violent protesters in Hong Kong and their supporters there: Would you stand with angry Minneapolis demonstrators who attacked police station, or would you stand with President Trump who threatens to shoot 'These THUGS'?" Hu tweeted this past Friday.
Trump has been highly critical of the violent demonstrators who have been part of the George Floyd protests. He has called them "thugs" and threatened that they could be shot and attacked by dogs. On Monday, CBS News reported leaked audio of Trump telling governors: "You've got to arrest people, you have to track people, you have to put them in jail for 10 years and you'll never see this stuff again," as he discussed the rioting.
"We're going to pull in thousands of people," the president reportedly said. Trump has also voiced his condolences to the Floyd family and called for swift justice to be carried out in the case.
Global Times also published an editorial on Sunday that compared the demonstrations in the U.S. to those that have taken place in Hong Kong.
"What follows, as the U.S. used to direct such plays, should be that China and countries whose internal affairs the U.S. has interfered in, release statements and support the 'revolt of the American people,' call on the U.S. government to engage in serious dialogue and negotiations with the protesters, and urge the U.S. government to exercise restraint in trying to restore order," the newspaper wrote.