The killing of George Floyd is symptomatic of a systemic problem with police violence in the U.S., academics who research the issue have told Newsweek.
Police arrested 46-year-old Floyd on May 25 outside a shop in Minneapolis, Minnesota, for allegedly trying to use a counterfeit $20 bill. Floyd was pronounced dead at a hospital after police officer Derek Chauvin allegedly held his knee on Floyd's neck for almost nine minutes. Video footage of the incident showed Floyd repeatedly telling Chauvin he could not breathe.
The encounter had echoes of the killing of Eric Garner, who died telling a police officer who had him in a chokehold that he was unable to breathe. Floyd's death is the latest incident in recent months to highlight violence against unarmed African American men and women in the U.S., following the killings of Ahmaud Arbery and Breonna Taylor.
Researchers told Newsweek police violence is such a threat to the lives of black men and people of colour that it should be treated as a public health issue. The American Academy of Pediatrics (AAP), American Medical Association and American College of Physicians expressed similar concerns over police brutality in the wake of the death of Floyd and others. "Racism is a public health issue," the AAP tweeted Sunday.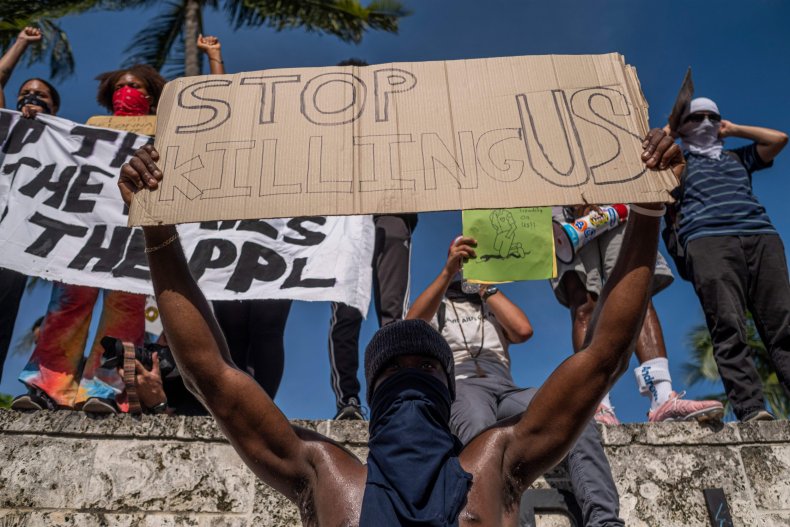 Atheendar Venkataramani, a physician and assistant professor of health policy at the Perelman School of Medicine at the University of Pennsylvania, said violence against black men is a "critical public health issue. We should be invested in addressing it, as we do for all public health issues.
"Put simply," said Venkataramani, "police violence—and the structural racism that may lie at its root—can have a myriad of effects on health and well-being over the life course."
A number of studies reveal the threat of police violence against black men in the U.S.. According to one published last year in the journal PNAS, it is the leading cause of death in young men in the country, with law enforcement killing one in every 1,000 black men. Police were also found to be significantly more likely to kill black women, American Indians, and Alaskan Natives than white women and men.
In 2016, a study in the journal American Journal of Public Health showed police are almost three (2.8) times more likely to kill black men than white men. Around two years later, another paper published in the same journal revealed police killings accounted for around 8 percent of all homicides, with adult male victims between 2012 and 2018. Again, the risk appeared greater for black men.
Similarly, when a team at Rutgers University-Newark looked at every reported use of deadly force by police in the U.S. between 2014 and 2015, they found police killed African Americans more than twice as often as the general population. Those findings were published in the journal Public Administration Review.
The use of police force not only harms the individual, robbing them of their lives in extreme cases, but also affects wider communities, according to the scientific literature. The death of Freddie Gray in 2015, for instance, was linked to increases in depression among black mothers in a 2017 study published in the American Journal of Public Health. Gray, 25, died in police custody from spinal cord injuries after being arrested and charged for possessing a knife.
"Other studies have shown widespread health effects of living in aggressively policed neighborhoods resulting from the toxic mixture of stress and reduced social and physical activity," Frank Edwards, assistant professor at the Rutgers School of Criminal Justice, told Newsweek.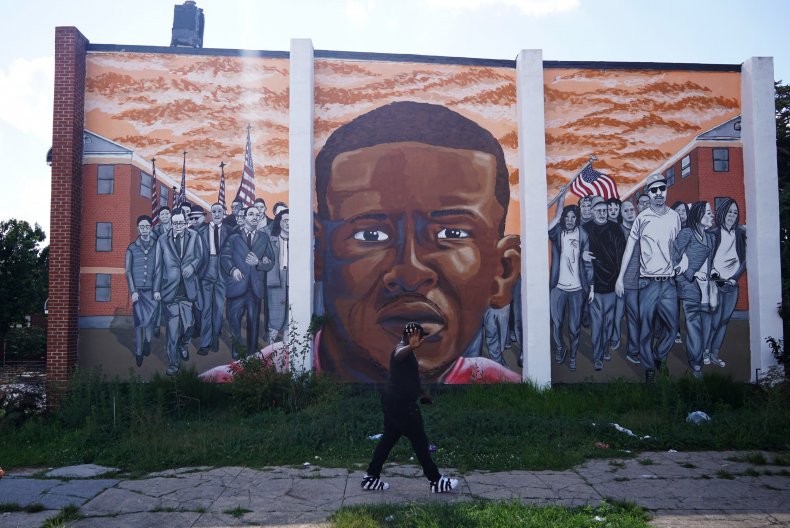 Experts told Newsweek the full extent of the problem is unknown as there is no official centralized database tracking the use of police force, including deaths and non-fatal encounters. There is also no legal requirement for the roughly 10,000 law enforcement agencies in the U.S. to share this data publicly, or even with the federal government.
Justin Feldman, assistant professor of epidemiology at the NYU School of Medicine, told Newsweek: "The U.S. federal government has a very poor system for tracking police killings and no system at all for tracking incidents that do not result in deaths. There was a short-lived improvement to the police killing database at the end of the Obama administration, but the Trump administration quickly canceled this effort.
"The current systems miss more than half of police killings because they rely on voluntary reporting from local police departments. The Deaths in Custody Reporting Act allows the attorney general to withhold a portion of federal funds from police departments that fail to report killings, but no presidential administration has ever enforced this provision. It would also be possible for health departments to report police killings using the same framework with which they report COVID-19 deaths, but none has done so to date."
The only reliable—yet still likely undercounted—data available comes from reporters who document police killings, and journalists and researchers like those at Fatal Encounters, Mapping Police Violence, and the Washington Post, who systemically collect and code the information, said Edwards.
The holes make it easier to dismiss cases as anecdotal and the actions of a "few bad apples," Michelle Jacobs, professor of law at the University of Florida's Levin College of Law, told Newsweek. In Floyd's case, video appeared to show several officers doing nothing to stop Chauvin, she said, asking: "But what happens when there is no video?"
"We need the data. We need to be able to say to white politicians, of all stripes, this is not a one-off. This is a serious, persistent problem in the United States, which needs and demands serious policy changes. For a politician, less data gives them the cover of plausible deniability," said Jacobs.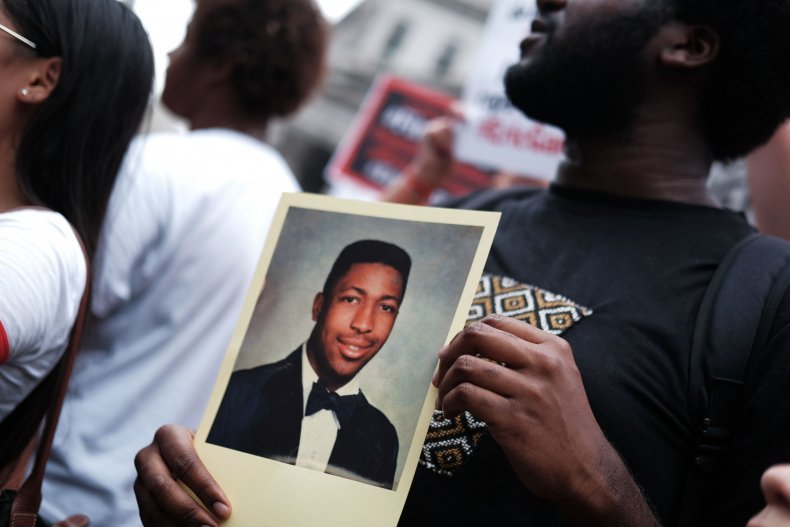 So what can be done to tackle the problem? Video documentation and wall-to-wall coverage of killings has not appeared to help, said Edwards. "The numbers of deaths have remained relatively steady in the past several years, at about 1,000 per year—the highest rate per capita in any advanced industrial democracy," he said. "It will take determined action from policy-makers and activists to actually reduce police violence."
According to Feldman, many reforms enacted since the start of the Black Lives Matter movement started have failed, from requiring police officers to wear body cameras to training to reduce bias. "The most immediate solution is for U.S. cities to cut funding to their police departments—often among the largest expenses in their budget—and put these resources into areas such as social care," he said.
"We task police with many social problems, ranging from drug addiction to interpersonal violence, that they are ill-equipped to solve. This leads inevitably to police violence, and in such a racially unequal society its consequences are inevitably disproportionate."
But others say in the longer term, the root of the problem must be addressed. Venkataramani—who believes the U.S. society is akin to a racial caste system—said that as a public health researcher, he believes it is important to consider the structural nature of racism.
"[We must ask] How do our current institutions—whether the police, legal system, social service organizations, or the mechanisms by which people can participate in democracy—marginalize entire groups of people? What legacies of history can we sever that may make our institutions fairer to everyone? It's a long hard fight—but it's the one we need to have."
Ebony White, an assistant clinical professor in the Counseling and Family Therapy department at Drexel University, similarly sees racism as "insidious" and "unfortunately woven into the fabric of our society."
"Since Africans were brought to America and enslaved, they have been viewed as inferior," she said. "We must consider the systems in place that allow and even encourage police violence. What exists within our structures that resulted in a Derek Chauvin? What exists within us that we have allowed this to continue?"
Uncommon Knowledge
Newsweek is committed to challenging conventional wisdom and finding connections in the search for common ground.
Newsweek is committed to challenging conventional wisdom and finding connections in the search for common ground.
About the writer
Kashmira Gander is Deputy Science Editor at Newsweek. Her interests include health, gender, LGBTQIA+ issues, human rights, subcultures, music, and lifestyle. Her work has also been published in the The Independent, The Independent on Sunday, The i Newspaper, the London Evening Standard and International Business Times UK.