George Santos Doubles Down on Fabrications, Calls Himself 'Jew-ish'
New York Representative George Santos defended several of his disputed claims during an interview with television host Piers Morgan on Monday, including saying that he is "Jew-ish."
Santos, a Republican, has been under extreme scrutiny after a report from the The New York Times in December found that the freshman congressman had lied about much of his background while running for office. The fabrications include claims about his past employment, educational history and his family's heritage.
Morgan pressed the congressman on many of his lies during their nearly hourlong interview on Piers Morgan Uncensored, set to air Monday night, during which Santos admitted to being a "terrible liar."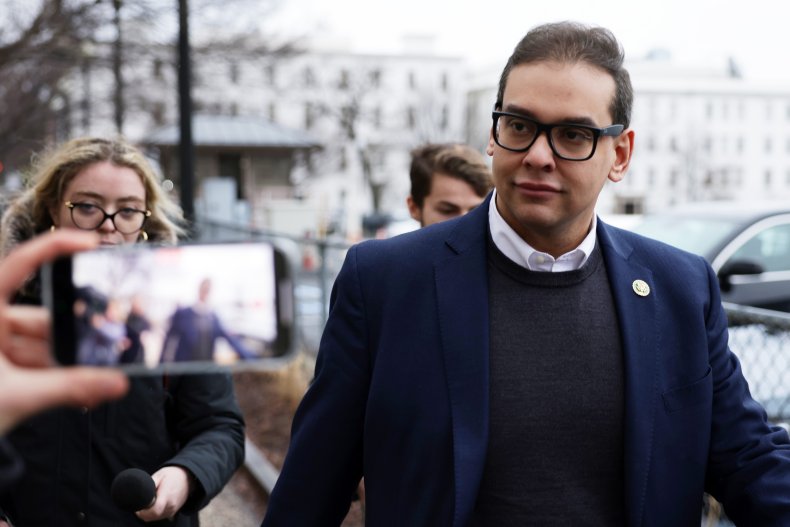 "I've been a terrible liar on those subjects," Santos said. "What I try to convey to the American people is I made mistakes of allowing the pressures of what I thought needed to be done."
"This wasn't about tricking anybody," he continued, as Morgan pushed back with, "Yes, it was!"
Santos finished his thought, saying: "It wasn't about tricking the people. This was about getting accepted by the party."
The Republican was also asked about his claim to be Jewish, a note that the congressman had put on his campaign website, which says that his mother, Fatima Devolder, was the descendant of refugees who "fled Jewish persecution in Ukraine, settled in Belgium, and again fled persecuting during WWII." As it's been previously reported, government records show that Santos' grandparents were born in Brazil prior to WWII, and there are no signs that Santos shares any Jewish or Ukrainian heritage.
On Monday, the congressman said that his claim about his grandparents was "one that I'll battle to my grave," adding that he was awaiting the results of four different DNA testing kits to prove his family's history.
"I've always made this as a party favorite joke," Santos said in regard to his past statements. "I always say I was raised Catholic, but I come from a Jewish family, so that makes me 'Jew-ish.'"
Morgan also questioned Santos about his education and employment history. The congressman had falsely claimed to have graduated from Baruch College as well as worked at Goldman Sachs and Citigroup. During the interview, Santos reiterated that he has never obtained a college education or worked directly for either of the finance companies. He first owned up to these fabrications in the New York Post late last year.
When asked why he made up the lies about his education, Santos said that it was because of the "expectation on society."
"I just think it was a stupid decision on my part, very stupid decision that I regret every day," he said later. "Especially because I can prove the jobs and the backing without the education."
"But this stems more deeper into the political apparatus and the political culture of New York state," Santos added.
Santos has faced several calls to resign from his short-lived position in Congress since news of his fabrications first broke, including from within his own constituency.
Last week, a representative from The Concerned Citizens of NY-03 told Newsweek that the group is urging House Speaker Kevin McCarthy to remove Santos, adding, "until he is expelled, we have no representation in Washington."
McCarthy has previously said that Santos will only be removed if he is found to have broken the law. The Republican leader also claims that the House Ethics Committee has fielded complaints about Santos, but no formal investigation has ensued.
Santos has also been accused of sexual misconduct toward a former campaign volunteer and faces allegations that he broke campaign finance laws.
Newsweek has reached out to the New York State Republican Party for comment.