George W. Bush Says He Probably Wouldn't Golf at a Trump Property
Former President George W. Bush isn't interested in playing golf at any of former President Donald Trump's properties.
Bush, a Republican who served as president from 2001 until 2009, appeared for an interview with Jimmy Kimmel Live! on Wednesday evening. During the segment, the former president was asked about how often he golfed as president. Both former Presidents Barack Obama and Donald Trump were often attacked by their critics for regularly golfing while they served in the White House.
"I played—I played in my first year. Then when we had troops in combat I didn't play at all," Bush explained. He said that this was "because I didn't want some mother to see, you know, these kids in combat seeing the commander-in-chief out there playing golf. So I didn't play any." The remarks elicited applause from the audience.
Kimmel then asked Bush: "Would you play golf at a Trump property?"
Bush responded, "Probably not," to which the audience laughed. The former president said this was "because I like my properties here in Dallas," appearing to hold back a smile.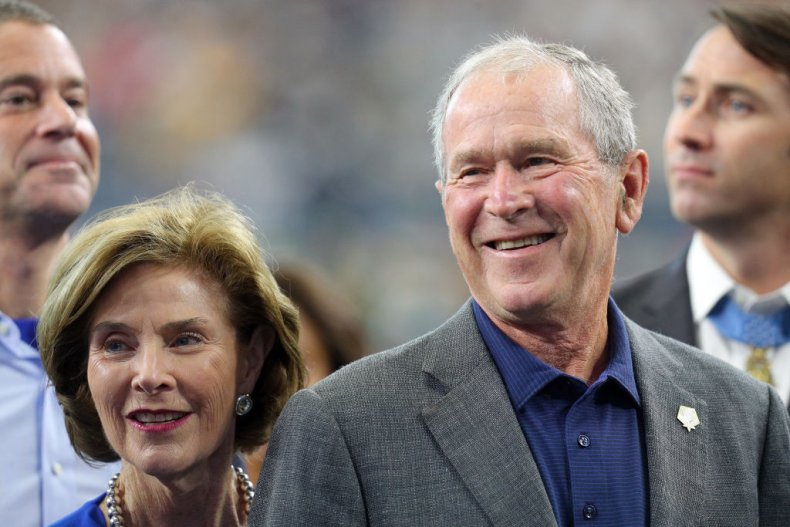 Trump readily criticized Obama for playing golf during his presidency, particularly in moments of heightened national or international crisis. During his 2016 presidential campaign, Trump told rally attendees: "I'm gonna be working for you, I'm not going to have time to go play golf."
In reality, Trump was confirmed to play golf at least 150 times as president between January 2017 and January 2020, according to the website Trump Golf Count. He visited golf courses nearly 300 times. Comparatively, Obama played golf just 119 times in his first four years as president. Trump's golf outings were estimated to have cost taxpayers about $146 million.
Despite both being Republicans, Trump and Bush have long been at odds. Trump readily attacked Bush during his 2016 presidential campaign, as he criticized what he described as "the swamp" in Washington, D.C.—taking aim at Republicans and Democrats alike.
Bush has attempted to avoid criticizing Trump too overtly, but has made numerous remarks that contrast himself with his fellow former Republicanpresident. In an interview with CBS News last week, Bush stressed the importance of "humility," a view starkly at odds with that of Trump.
"And I think it's undignified to wanna see my name in print all the time. I think it basically sends a signal that I miss being famous and, you know, I want people to see me. 'Listen to me!' And, you know, I don't. I really don't," he said. Bush noted that he felt humbled by his time as president. "To me, humility shows an understanding of self. It shows a belief in a higher power that is necessary to be an effective leader. And we were short of humility."
When asked if he was referring to the past four years under Trump, Bush responded: "Yeah, absolutely."
Bush was one of the first prominent Republicans to congratulate President Joe Biden on his election victory in November. This was a far cry from Trump, who continues to promote baseless claims that the 2020 election was "rigged" or "stolen." While Trump refused to attend Biden's inauguration, Bush attended the ceremony.
Newsweek reached out to Trump's office for comment.