Donald Trump has commanded loyalty among high-profile allies in toeing the line on his refusal to concede to Joe Biden—though calls for him to do so have mounted from Republican lawmakers, past and present.
High-profile figures to break rank early included former Republican presidential candidate Sen. Mitt Romney (R-UT), who was among the first in his party to congratulate Biden and his running mate Kamala Harris after networks called their victory.
The president has denounced what he labels the "lamestream media" calling results, insisting upon launching lawsuits in several states where he has disputed alleged irregularities while insisting if only votes he deems legal are counted then he will be victorious.
This comes with he himself even acknowledging Biden as the winner, though insisting this success was only due to the election having been rigged.
As Trump's refusal to concede drags on, the number of figures among his own party either urging him to do so or congratulating Biden grows.
Former President George W. Bush is among those of Trump's predecessors to urge him to concede, telling him the outcome of the result has been clear.
His younger brother, former Florida Governor Jeb Bush, also congratulated Biden and said it was time to "heal deep wounds"—calling on the Democrat to lead the way in that.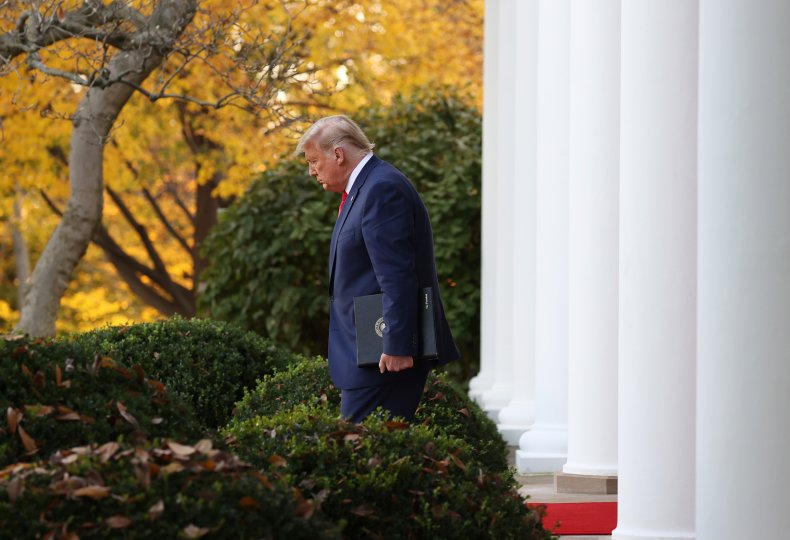 The Republican Governor of Maryland Larry Hogan is another prominent GOP figurehead to call on Trump to do so. He told the president that Biden's victory was "pretty overwhelming." He previously said it was time to "move on," as the president continued to refuse to accept defeat.
Meanwhile, an open letter signed by 31 former GOP lawmakers was also released urging Trump to concede.
"Every vote should be counted and the final outcome accepted by the participants because public confidence in the outcome of our elections is a bedrock of our democracy.
"Going forward, it is our hope the nation will, regardless of party or persuasion, recognize President-Elect Joe Biden has won this election."
Snopes put together a list of how each lawmaker in Congress has reacted to the presidential election outcome, listing 14 Republicans that have acknowledged Biden as winner.
These have been:
Sen. Mitt Romney (R-UT)
Sen. Lisa Murkowski (R-AK)
Sen. Ben Sasse (R-NE)
Sen. Susan Collins (R-ME)
Rep. Francis Rooney (R-FL)
Rep. Adam Kinzinger (R-IL)
Rep. John Shimkus (R-IL)
Rep. Paul Mitchell (R-MI)
Rep. Fred Upton (R-MI)
Rep. Tom Reed (R-NY)
Rep. Will Hurd (R-TX)
Rep. John Curtis (R-UT)
Rep. Denver Riggleman (R-VA)
Jenniffer González-Colón, resident commissioner of Puerto Rico, who is a non-voting member of the House.
Newsweek has contacted these lawmakers for further comment on Trump conceding.
Reed's team referred Newsweek to comments made by the congressman to WETM, in which he said it is up to the president to "show the evidence" to back his claims of fraudulence, suggesting not doing so could undermine the integrity of elections.
On a call, reported by The Hill, he said that Republicans should recognize a peaceful transition of power should Trump's claims of irregularities not be evidenced.
Romney's press secretary referred to previous comments made by the Senator. In an interview with NBC, he spoke of his own actions in the face of defeat.
"We're not going to change President Trump or his nature in the waning days of the presidency," he said, speaking on Meet The Press.
"And so I don't think I'm going to be giving him advice as to what to do. Clearly, people in the past, like myself, who've lost elections, have gone on in a way that said, 'Look, I know the eyes of the world are on us. The eyes of our own people are on the institutions that we have. The eyes of history are on us.'
"In a setting like this, we want to preserve something which is far more important than our self or even our party. And that is preserve the cause of freedom and democracy here and around the world. But the president's going to do what he has traditionally done, what he's doing now. I don't think that's going to be a surprise for anybody."
While these lawmakers have acknowledged Biden's success, most have either been tight-lipped or stood with Trump's position.
Others have been more ambiguous by not directly supporting Trump's claims but defending his right to pursue them.
While others have simply commented on the importance of the integrity of democratic elections without specifically commenting on the outcome of the 2020 presidential vote.