Georgia Governor Brian Kemp 'Refuses to Back Down' on Election Law, Amid Criticism
Georgia Governor Brian Kemp said in an op-ed Wednesday that he "refuses to back down" on a controversial new election law that critics say promotes voter suppression across the state.
In an article published by Fox News, Kemp defended the new law, titled SB202, by saying it is meant to preserve election integrity by making it "easy to vote by expanding access to the polls and harder to cheat by ensuring the security of the ballot box."
The Republican governor also bashed "Democrats and the mainstream media" for criticizing the bill, which he signed into law last week after it was passed by the state's Republican-led Legislature.
"In their blatant assault on local election systems across the country, Democrats and the mainstream media are spreading lies and misinformation about Georgia's Election Integrity Act that I recently signed into law," Kemp wrote. He then called criticisms of the law "disingenuous and completely false."
"As governor, I refuse to back down from this fight, because the integrity of our elections is the foundation of who we are as Georgians and Americans. In Georgia, we will always protect the sanctity of the ballot box and keep working to restore complete confidence in our democracy," Kemp added.
SB202 was signed into law by Kemp in response to unsubstantiated claims of voter fraud in the 2020 elections. It has since received an intense backlash from Democrats and voting rights activists.
The new law limits the number of mail ballot drop boxes in the state; lessens the time residents have to request an absentee ballot; requires residents to provide a photo ID when casting their mail-in ballot; and makes it a misdemeanor to give "money or gifts," as well as "food and drink," to voters while waiting in line.
The law also changes responsibilities formerly held by Georgia's secretary of state and local election officials. The Legislature will now elect the chair of the election board—instead of appointment by the secretary of state—and replace election officials with its own appointees.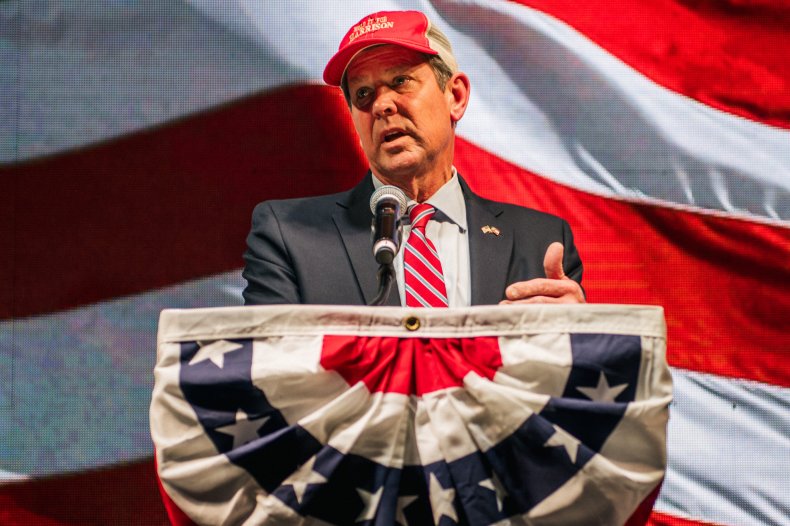 Critics have stressed that the new law promotes voter suppression, particularly within Black or minority populations, by making voting access more difficult for people to obtain.
Last week, President Joe Biden echoed those concerns by calling the law "Jim Crow in the 21st century."
"This law, like so many others being pursued by Republicans in statehouses across the country, is a blatant attack on the Constitution and good conscience," Biden said in a statement on March 26. "It must end. We have a moral and constitutional obligation to act."
Additionally, a number of major companies have criticized or made statements against the new law, including Coca-Cola, Facebook, Google, Delta Air Lines, Home Depot and Apple.
But in his op-ed, Kemp refuted those claims and argued that the law was meant to preserve integrity across Georgia's election system.
"These reforms have nothing to do with 'voter suppression' or 'Jim Crow.' The Election Integrity Act makes it easy to vote by expanding access to the polls and harder to cheat by ensuring the security of the ballot box," he wrote.
"For Democrats, the left and their mainstream media cheerleaders, criticism of the Election Integrity Act is not about what SB 202 does to make our elections fairer and more accessible—it is about fundraising off fear and giving them more power," the governor added.
Kemp also said that Democrats are working "to gain complete control of our elections in Georgia and across the country."
"They hope to scare, intimidate and threaten you so they can ram an unconstitutional power-grab through Congress," he said.
Meanwhile, Biden and congressional Democrats have proposed voting rights legislation, dubbed the For the People Act, or H.R. 1, which they say will work to expand voting access, improve election integrity and security, revise rules for political spending, and set out provisions related to ethics for all three branches of the federal government.
Newsweek contacted Kemp for additional comment but did not hear back in time for publication.