Georgia Lieut. Gov. Criticizes Own Party's Election Reform Push, Says They Should First Admit Trump Lost
Georgia's Lieutenant Governor Geoff Duncan, a Republican, criticized his own party's push for election reform in the wake of the 2020 election, saying GOP lawmakers should first admit that former President Donald Trump lost "fair and square."
Republicans in the Georgia General Assembly pushed through an election reform package that has been condemned by Democrats as the "new Jim Crow," as they view the bill as working to make it more difficult for people of color to vote in the state. Although Duncan believes there are some good aspects to the package, he disagrees with other parts and said the timing of the bill was a bad move by Republicans.
"I don't think it was the best move forward," Duncan said during a Monday morning interview with CNN. He pointed to a provision in the legislation that removed Secretary of State Brad Raffensperger, a Republican, from managing Georgia's elections. Raffensperger drew Trump's wrath after he refused to cave to the then president's pressure and change the election results.
"Look, the only thing that Brad Raffensperger really did wrong in this was—he was the scapegoat of President Trump," the Georgia GOP official said.
Duncan suggested that Republicans don't have a lot of credibility to talk about election reforms after so many backed the former president's "great hoax" that the 2020 election was "stolen" or "rigged" by Democrats and Biden.
"I think Republicans have to—the best way to start the conversation around election reform for a Republican is to walk in a room and say, 'Former President Donald Trump lost the election fair and square. Now let's talk about ways to improve elections going forward,'" he said.
Earlier this month, Duncan walked out the room as the Georgia State Senate began debating the legislation, which inevitably passed in the GOP-controlled legislature (with some modifications) and was signed into law by Republican Governor Brian Kemp last Thursday. Duncan, like Raffensperger and some other prominent Georgia Republicans, repeatedly pushed back against Trump's false claims of widespread voter fraud—many of which centered on the election in Georgia. Biden managed to flip the conservative state blue, as did Senators Jon Ossoff and Raphael Warnock in January Senate runoffs.
"Republicans don't need election reform to win, we need leadership. I think there's millions of Republicans waking up around the country that are realizing that Donald Trump's divisive tone and strategy is unwinnable in forward-looking elections. We need real leadership, we need new—new focus, a GOP 2.0 that includes moderates in the middle, to get us to the next election cycle," Duncan told NBC News' Meet the Press two weeks ago, before the new election bill passed in Georgia.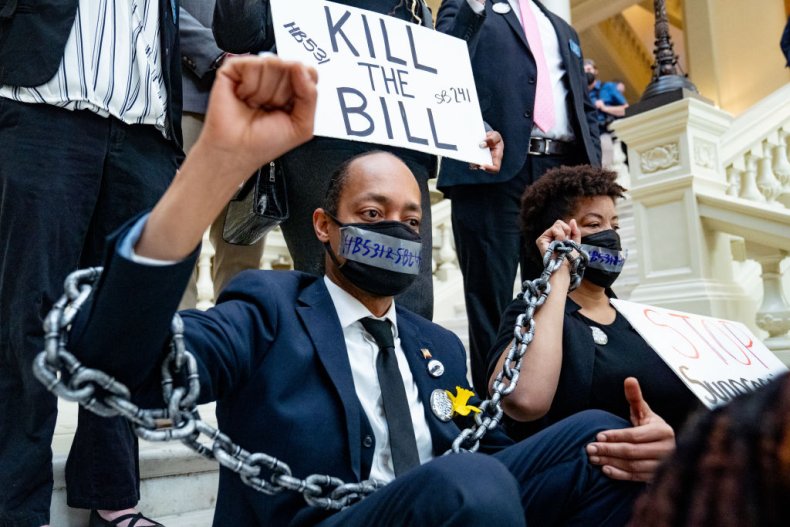 More than 40 states have seen Republicans put forward legislation that would make it more difficult for residents to cast ballots. These actions have been largely justified by the false narrative of widespread fraud pushed by Trump and his supporters. Meanwhile, voting rights activists warn that these actions disproportionately affect voters of color, who historically have been targeted by voter suppression tactics.
Newsweek reached out to Kemp's office for comment on Duncan's remarks but did not immediately receive a response.