Georgia Mayors Defy Kemp's Mask Mandate Ban, Insist Orders Stand
Mayors across Georgia are rejecting Republican Governor Brian Kemp's order to bar mask mandates across the state, with legal wranglings due to settle a conflict on how to move forward as coronavirus cases rise.
On Wednesday Kemp issued an order prohibiting cities and counties from issuing requirements for personal protective equipment, including masks, be worn.
This move went against several municipalities in the state that had made such mandates, including the city of Atlanta.
Atlanta Mayor Keisha Lance Bottom's office told Newsweek on Thursday that her order remains in place and Kemp has subsequently filed a lawsuit against Bottoms and the Atlanta City Council to overturn the requirement for masks in the city.
The lawsuit argues Kemp as governor "has the power to suspend municipal orders that are contradictory to any state law or his executive orders," stating local governments do not have the authority to override his orders.
In response to the lawsuit, Bottoms commented on the more than 3,000 COVID-19 deaths in Georgia and the more than 106,000 cases, of which she was one.
"Meanwhile, I have been sued by@GovKemp for a mask mandate," she tweeted.
"A better use of tax payer money would be to expand testing and contact tracing."
Savannah Mayor Van Johnson, whose city was the first within the state to mandate masks, spoke of his fury at Kemp's actions to bar mask mandates.
He told CNN: "I was furious, I was absolutely lost for words.
"Not only are we fighting coronavirus on one hand it appears as if we are fighting our state on the other hand.
"It just didn't make sense to me."
He said "our order still stands," adding: "This is a fight for our lives.
"We're gonna do all we can to make sure we protect our citizens."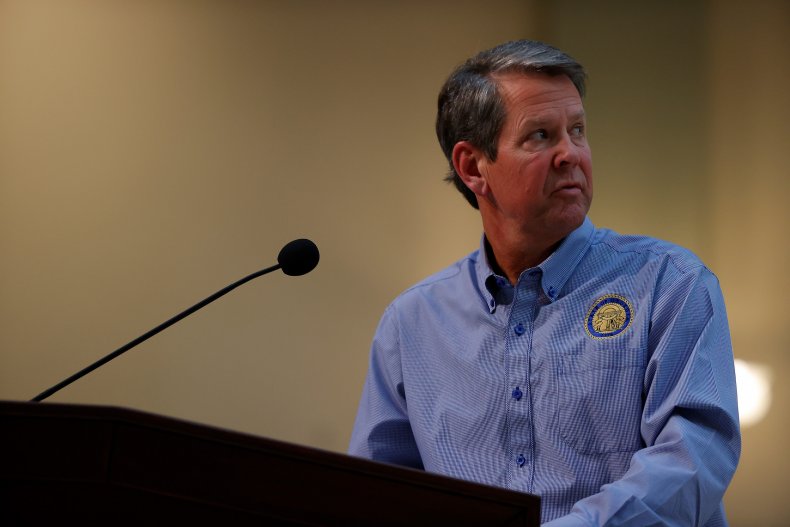 Athens-Clarke County Mayor Kelly Girtz also said he did not plan to rescind the mask order in his county.
"We still have a local ordinance in place, and we are not going to rescind it," Girtz said, Flagpole reported.
Girtz added that he believes local governments do have the right to make such mandates, despite Kemp's dismissal of this.
Augusta Mayor Hardie Davis told CNN he thinks masks are necessary.
"What we can't do is use executive orders to divide the state of Georgia," he said.
In separate comments, reported by AJC, Davis said: "When it comes to protecting the lives of Augustans, we are not going to back down."
Newsweek has contacted the governor's office and the mayors mentioned for further comment.
Georgia has suffered 131,275 confirmed COVID-19 cases, according to the state health department's latest figures, and 3,104 have died after catching coronavirus.
The latest daily rise included 3,441 cases.
It comes as a number of areas in the U.S. look at plans to enforce the wearing of masks, reimplementing previous restrictions or pausing the lifting of lockdown measures.
The graphic below from Statista shows states that have stalled or reversed reopenings.