Georgia Prosecutor Was Forced Out After Refusing Trump's Demands to Probe Voter Fraud
A top federal prosecutor in Georgia was forced out of his job in January after former President Donald Trump grew angry when he declined to probe unfounded claims of voter fraud in the state.
Trump continues to claim without any evidence that he lost in Georgia and several other battleground states because of widespread voter fraud. In the wake of his Georgia loss, Trump pressured Georgia's Republican secretary of state, Brad Raffensperger, and Governor Brian Kemp to find a way to overturn his loss.
Trump also applied pressure to Byung Jin "BJay" Pak, a former Atlanta-based U.S. attorney, according to newly released Senate Judiciary Committee testimony,
Pak was interviewed by the Senate committee in August, but the report was first made public on Thursday. The former federal prosecutor said Trump viewed him as a "Never Trumper" and wanted to fire him, but he resigned instead. Trump's former acting U.S. deputy attorney general, Richard Donoghue, informed him that the president wanted him out, according to Pak.
"Mr. Donoghue relayed to me that the President was very unhappy and that he wanted to fire me, that he believed that I was a Never Trumper," Pak told the committee and its attorneys during the August 11 hearing, according to the official transcript. "And Mr. Donoghue told me that he had told Mr. Trump that he thought that was incorrect, and that the President did not care but wanted me out of that spot."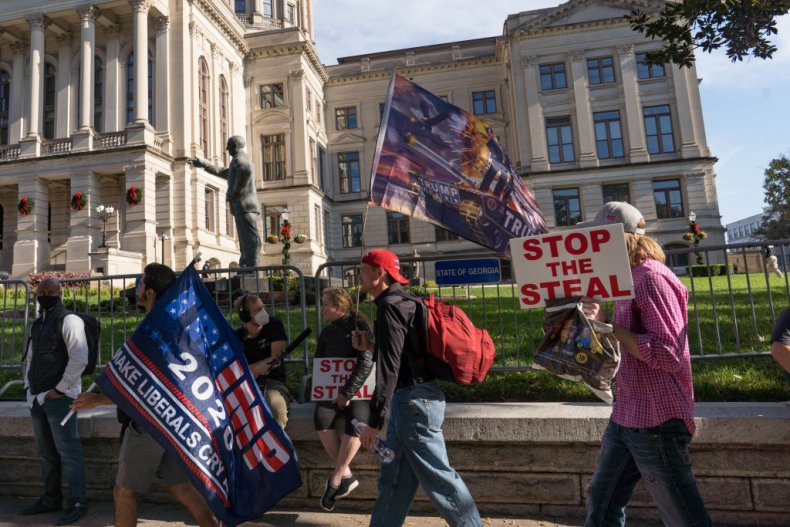 Pak abruptly informed colleagues on January 4 that he was resigning from the position Trump had appointed him to in 2017. The next day, Trump administration officials said the president had appointed Bobby Christine, the U.S. attorney in the Southern District of Georgia, to replace Pak on an acting basis as the U.S. attorney for the Northern District of Georgia.
Although the resignation drew news reports and speculation at the time, Pak's revelation that he had been forced out because of his opposition to false claims of widespread election fraud had not been publicly confirmed previously. Donoghue, in testimony before the Senate committee, corroborated Pak's account of what unfolded.
Donoghue said that he initially resisted Trump's pressure to fire Pak. But after Trump insisted, he told the president that the Georgia prosecutor planned to resign, although that was not the case.
"That's fine," Trump told Donoghue, according to his committee testimony. "I'm not going to fire him, then. But when his resignation comes in, it's accepted. Tomorrow is his last day as U.S. attorney." When this was relayed to Pak, he chose to resign.
Trump had previously pressured Raffensperger to "find" enough votes to shift Georgia's results in his favor. But the GOP secretary of state, who had voted for and donated to Trump's campaign, refused to give in to the president's demands. He instead explained to Trump that his claims of fraud in Georgia were inaccurate. Audio of that phone conversation was leaked to the press and first reported in early January.
"I was very upset," Pak told the Senate committee regarding Trump's call with Raffensperger. "At the same time very disappointed because the call—the summary of the description about the call indicated that despite at least me and also the [former] Attorney General [William Barr] reporting up that there had not been widespread fraud, that the President was seeking to overturn the election or at least find ballots or represent that there was irregularities."
Newsweek reached out to Trump's press office for comment but did not immediately receive a response.
The former president lost to President Joe Biden in Georgia by a relatively narrow margin of more than 11,000 votes. Those results were reaffirmed by three audits overseen by Raffensperger. Trump has repeatedly attacked Raffensperger and Kemp for refusing to back his unconstitutional effort to overturn the state's election results.