A Georgia woman reportedly barged into a McDonald's restaurant kitchen and fired a shot into the floor after complaining that her fries were cold. Police allege that the suspect intended an armed robbery.
According to WTOC, the manager at the McDonald's on August Drive in Garden City had gone back to get the woman some new fries when she followed behind with a gun.
The woman had left the McDonald's restaurant by the time Garden City Police arrived at around 2.50 p.m. on Monday afternoon. But they soon after stopped her car and arrested her.
Chatham County Jail's roster shows Garden City Police detained a 27-year-old woman called Lillian Shantel Tarver at around 15:00 on Monday for several alleged driving offenses.
She is also held on charges of fleeing a police officer for a felony offense, armed robbery, aggravated assault, battery, possession of a firearm during an attempt to commit certain felonies, and reckless conduct.
Police confirmed to Newsweek that Tarver is the suspect in the McDonald's incident—and said it was an armed robbery.
Detective Roberto Rodriguez of Garden City Police Department's Criminal Investigation Division told Newsweek officers were dispatched to a female with a gun who had discharged the firearm inside the McDonald's.
"Upon officers arriving on the scene they observed the suspect fleeing the scene in a black Nissan Altima," he said. "Officers then engaged in a vehicle pursuit since the vehicle refused to stop.
"The suspect surrendered in the area of Fitzgerald Street, Savannah, Georgia. The suspect Lillian Tarver was apprehended. It was revealed through an investigation that the incident at McDonald's was an armed robbery."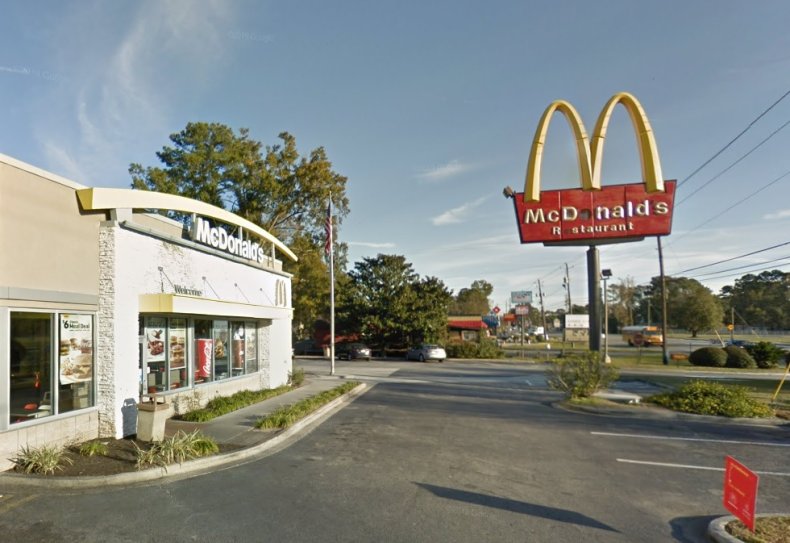 In June, a Tennessee woman allegedly attacked a McDonald's drive-thru manager with stun gun because her order was taking too long.
Brownsville Police arrested Marquenta Glidwell and charged her with aggravated assault over the incident.
According to the victim, 19-year-old Jacob Jordan, Glidwell hurled insults about his sexuality as she punched him.
Jordan also told WREG that she criticized him for voting for Donald Trump—even though he was not old enough to vote in 2016. Glidwell is due in court on July 30.
In Melbourne, Australia, back in early June, a man blasted a member of McDonald's drive-thru staff in the face with a fire extinguisher after taunting her about the price of cheeseburgers while others in the vehicle recorded the incident on their cellphones.
"It [happened] so fast. I inhaled and tasted it straight away. [I thought], 'this is poison'" Kimberley Friend, 21, told 9News.
The victim's partner picked her up and they went to a local hospital, where nurses warned that the outcome of the blast could have been extremely serious.
"They said it could have caused blindness so, very lucky... it's not a joke, it was malicious," Friend said.
There were no arrests at the time as local police worked to identify the suspects.
It isn't just customers who target McDonald's staff with acts of violence—fellow colleagues do it, too.
In March, Indiana police charged a McDonald's worker with battery after he threw a cheeseburger at a fellow member of staff for working too slowly.
The incident took place at a restaurant on East Third Street in Bloomington.
Local police responded after the victim, an 18-year-old female, called 911 and requested to press charges against her co-worker, a 21-year-old male.
This article was updated with a comment by Garden City Police Department.