German Shepherds Meet Their New Puppy Brother and This Is How It Went
A dog owner has shared the moment her two sable German shepherds meet the newest member of their pack and welcome him into their home.
The viral video was shared on TikTok (@jadethesablegsd) on March 12, and captioned: "German shepherds meet their new puppy brother." The two dogs, Jade and Jasper, are seen vying to get as close as they can to the eight-week-old puppy, Jet.
The American Kennel Club defines German shepherds as protective, playful, and very adaptable to changing environments. They are known for being a very affectionate breed who love their family, so this trio will undoubtedly form an unbreakable bond.
Tanyssa Moise, of Ottawa, Ontario, is the owner who has her hands full with these three sable German shepherds, since she brought Jet home in November 2021.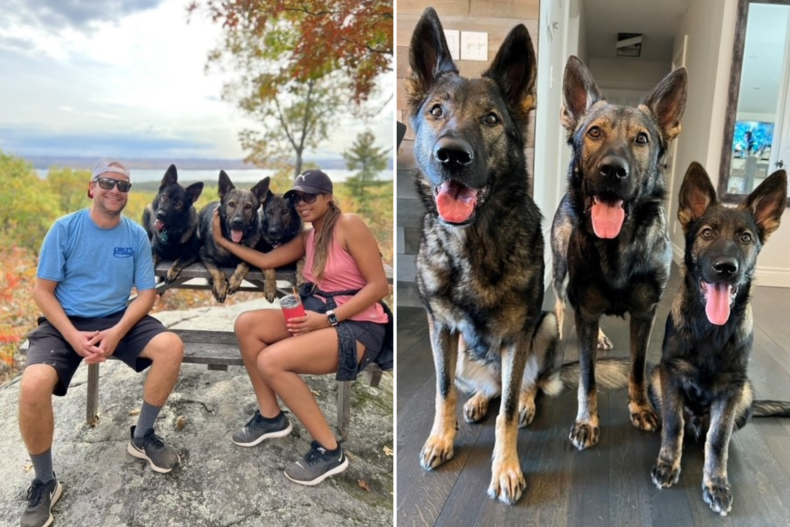 Moise explained to Newsweek that Jade and Jasper were intrigued when they first saw her carrying Jet in her arms, but once they realized he was joining the family, they quickly accepted him. Jet also grew in confidence and began to show his playful side.
"Jade and Jasper were super curious and confused at first, smelling the puppy and wondering what he was doing in our house," Moise told Newsweek.
"Then, after a bit, they were very excited to have a new play buddy and they were being very gentle with him, and they still are gentle to this day."
Now 18 months old, Jet is inseparable from the two older dogs, as the trio love travelling together in a pack.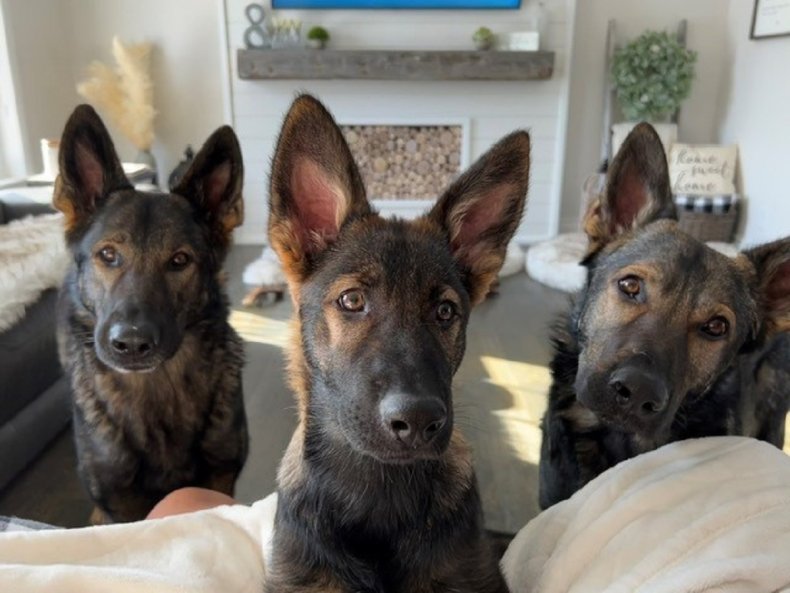 Fortunately for Moise, there was no need for a trainer because Jade and Jasper have taught young Jet everything they do, ranging from protecting the house to playing fetch outside.
"Jet loves his new home, and he spends most of his days traveling with his humans and dog siblings," Moise continued.
"Jade and Jasper have shown Jet everything there is to know, from guarding the house, the joys of car rides, how to look extra cute when begging for food, and how important Chuckit balls are."
The TikTok video, showing Jet being welcomed into the fold, has already generated 1.9 million views in only a matter of days, and over 168,000 likes.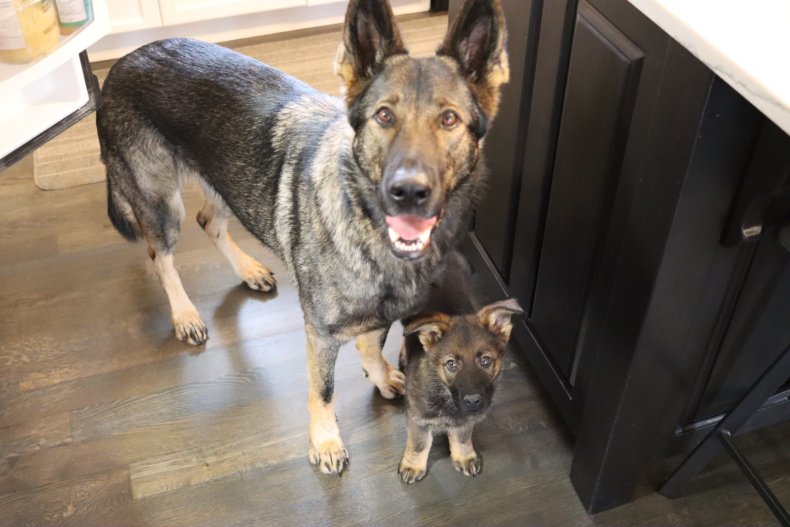 Moise has loved seeing the overwhelmingly positive reaction that the video has received online. She said that "people can't seem to get enough of it."
So many people have loved seeing the moment Jet was brought home, and how the three dogs interacted with one another at first. Hundreds of TikTok users have flocked to the comments section to share how much they enjoyed the video.
One person wrote: "Look at those big babies being so gentle," and another TikTok user commented: "They did amazing with him."
Do you have funny and adorable videos or pictures of your pet you want to share? Send them to life@newsweek.com with some details about your best friend and they could appear in our Pet of the Week lineup.