German Chancellor Olaf Scholz refused Russian President Vladimir Putin's request to have Germany pay for Russian gas deliveries with rubles.
At a Group of Seven (G7) press conference in Brussels on Thursday, Scholz said this is because "there are fixed contracts" that specify the payments must be made in euros or dollars "and that's what counts," Politico reported.
Putin's request came likely as an attempt to return some value to the ruble, which dramatically fell after Russia invaded Ukraine and western countries unleashed a flood of sanctions against the country.
In a televised government meeting, Putin said he would only require the payments in rubles for "so-called unfriendly countries," as trust in the euro and the dollar has been "compromised." Following his announcement, the ruble's value rose, as the European Commission reported that Russia provides about 45 percent of the European Union's gas imports.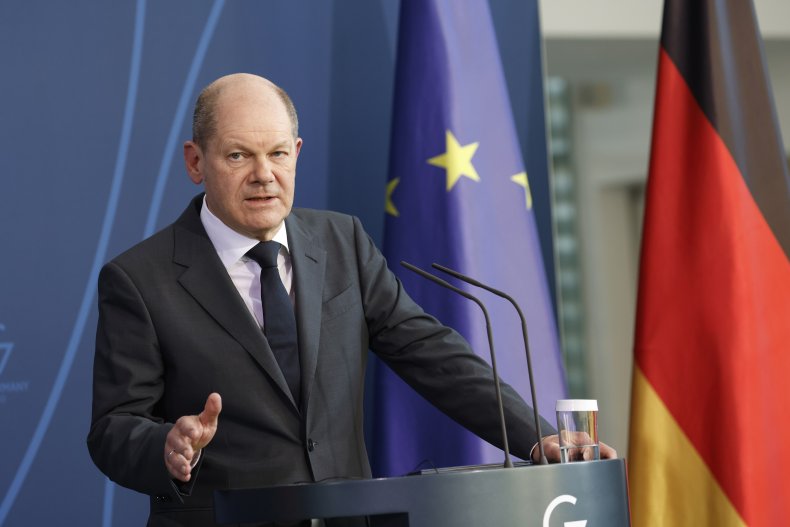 However, Scholz said Germany will not heed this requirement, as "there are fixed contracts everywhere, which include the currency in which payments are made." Though the country has not banned Russian energy imports outright, it dealt a blow to the Russian economy in delaying the Nord Stream 2 pipeline.
Scholz has said a direct ban on Russian energy imports would have a negative effect on German citizens, according to Politico.Germany uses Russian gas to cover half of its energy needs, and if the Nord Stream 2 pipeline was completed, it would heat about 26 million German homes.
At the G7 (a political group made up of Germany, the United States, the United Kingdom, Italy, Japan, France and Canada) conference, Scholz said the group will "react with further sanctions should this become necessary," though he did not specify what kinds of situations would make more sanctions necessary.
"We agree to keep sanctions in place for as long as necessary and to monitor their effectiveness," Scholz said.
Marcel Salikhov, president of the Institute for Energy and Finance in Moscow, told NPR that Putin's request for making payments in rubles for energy was a "symbolic counter-sanction" of western nations.
"It's difficult, given the current economic situation, for Russian authorities to abandon sales of oil and gas to the western countries," Salikhov said. "You can say, 'We do not trust euros or dollars,' but economically it's the same operation. Money is money."
The value of the ruble plummeted following the implementation of sanctions caused by the invasion of Ukraine, with Newsweek reporting last month that it cost 4,500 rubles to fill a 12-gallon tank of gas. An economist assessed that Putin has made "Russia like toxic waste" for foreign investors.
Newsweek reached out to Russia's Ministry of Foreign Affairs for comment.
Update 03/24/22, 2:20 p.m. ET: This story was updated with additional information.
Update 03/24/22, 1:32 p.m. ET: This story was updated with additional information.