Ghislaine Maxwell Uses Primetime Interview to Complain About Prison Food
Ghislaine Maxwell said she believes Jeffrey Epstein was murdered, while speaking during an interview from prison, in which she also complained the prison food was "beyond tasteless."
The British socialite was handed a 20-year jail sentence in June 2022 for trafficking girls for her former boyfriend to abuse.
She told Talk TV's Jeremy Kyle Live: Ghislaine Behind Bars: "I believe that he was murdered. I was shocked. Then I wondered how it had happened? Because as far as I was concerned, he was going to, I was sure he was going to appeal.
"And I was sure he was covered under the non-prosecution agreement. But I wasn't in the indictment. I wasn't mentioned. I wasn't even one of the co-conspirators."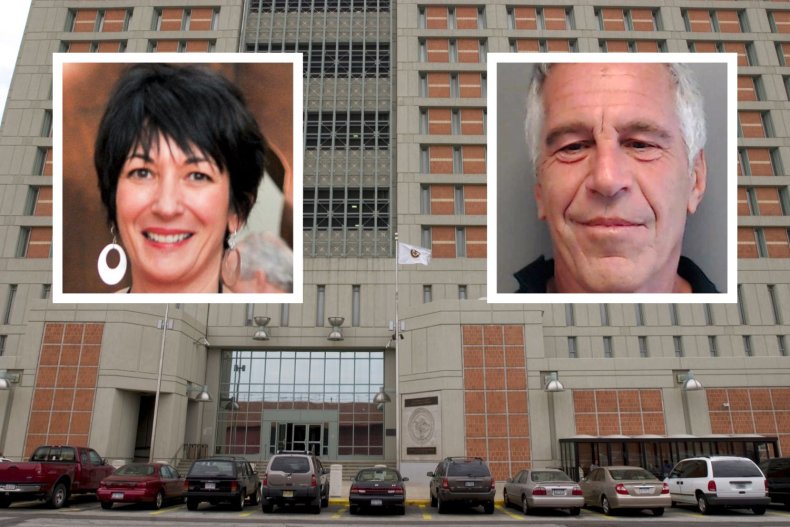 Epstein died in his prison cell at the Metropolitan Correctional Center, in August 2019, and the New York medical examiner declared the incident a suicide by hanging, though there have also been conspiracy theories and questions about foul play.
At points, Maxwell's interview veered into the bizarre, including a section where she complained about how regularly her New York prison serves tofu instead of humous or cottage cheese.
She said: "The portion control is very odd. And when like me you're on a no meat diet, you're supposed to have either hummus or cottage cheese or tofu for you but mostly, I'd say about 95 percent, it's tofu if it's anything or beans.
"I'd say 95 percent it's beans or otherwise you have a tofu substitute. And then the tofu has no seasoning, there's no seasoning allowed. No salt or pepper or anything. So it's beyond tasteless."
How Ghislaine Maxwell's Complaints Compare to Victim Impact Statements
The account comes in stark contrast to the complaints of Epstein victims who gave impact statements at Maxwell's sentencing in June 2022.
Among them, a woman named only as 'Kate' who was a victim in Maxwell's trial wrote: "It has been proven to be true for me (and for many survivors of this kind of grooming and insidious abuse with whom I have spoken), that the experience of looking at my own baby girl and imagining her falling victim to such atrocities, awakened compassion in me for myself as a young girl and for the many, many others who suffered because of Ghislaine Maxwell. It was this experience that fueled a call to action."
She added: "The many acts that were perpetrated on me by Epstein, including rape, strangulation and sexual assault, were never consensual, and would have never occurred, had it not been for the cunning and premeditated role Ghislaine Maxwell played.
"She repeatedly reinforced rewards for acquiescence and consequences for disobedience."
Virginia Giuffre, who accused Prince Andrew of sexual assault, told the court: "Ghislaine, the pain you have caused me is almost indescribable. Because of your choices and the world you brought me into, I don't sleep.
"Nightmares wake me at all hours. In those dreams, I relive the awful things you and others did to me and the things you forced me to do. Those memories will never go away. I have trouble meeting new people without questioning if somehow they are going to hurt me, too. I don't allow my children to stay over at friends' houses, or to walk down the street alone.
"I don't trust anyone to be near them without me or my husband close by. I am hyper-vigilant, because I know that evil exists. You taught me that."
Sarah Ransome's read: "On one visit to [Epstein's private] island, the sexual demands, degradation and humiliation became so horrific that I tried to escape by attempting to jump off a cliff into shark-infested waters, but was caught by Maxwell and company moments before jumping.
"At the time, the extremely risky escape seemed more appealing than being raped one more time."
Maxwell Says She Regrets Meeting Epstein
Maxwell used her interview to seek to undermine one of those women, Giuffre, who was not a named victim at trial but has been a major figure in how the Epstein story emerged and gathered pace.
Giuffre famously accused Prince Andrew of rape at a civil trial in New York in 2021 and some years earlier, in 2016, produced a photo of the Duke of York with his arm around her to back up her account.
The prince has consistently denied the allegations.
Maxwell said: "Well, it's a fake. I don't believe it's real. In fact, I'm sure it's not... There's never been an original. Further, there's no photograph; I've only ever seen a photocopy of it.
"I don't believe it happened, certainly the way as described. It would have been impossible."
She added that she did not have "any memory" of going to the night club Tramp with Giuffre, Epstein and Prince Andrew, as described by Giuffre.
Elsewhere in Maxwell's interview she said of Epstein that "I honestly wish I had never met him."
She added: "Looking back now, I probably wish I had stayed in England. But leaving that aside, you know I tried to leave and start another new job and move on from the end of '98, '99. So, I wish I had been more successful in moving on ... Because I'd been a banker and so I should have moved on completely."
She described a prison routine that involved waking at 6am for breakfast before working in the law library from 7.30am where she would help other prisoners with their cases.
She said: "If you are lucky they call recreation at some point during the day. If you're at work you miss it, and if not you get to go out for a while.