Giant Venomous Snake Titan Is One of Biggest in Australia
One of the "biggest" venomous snake in Australia yields enough venom to kill 20 humans.
The Australian Reptile Park—on the central coast of New South Wales—has been home to Titan, a gigantic king brown snake.
Some king brown snakes have attained up to 8.2 feet in length, but Titan reaches a length of 8 feet 9.5 inches.
In footage taken by the park, operations manager, Billy Collett, can be seen handling the gigantic snake during a health check.
"We reckon we've got one of the biggest venomous snakes in all of Australia," Collett said in the video.
"Titan's part of our snake milking program here at the Australian Reptile Park. And about once every fortnight we extract venom from him which is used to create life-saving antivenom. Because Titan is such a huge individual, I expect a huge venom yield from him today," he added.
The Australian reptile park is the only facility in the world that does this.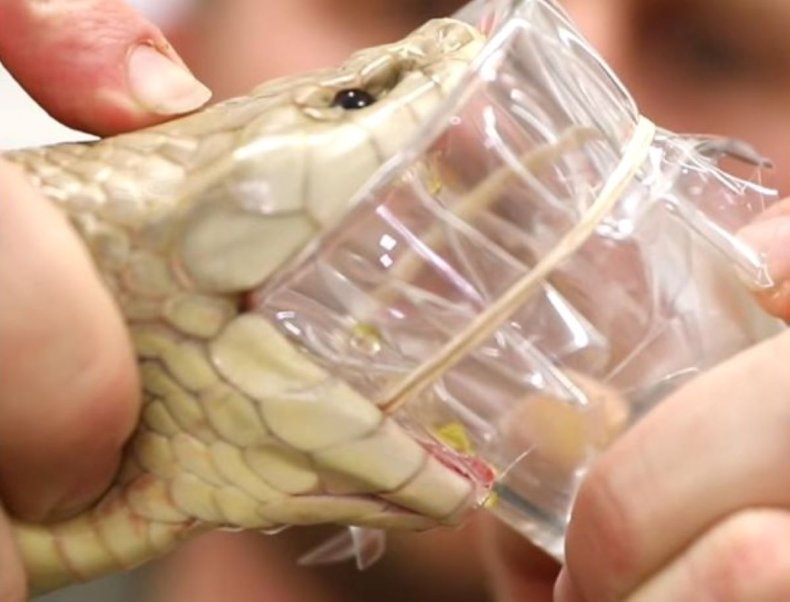 Collett can then be seen extracting venom from the huge snake—he managed to extract 5.58g of venom in total.
Collett told 9News that this is enough venom to kill 20 humans.
"It's mind-blowing to think that this bit of venom is going to contribute to saving human lives here in Australia," Collett said.
Antivenom is traditionally made by injecting an animal with venom, and collecting the antibodies that form as a result. Often, larger animals such as horses will be used, as the venom will not cause severe side effects.
Collett said that the Australian Reptile Park's milking program is estimated to save 300 human lives in Australia every year.
Titan is not just a large snake in length, and venom yield—after weighing the serpent, Collett found he weighed 7.8 kilos.
"I'll tell you what, I could feel that when I was holding him," he said.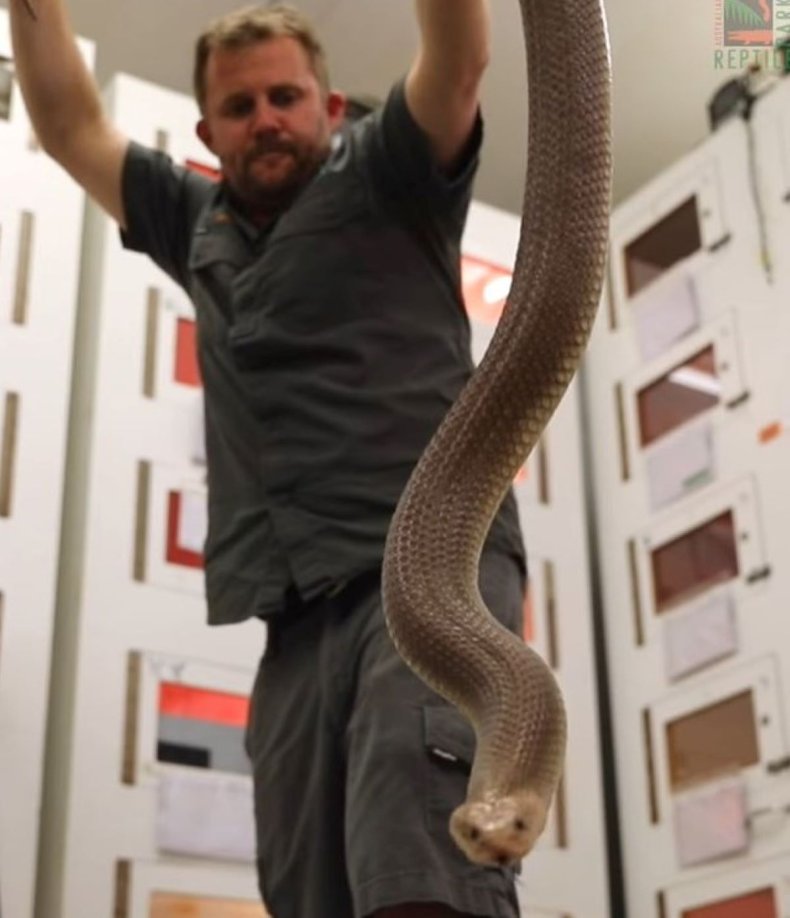 In the wild, king brown snakes live throughout Australia apart from Victoria and Tasmania. Its venom is not as potent as other snakes in Australia but it yields a large amount in one bite, meaning it can be extremely deadly.
Collett told 9News that health check-ups such as this one are critical for the snake's health.
"Weighing reptiles is crucial in monitoring their health and a task where keepers need to show extreme care, one wrong move could be deadly," he told the news outlet. "As reptiles don't need to eat that often, it's not like they just stop eating when they feel sick. The best way of ensuring their good health is by weighing, measuring and giving them a close-up inspection of their condition."
Newsweek has contacted Australian Reptile Park.