Glastonbury 2016: The Headliners, Weather Forecast and Brexit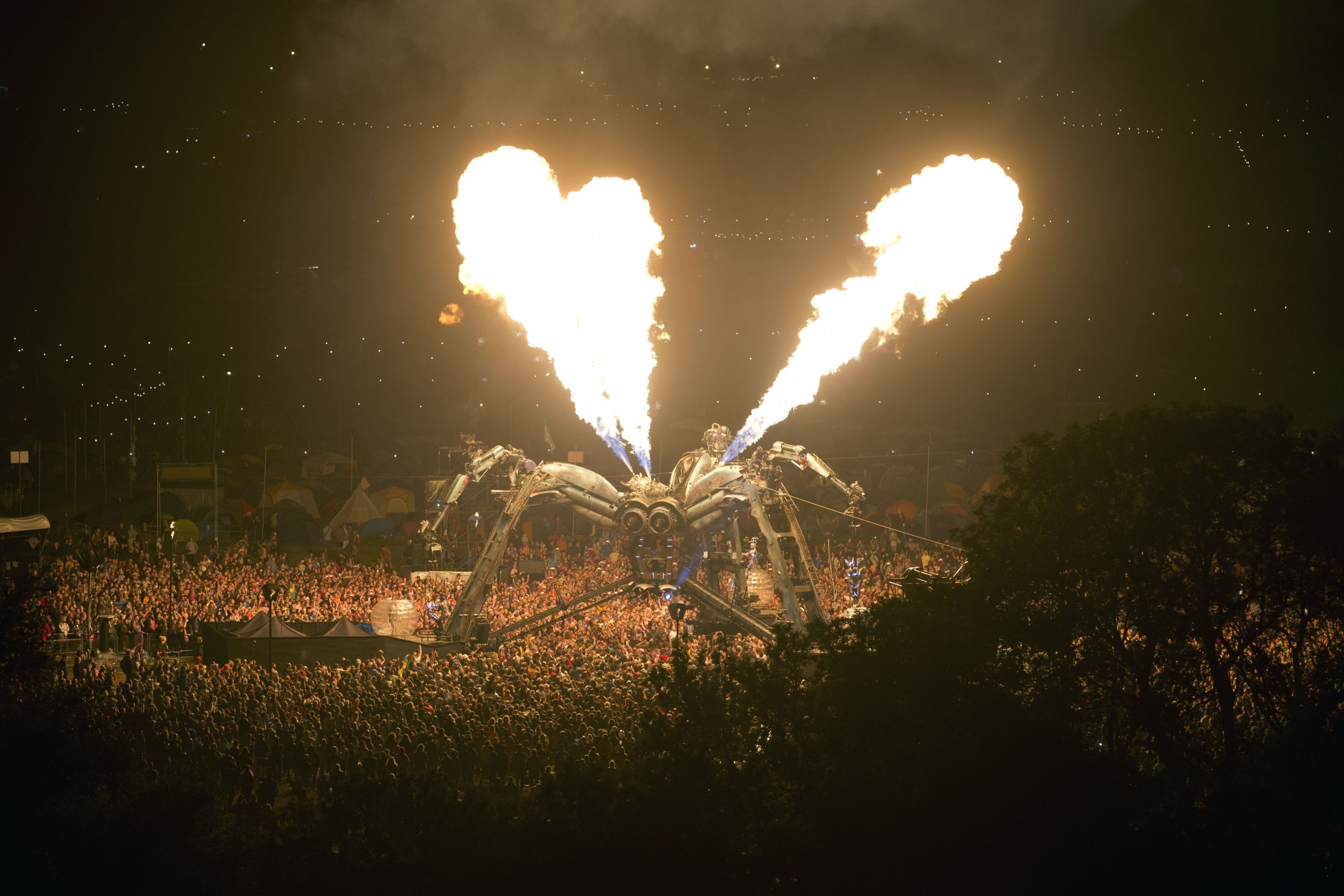 Over 130,000 people are expected to flock to Worthy Farm near Somerset as Glastonbury festival 2016 begins Wednesday. Britain's biggest music festival, the five-day event will see scores of artists performing , including Adele—one of the biggest-selling recording artists of the last 12 months—in her first headline slot at Glastonbury.
If you're one of the lucky fans that managed to snap up a ticket to Glasto this year, you'll also see performances from the likes of Beck, Years & Years, James Blake and Earth, Wind & Fire.
Since this year's festival takes place the same week of the EU referendum, there'll also be Brexit-themed activities and a tribute to one of Britain's biggest music icons.
Read on for Newsweek 's guide to Glasto 2016...
Headliners
The Pyramid stage is the festival's' famous main stage. Past headliners include The Who, The Rolling Stones, Arctic Monkeys, Kanye West, Beyoncé and U2.
This year's headliners are rock band Muse on Friday, Adele on Saturday and, marking the first time an act has topped the bill on four separate occasions, Coldplay will close the ceremony on Sunday.
All three acts released new albums in 2015, so expect much of their sets to comprise of that material.
In case you need a primer to prepare for the festival, here are the essential tracks to listen to from each record:
Muse's Drones: "Dead Inside", "Reapers", "Defector"
Adele's 25: "Hello", "When We Were Young", "All I Ask"
Coldplay's A Head Full of Dreams: "Hymn for the Weekend", "Everglow", "Adventure of a Lifetime"
Ones to watch
In addition to enjoying the big names on the Pyramid stage, music lovers can also look forward to performances by some of the music industry's rising stars.
Keep an eye out for James Blake, the British singer/songwriter who surprise-released his third album The Colour in Anything in May; he also collaborated with Beyoncé on her hit album Lemonade . He headlines the West Holts stage on Saturday.
Jack Garratt is one of 2016's standout stars in British music—he topped BBC's Sound of 2016 music poll and won the Critics' Choice Award at this year's BRIT Awards. His debut album, Phase , was released in February. Garratt plays the John Peel stage on Friday.
Dua Lipa is currently riding high in the U.K. singles chart with her song "Hotter Than Hell" and as her star rises, Glastonbury audiences can say they were among the first to see her live. The Albanian-English singer's debut album is due for release later this year but based on early tracks, she was nominated for BBC's Sound of 2016 prize. She plays the John Peel stage on Saturday and the Sonic stage on Sunday.
Golden oldies
If the current pop heavyweights and stars of the future don't do it for you, then you'll be pleased to know there'll be performances from pop and rock royalty at Glasto, too.
Just some of the stars to keep an eye out for:
Cyndi Lauper: Acoustic stage, Sunday
Art Garfunkel: Acoustic stage, Saturday
Earth, Wind & Fire: West Holts stage, Sunday
Fatboy Slim: John Peel stage, Saturday
Brexit and politics
With the EU referendum vote on Thursday, Glastonbury revelers will have the chance to engage with the political debate that has engulfed the entire U.K. in recent months.
Back in March, Glasto organizer Emily Eavis encouraged those attending to cast their vote by post ahead of time or by proxy because, unfortunately, the Electoral Commission won't set up a polling station at Worthy Farm. (That would be a sight to see!)
In respect of the transient political times, Glasto will hold various discussions on the Left Field stage, including singer and activist Billy Bragg on Friday night and Labour leader Jeremy Corbyn holding a special talk on Sunday afternoon.
Friday will also see Antonia Bright, an organizer in the Movement for Justice, and Labour MP Clive Lewis take part in a panel on immigration.
Other political debates over the weekend include tackling the junior doctors strikes and feminism.
For the full Left Field stage lineup click here .
Alternative entertainment
Glasto's Shangri-La will this year be home to a new venue, The Sisterhood —a space that will be for women only in the first time in the festival's history. The unique venue will host all-female performers, security guards and visitors.
Arcadia returns to the Glastonbury stage for another assault on the senses with its Metamorphosis show. It will be a huge mechanical structures, pyrotechnics and lighting that is performed Friday, Saturday and Sunday.
Bowie tribute
Glastonbury organizers revealed plans for a tribute to British rock icon David Bowie on Monday. American composer Philip Glass' Heroes Symphony—inspired by Bowie's 1977 album Heroes—will be performed on Saturday night with help from the Army of Generals orchestra and the British Paraorchestra.
The music will be set against a spectacular light and laserworks show by Chris Levine.
What's different this year
Glastonbury regulars may notice some changes when they head to the restrooms as organizers have replaced almost all of the plastic portable toilets used in years past with 1,000 organic compost lavatories. The new toilets will help cut blockage and foul smells, Jane Healy, Glastonbury's sanitation manager, said .
The festival will also be more technologically advanced than ever as EE offers free 4G wifi onsite for all visitors. There are even wifi hotspots created out of topiary in the shape of the Pyramid stage and the Ribbon Tower.
Weather
After a week of unpredictable weather in the U.K., the jury is still out on whether the sun will come out over Glastonbury this weekend, or whether you will need to wear your strongest pair of wellingtons.
According to the Met Office, showers are expected Wednesday as the festival gets underway. Saturday could also rain.
The expected temperatures are:
Wednesday: 19 °C
Thursday: 19 °C
Friday: 18 °C
Saturday: 19 °C
Sunday: 20 °C
See the Met Office's weather report below:
Happy Glastonbury, music lovers.