General Motors is doubling the number of roads its Super Cruise hands-free driver assist system can be used on. Until now had about 200,000 miles of drivable roads in its database. By the end of the year, it will have 400,000 in the U.S. and Canada.
"GM is all in when it comes to accessible advanced driver assistance technology. We are adding Super Cruise to more vehicles than ever, and on more roads for more customers to experience," said Mario Maiorana, GM chief engineer, Super Cruise in a statement.
"We are pursuing what we believe to be the most comprehensive path to autonomy in the industry with responsible deployment of automated driving technology like Super Cruise at the core of what we do."
Super Cruise uses cameras, radars, GPS and LiDAR precision map data to keep the vehicle traveling on the proper path. Users activate the system in a manner similar to cruise control.
It's first application was in the Cadillac CT6, followed by the Cadillac Escalade. It's also offered on the Chevy Bolt EUV, Chevrolet Silverado 1500, GMC Sierra 1500, GMC Hummer EV, Cadillac Lyriq and others.
When it launched, Super Cruise was only able to be used on divided highways. GM is now adding smaller roads including Route 66 from Chicago to Los Angeles, the Pacific Coast Highway, Florida's Overseas Highway and the Trans-Canada Highway.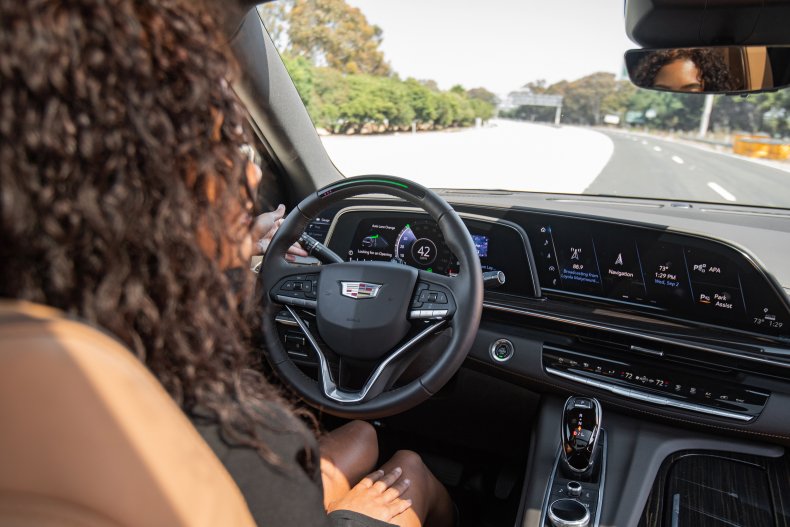 Ford has a competing system called Blue Cruise that's also hands free. Currently it calls its qualified sections of road Hands-Free Blue Zones, and they make up about 130,000 miles of North American roads.
It works with the company's adaptive cruise control, lane centering and traffic sign recognition systems. Like Super Cruise, it has a camera pointing at the driver to make sure they're paying attention to the road while the technology is engaged.
The Volvo Ride Pilot system goes a step further, allowing drivers to take their eyes off the road while driving. It uses eight cameras, five radars, 16 ultrasonic sensors, and an Iris LiDAR sensor.
It will find a home on the next Volvo XC90, though Volvo says it won't let the system go live until it's tested and proven, which may require an over-the-air update.
GM and Ford hands-free driving assist technologies are considered Leven 2 using Society of Automotive Engineer guidelines. The more advanced Volvo system is Level 3.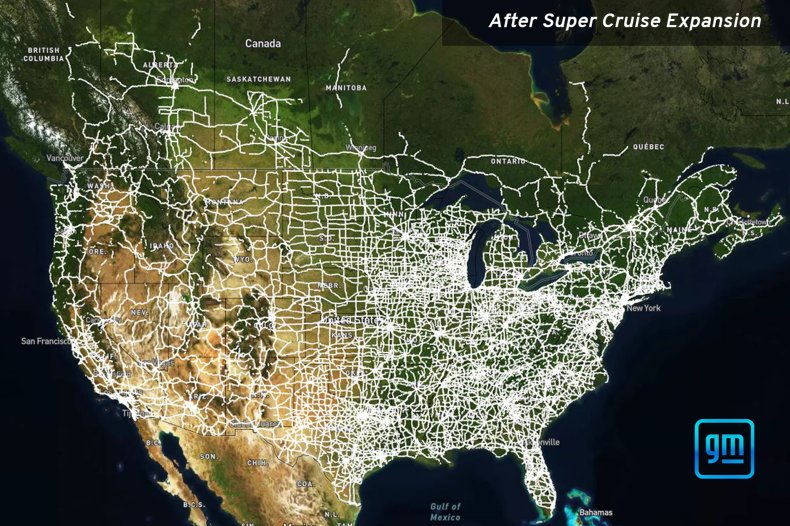 The Super Cruise expansion will come automatically to GM vehicles with VIP electrical architecture. Those include the Escalade, Cadillac CT4, Cadillac CT5, Hummer EV, Sierra 1500, and Silverado 1500.
It will soon be available on the 2023 model year Lyriq, GMC Yukon, and Chevrolet Tahoe and Suburban. The system is expected to be available on 22 models by the end of next year.
Ultra Cruise, a more premium version of Super Cruise will debut in 2023 and will cover 95 percent of driving tasks, according to GM. Both options will exist alongside each other.
The Super Cruise updates will come automatically later this year.