Chevrolet Knocks $5,900 off Bolt Price Making It the Cheapest Electric Car
Chevrolet now sells the lowest price electric vehicle you can buy in the U.S. The company lowered the price of its Bolt EV hatchback and Bolt EUV crossover for the 2023 model year.
The basic 2023 Chevrolet Bolt EV 1LT will now start at $26,595, down from $32,495 while the 2022 Chevrolet Bolt EUV was $34,495 and is now $28,195 for 2023. That's a $6,300 discount for the bigger crossover.
The 2023 Bolt EV comes with an unchanged range of 259 miles on a full charge with its 65-kilowatt-hour (kWh) battery pack. It has a single motor and gearset making 200 horsepower. It's offered with a dual-level charging cord (120 or 240 volts) and can charge at a rate of about 4 miles per hour on a regular home outlet. A 240-volt gets buyers a full battery in 7 hours. At a DC charger the Bolt EV can regain 100 miles in 30 minutes.
The 2023 Bolt EUV comes with the same powertrain and same output of 200 horsepower. It's range is a little less at 247 miles but charging times are the same for at home. At a DC fast charger the Bolt EUV can get back 95 miles in 30 minutes.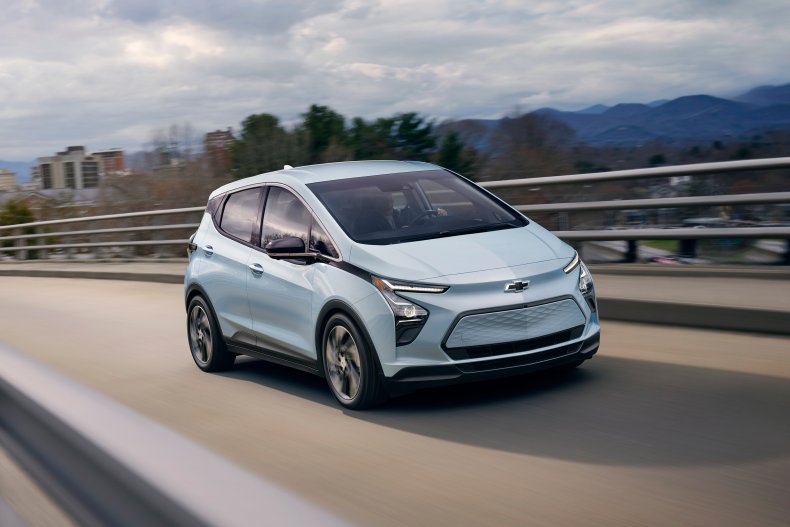 The Bolt EUV also comes equipped with the Super Cruise hands-free driving system. That means that on roads parent company General Motors has mapped and approved, drivers can take their hands off the wheel for extended periods of time, as long as their eyes are on the road.
Both the Bolt and Bolt EUV come with a 12.3-inch infotainment touch screen for multimedia and navigation. Wireless Apple CarPlay and Android Auto are standard as is one-pedal driving, a feature that allows a driver to start immediately slowing to a stop when they let off the accelerator pedal. The amount of regeneration, and slowdown, can be adjusted through the steering wheel.
This is a reset for the Chevy Bolt EV, which has been stricken with bad publicity in the last few years. The batteries in a 2017 Bolt caught fire in September of last year. That led GM to do a complete recall of the electric vehicle.
The Chevy Bolt also has more competitors than it did when it debuted including the Hyundai Ioniq 5 and Kia EV6, not to mention the Ford Mustang Mach-E and others.
However, it does beat those prices by a wide margin with the Ioniq 5 starting at about $40,000 and those others going higher than that. And none of those include the EV tax credit, which reduces prices even further.
"The Bolt EV/EUV have faced a tough run recently and while the decreased MSRPs may seem drastic in the midst of rising commodity costs, it may not be as much of a hit to GM's bottom line as it may appear on the surface," AutoPacific industry analyst Paul Waatti told Newsweek. "The Bolt models use older GM EV technology that has been on the market since 2016, meaning the initial technology investment and tooling costs have likely already been paid down."
Waatti says that lowering the price might offer something for buyers on the fence and that even if profit per model decreases GM's overall EV market penetration will increase.
"The lower pricing also appears to better align with what the market is already dictating the consumer is willing to pay, as many recent Bolt EV/EUV sales have been tallied at transaction prices below MSRP," said Waatti.
Until this week, the Nissan Leaf was the lowest priced electric car buyers could order. It starts at $27,400.