Go Green in the Bedroom With 13 Favorite Sustainable Bedding Options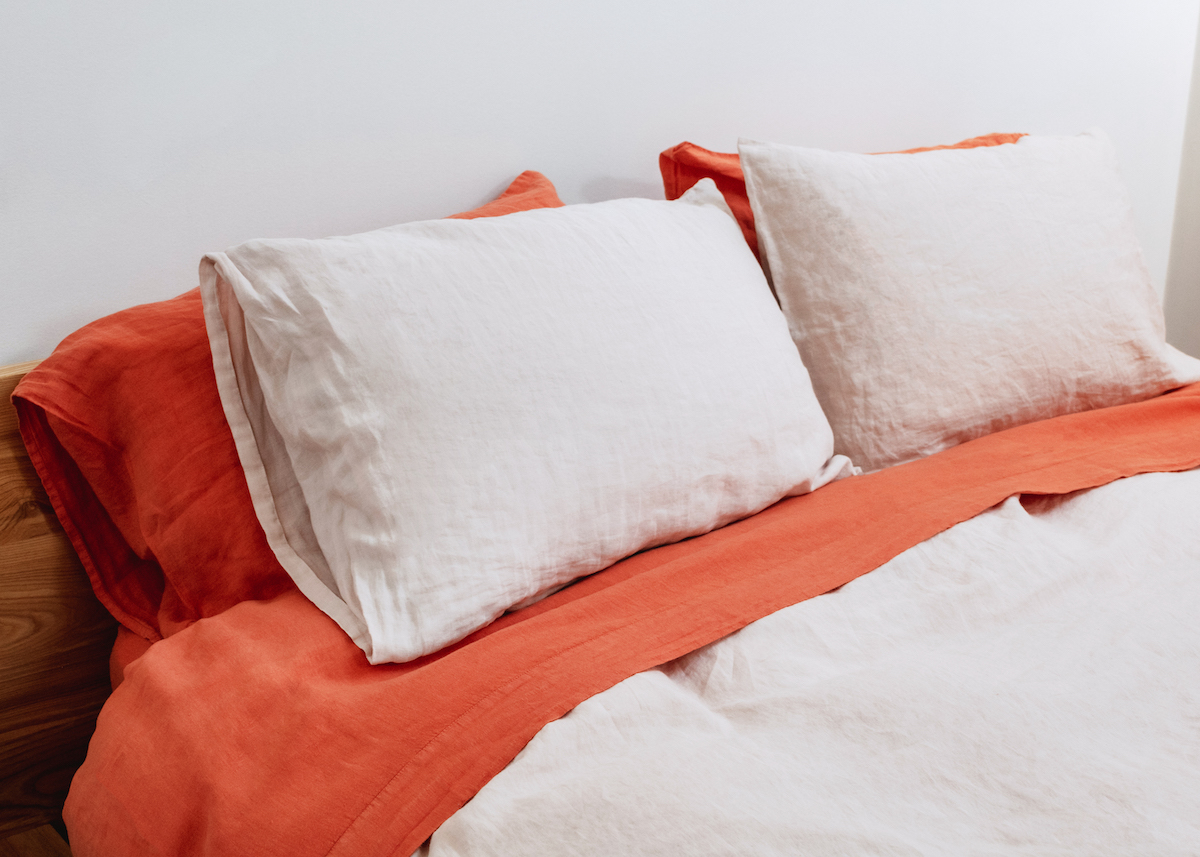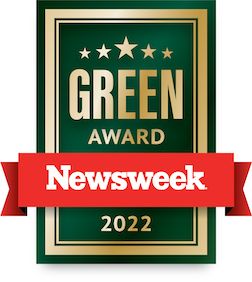 While transitioning to a more planet-friendly closet can be a process that takes time—switching out for sustainable denim, eco-friendly bathing suits, bags and more—you can make your bedding situation more sustainable with just one click. Of course, that's easier said than done—mainly because "sustainable" often means a higher price point. If you're in the market for new bedding and have the means, sustainable bedding is an ethical, eco-friendly swap that does wonders for your health, sleep, and the planet.
When buying sustainable bedding, it's important to consider these purchases as investments. As such, you'll want to make sure sheets, comforters, blankets, pillows and more are made of high-quality, long-lasting, durable materials. The most common eco-friendly materials in the bedding category include organic cotton, hemp, linen, silk (though not vegan), wool and bamboo.
Newsweek vetted the best, most sustainable bedding brands and products, considering each company's use of chemicals, fair and livable wages, green certifications and more.
13 Best Sustainable Bedding
Ready for an eco-friendly upgrade? Keep reading for the best sustainable bedding—from sheets, comforters and duvets to blankets, pillows and even baby bedding. As always, the prices listed may fluctuate over time.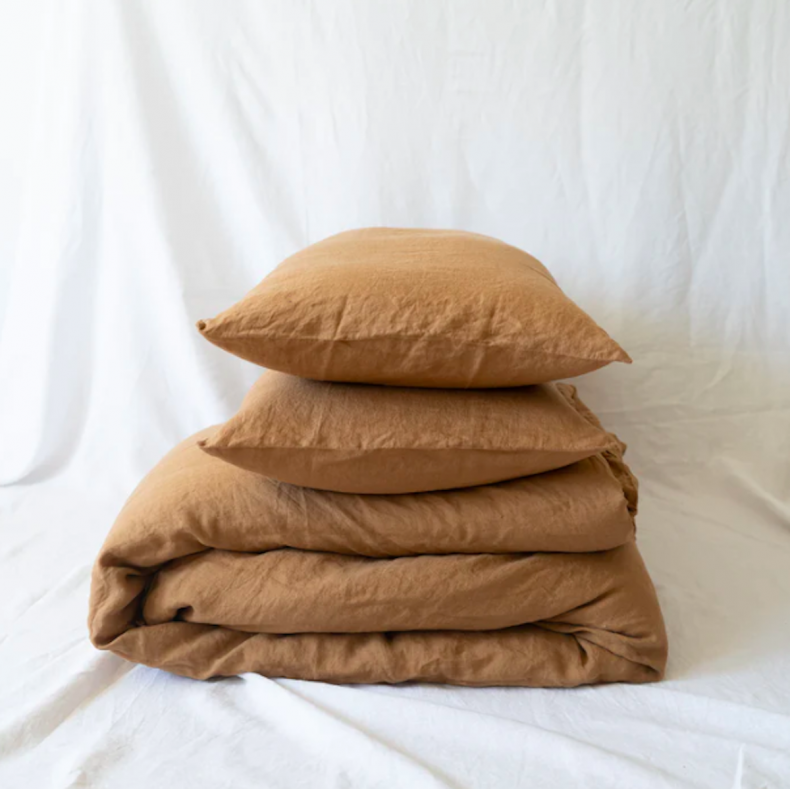 Socco Annex linen is OEKO-TEX certified and is ethically manufactured in Guimarães, Portugal. The result is beautiful, high-quality bedding that isn't just expertly made (after all, the family-owned mill Socco Annex works with has centuries of background in textile-making) but also safe for you and the planet. Made from high-quality linen that's sourced from the finest flax fields in both France and Belgium, Socco Annex as a company has just about every hallmark of a sustainable company you want to see.
It practices ethics and is executed under fair-trade conditions, while the product is also super breathable, soft and temperature-regulating. The Stonewashed Linen Duvet Set has a lived-in look that feels as natural and soft as it looks. The set comes with two pillowcases and a duvet and is available in sizes queen/double and king and the colors white, blush, natural, camel and charcoal.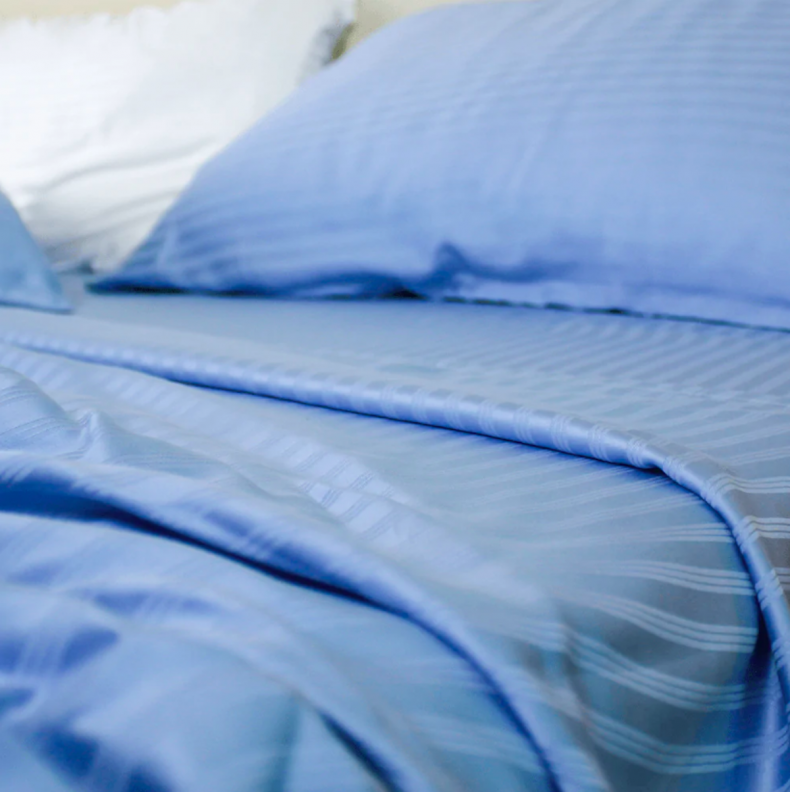 Rated "Best Temperature Control" by Sleep Foundation, Sheets & Giggles is the premiere sustainable brand for sheets made from eucalyptus thread. Though it may be hard to believe while looking at them, this sustainable bedding is, in fact, made with plant-based fabric. They're moisture-wicking, hypoallergenic and surprisingly soft, but don't take our word for it. The Eucalyptus Lyocell Sheet Set has amassed more than 3,000 reviews on its website.
One reviewer wrote, "Like the quality, the sheets feel very luxurious and are comfortable to sleep in. They are keeping me cool at night. I also like that they fit my deep mattress."
Buy at Sheets & Giggles from $109.95.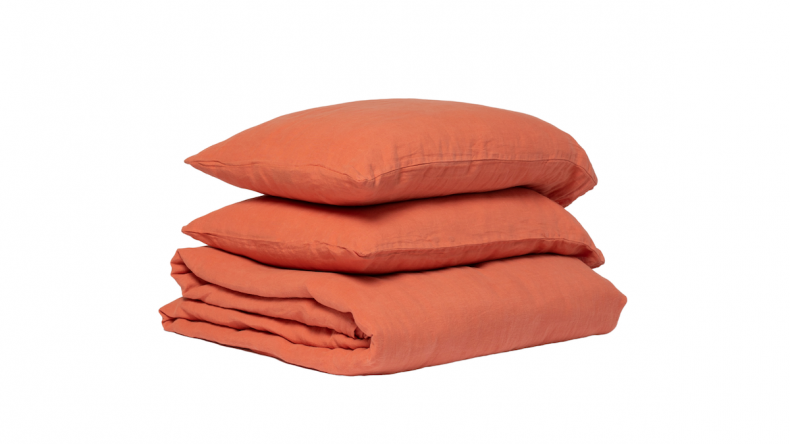 Linen is such a popular material to use when it comes to sustainable bedding because it is so lightweight and breathable. However, not all linen is created equal. Flax Home's recently-launched Love Letter to Portugal collection features OEKO-TEX certified French linen designed in Vancouver and ethically manufactured in Guangdong, China and Guimarães, Portugal. The Love Letter to Portugal line introduced a new color—the above-pictured terracotta—to the brand, but because it's made with natural materials, pieces have slight color variations.
The Flax Sleep Bundle (in king) includes a duvet cover, one elasticized fitted sheet, one flat sheet and four king-sized pillowcases with envelope closures. (The queen-sized bundle comes with four standard pillowcases and the twin-sized comes with two standards.)
There is no denying it. Flax Home's Flax Sleep Bundle is a splurge, but with such high-quality linen, you will have this set for years and years to come. You'll love the vibrant colors, soft-to-the-touch feel and overall breathability.
One FlaxHome.com reviewer wrote, "I've tried a lot of bedding sets over the years, and these are the best I've found yet. The linen is good quality, soft and somehow both cool and warm. I use it all year round. I bought my first set from Flax almost two years ago, and it still looks exactly the same despite weekly washing."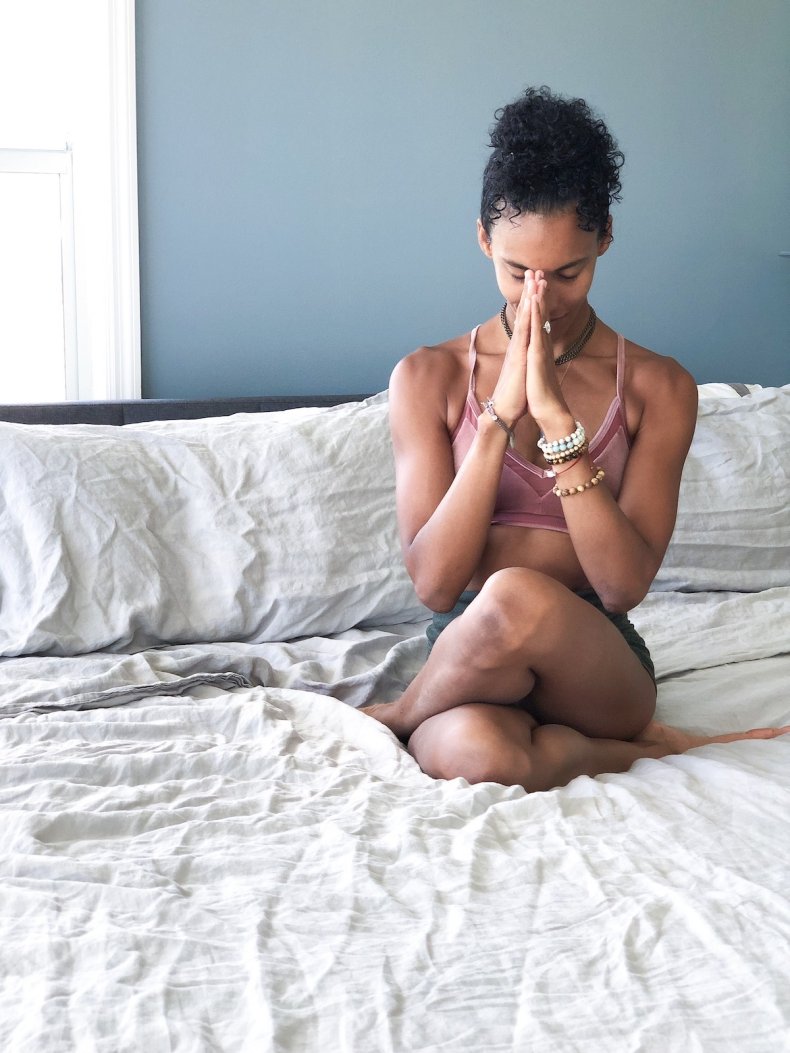 When it comes to sustainable bedding, don't sleep on Delilah Home. Or maybe do... Delilah Home 100 Percent Organic and Vegan Certified Hemp Bed Sheets are precisely what your bed needs if you're looking for something thick yet breathable and temperature-wicking yet comfortable. You won't slide off these sheets (like some other lightweight materials), but you will sleep peacefully, feeling cool in the summer and warm in the winter.
The Delilah Home 100 Percent Organic and Vegan Certified Hemp Bed Sheets are organic, chemical free and certified vegan, making them ideal for anyone with allergies, skin sensitivities, respiratory issues and ethical concerns. Delilah Home is also a Green America certified business and a member of the Organic Trade Association.
There's so much to love here with the ethics of it all, but perhaps the best part is that when buying Delilah Home, you don't have to sacrifice comfort or softness. As if you needed more reason to love and trust this brand, Delilah Home is named after a golden retriever who was rescued in the North Carolina mountains after surviving record winds and frigid temperatures, living off the land for a total of 62 days. They really get us when they involve the animals!
Buy at Delilah Home from $169.99.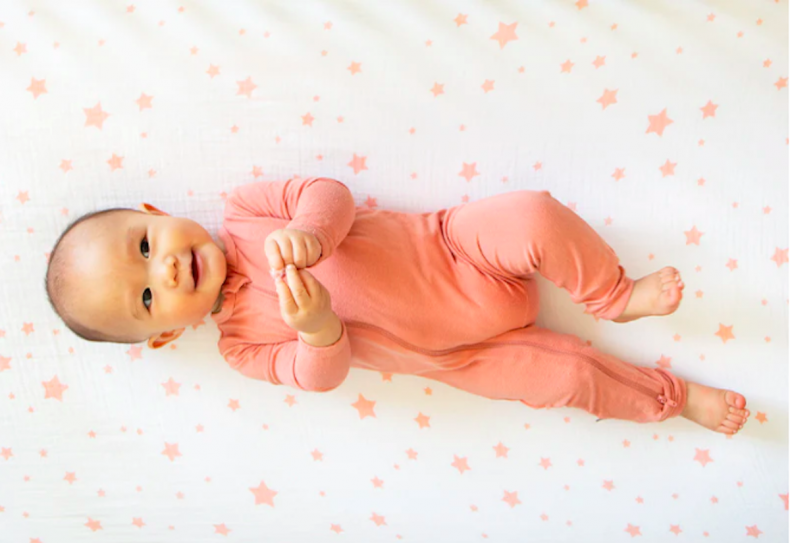 The little ones deserve sustainable bedding, too! There is the Organic Cotton Baby Sheets from Newton Baby for breathable, organic, and eco-friendly baby sheets. Newton Baby's organic muslin baby sheets are Global Organic Textile Standard (GOTS) certified to boot, available in prints like stars, stripes, scallops, and solids. These standard crib sheets measure 52 inches by x 28 inches and fit a mattress 8 inches thick, but thanks to the all-around elastic, they will fit most crib mattress sizes.
With more than 2,000 five-star reviews on NewtonBaby.com, one reviewer wrote, "Soft, breathable and quick shipping! Ordered these at 2 am when baby first started rolling over. I sleep so much better knowing we have these sheets."
Buy at Newton Baby for $39.99.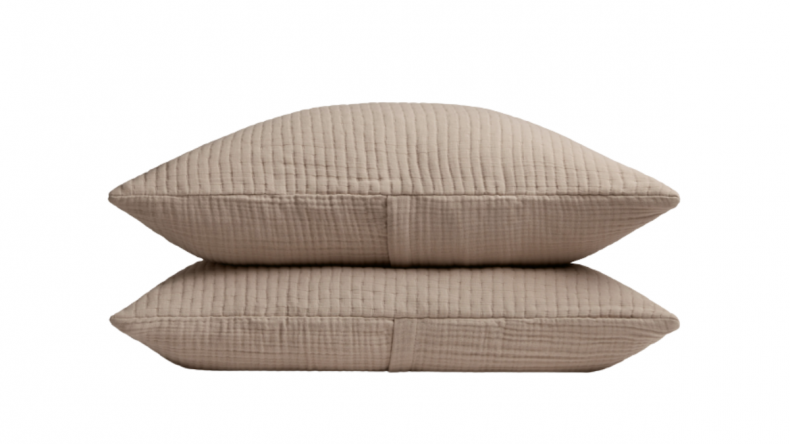 Parachute Home doesn't just offer buttery soft linen and cotton; you'll also enjoy carbon-neutral shipping with every purchase. The Organic Air Cotton Sham Set—in Parachute Home's new "bisque" shade—is GOTS certified, OEKO-TEX Standard 100 certified, yarn-dyed and garment-washed.
Made in Turkey, the Organic Air Cotton Sham Sheet features a three-ply gauze fabrication made from 100 percent organic cotton that makes it as soft as a cloud.
And while we love all of Parachute Home's Organic Bedding Collection, the brand's Recycled Down Pillow is also worth highlighting. If you need a new pillow, you can sleep well knowing this one is made from washed down from returned Parachute pillows and a 70 percent recycled cotton shell. It's Parachute's first foray into a circular program, and we're here for it.
Buy at Parachute Home from $89.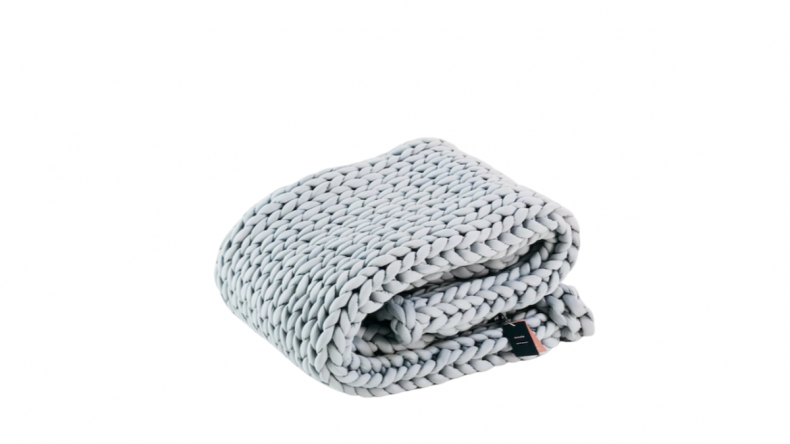 Climate Neutral Certified, the Nuzzie Knit Weighted Blanket is made with 100 percent recycled down alternative filling produced from more than 500+ plastic water bottles. It even uses 90 percent less water in production than traditional cotton.
But cuddling up with this environmentally conscious weighted blanket, you'd never know it's made from plastic bottles. It's heavy but breathable, making it ideal for hot and restless sleepers alike.
Not only does this weighted blanket help alleviate symptoms of anxiety and insomnia, but it's also aesthetically pleasing when draped along the bed. So, that's a big plus!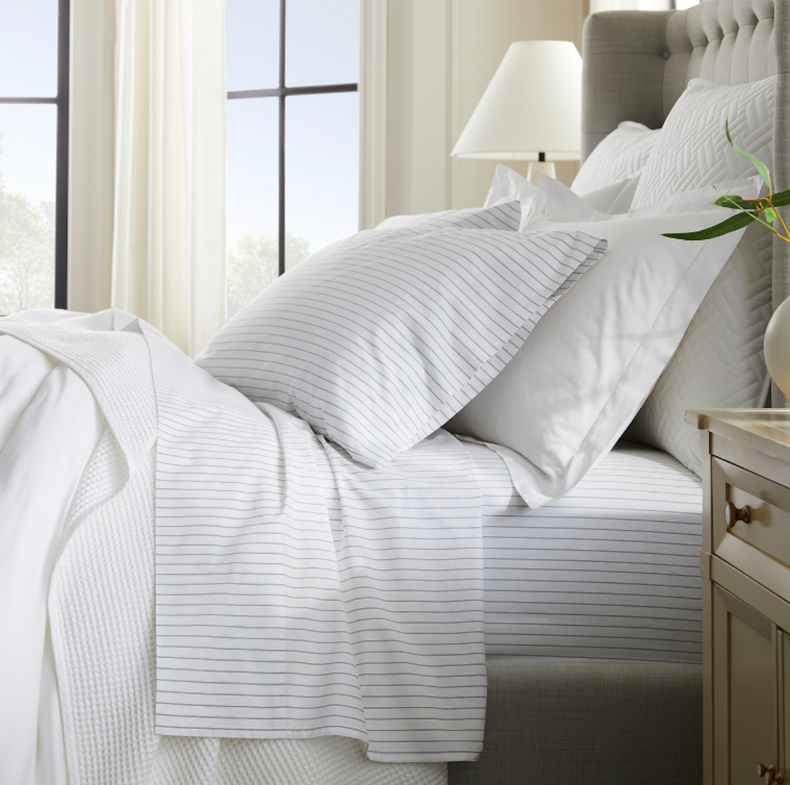 The Percale Simple Stripe Sheet Set from Boll & Branch—available in navy (pictured) and pewter—is made from 100 percent organic cotton free of pesticides, GMOs or toxins like formaldehyde. But that's not all you'll love about these percale sheets—they're woven tightly with a unique one-over-one-under pattern that results in a weave that maximizes airflow and gives the sheets cooling properties.
On the sustainability front, Boll & Branch offers a lot in the way of transparency. Not only does it actively refuse harmful production practices that increase toxins and use pesticides or GMOs, but it also makes a point to prioritize traceability and work with family-owned farms and factories to make that a reality.
One BollAndBranch.com reviewer wrote, "I give these sheets a five-star rating. They are so smooth and comfortable. And knowing that they are organic and that the people making them are paid fairly makes them even better! Good for the planet and for people."
Buy at Boll & Branch from $238.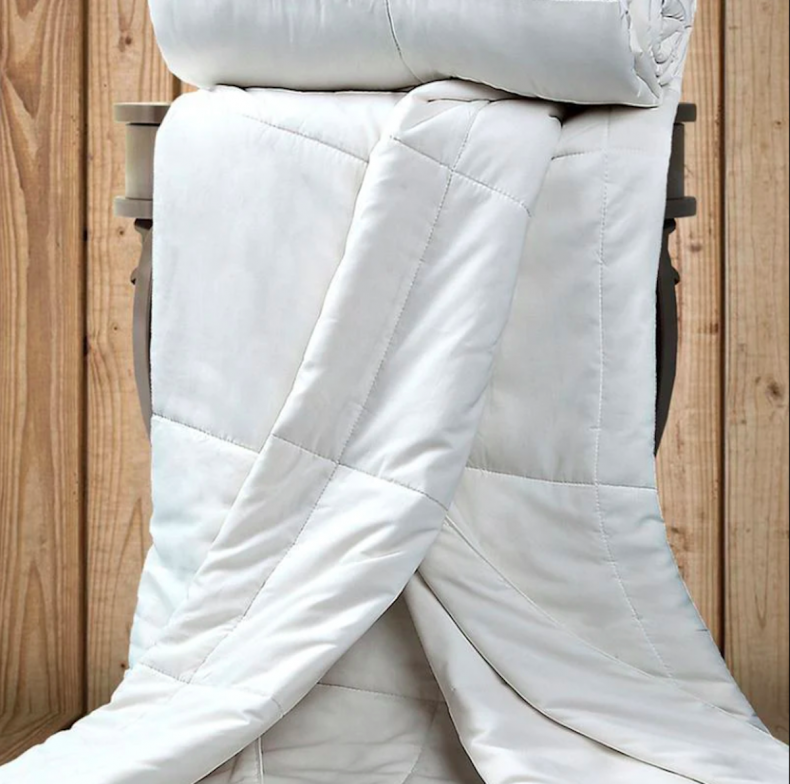 When shopping for sustainable bedding made of bamboo, you really have to have an eagle eye as not all bamboo is created equal. Most of it isn't actually authentic bamboo, but honestly, a blend between bamboo and cotton (not at all the same thing).
The Bamboo Comforter from ettitude passes our standard, however. After all, it's made from 100 percent plant-based CleanBamboo for the fabric shell and PETA-approved vegan bamboo lyocell filling made from 100 percent bamboo. It's a vegan down alternative, free from harmful chemicals, hypoallergenic and breathable. Certified Standard 100 by OEKO-TEX, the Bamboo Comforter is even ideal for people with sensitive skin.
On ettitude's website, the brand also provides transparency, offering a Sustainability Index, Environmental Assessment and information on the company's traceability.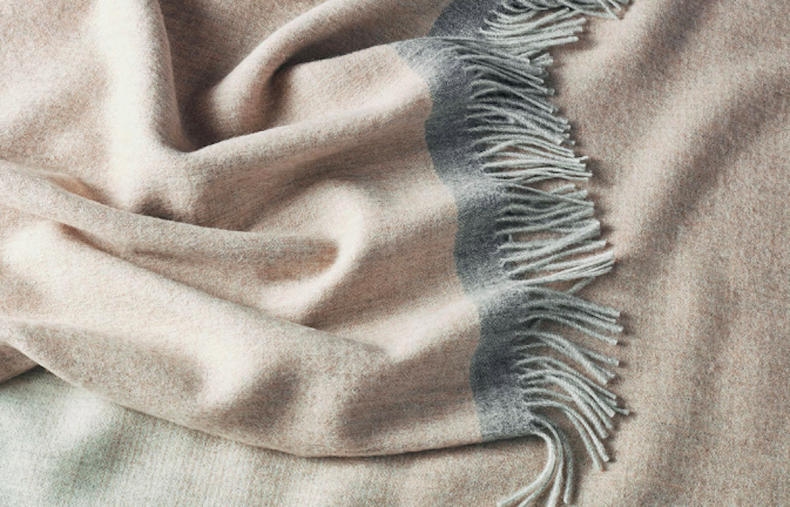 Wool is another sustainable fabric that, if done correctly, can be sourced sustainably; however, it's not vegan.
Alpaca Wool Throws from Silk & Snow are made from 100 percent natural Alpaca fiber sources straight from Alpaca breeders—who have been doing this sustainably for generations—in the Peruvian Andes. Available in six different colorways, the Alpaca Wool Throws are certified Fair Trade Peru Good Practices. The blankets themselves (and the practices used to make them) are evaluated on their sustainability, community support and working practices.
Luxurious, soft and never synthetically dyed, the Alpaca Wool Throws are warm but lightweight, thanks to the unique properties of Alpaca hair.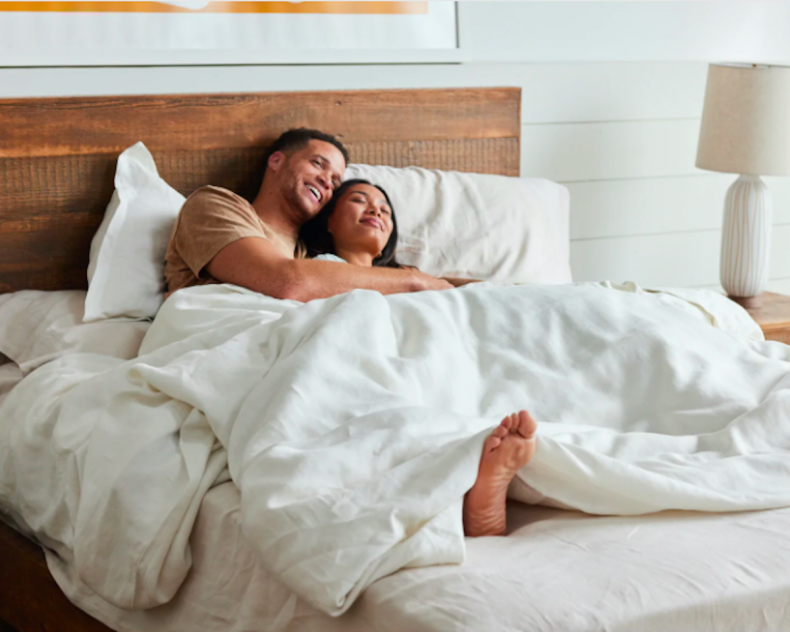 Another super-soft hemp option, Avocado Green Mattress—known for its eco-friendly mattresses—also makes sustainable bedding! The Organic Hemp Duvet Cover from Avocado comes in only two colors: champagne and white. But what it lacks in color options, the Organic Hemp Duvet Cover makes up for with its sustainability specs.
This duvet cover, stitched with 100 percent GOTS-certified organic hemp, feels like linen and gets softer with each wash, also just like linen. It's climate neutral, certified Made Safe with non-toxic ingredients and naturally antibacterial.
But while most bedding brands use traditional hemp, Avocado makes it a point to use organic hemp, which makes it stand out in a sea of other "sustainable" bedding options. (After all, non-organic hemp requires more chemical treatments than organic.)
One reviewer wrote, "The comfort and feel are perfect. The entire Avocado experience has been wonderful."
Buy at Avocado Green Mattress for $399.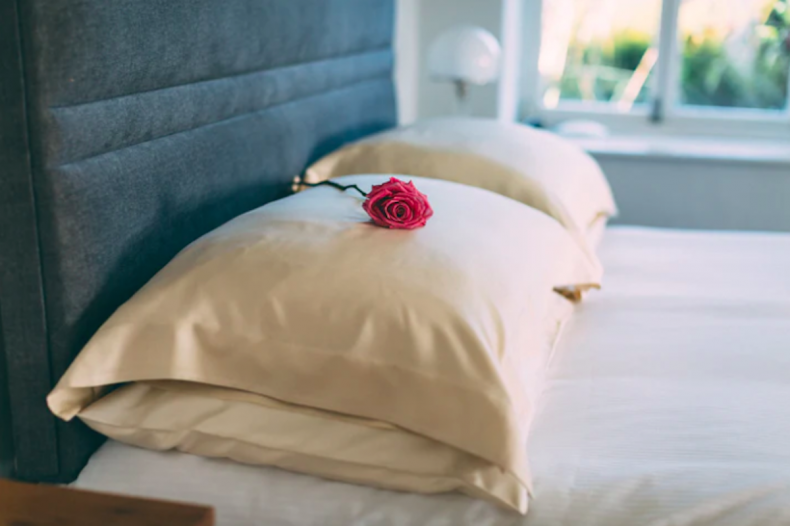 Another non-vegan, sustainable bedding option, the Mulberry Silk Oxford Pillowcase from The Ethical Silk Co., has tremendous benefits—beyond its impact on the planet! But first, let's focus on the planet: made sustainably, silk is a renewable resource that can biodegrade and uses significantly less water than most. But anyone who is vegan or takes issue with animal rights might have similar qualms about sleeping in silk (after all, it's made by silkworms) as they do wool (which is also derived from an animal, like Alpacas, for instance).
That aside, it's said that mulberry silk has myriad health benefits, like clearing up acne-prone skin and preventing hair breakage. It even promotes moisture balance in the skin, and instead of your pillowcase absorbing any nighttime creams, the silk lets your face do that job on its own. The Mulberry Silk Oxford Pillowcase is a great, sustainable option for anyone looking for a cool, smooth surface to sleep on; its health benefits are just a bonus!
One reviewer wrote, "My fiance bought this pillowcase for me in Christmas of 2020 to help with my skin and acne. Other silk pillowcases have dyes or added chemicals that have made my skin irritated. However, since using this pillowcase, my skin has improved and surprisingly my hair is healthier as well."
Buy at The Ethical Silk Co. for $65.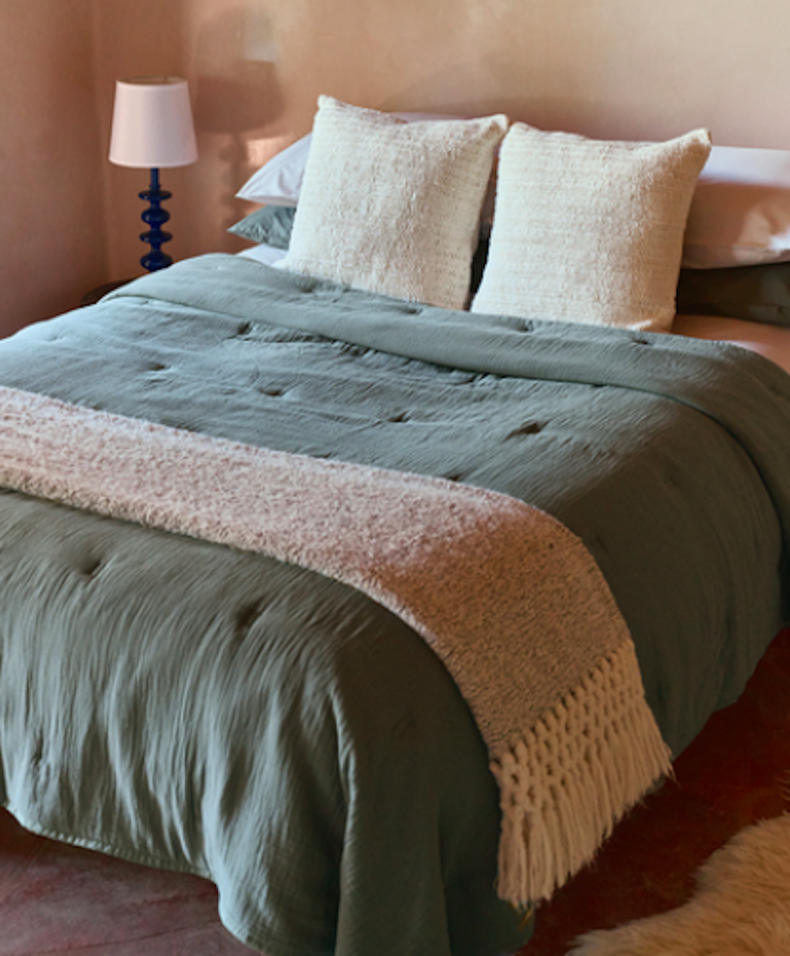 You may know Pact. as a clothing retailer most often seen sold at Whole Foods. But did you know that Pact creates sustainable, ethical bedding, too? The Crinkle Quilted Comforter is ideal for a full-on comforter or folding at the edge of the bed as needed. It looks luxe but still natural and feels exceptionally soft to the touch.
This quilted comforter is available in three colors—camel, lunar and castor gray (pictured above)—and has some stunning sustainability specs we love to see. First off, Pact is exclusively Fair Trade, meaning that everyone involved in the bedding production process is paid fair, livable wages and works in proper, safe conditions. But there's even more to love: the Crinkle Quilted Comforter is made from organic cotton, which affords a whopping water savings of 326 gallons. Pact also provides carbon offsets of 70 pounds per comforter for the climate.
Made of 100 percent organic cotton gauze and 100 percent organic cotton filling, one Pact.com reviewer wrote, "Such a beautiful color and warm, soft comforter! So glad I bought, totally worth the price. Fits a twin-sized bed perfectly."
Newsweek's Green Awards highlight companies and products that use sustainable and ethical business practices and deliver exceptional quality, service and value. The evaluation focuses on three key areas; measurable sustainability practices as certified by trusted organizations, product or service quality and overall value. Learn more.
Newsweek may earn a commission from links on this page, but we only recommend products we back. We participate in various affiliate marketing programs, which means we may get paid commissions on editorially chosen products purchased through our links to retailer sites.