Take a Dip! 12 Best Bathing Suits From Fan-Favorite Sustainable Swimwear Brands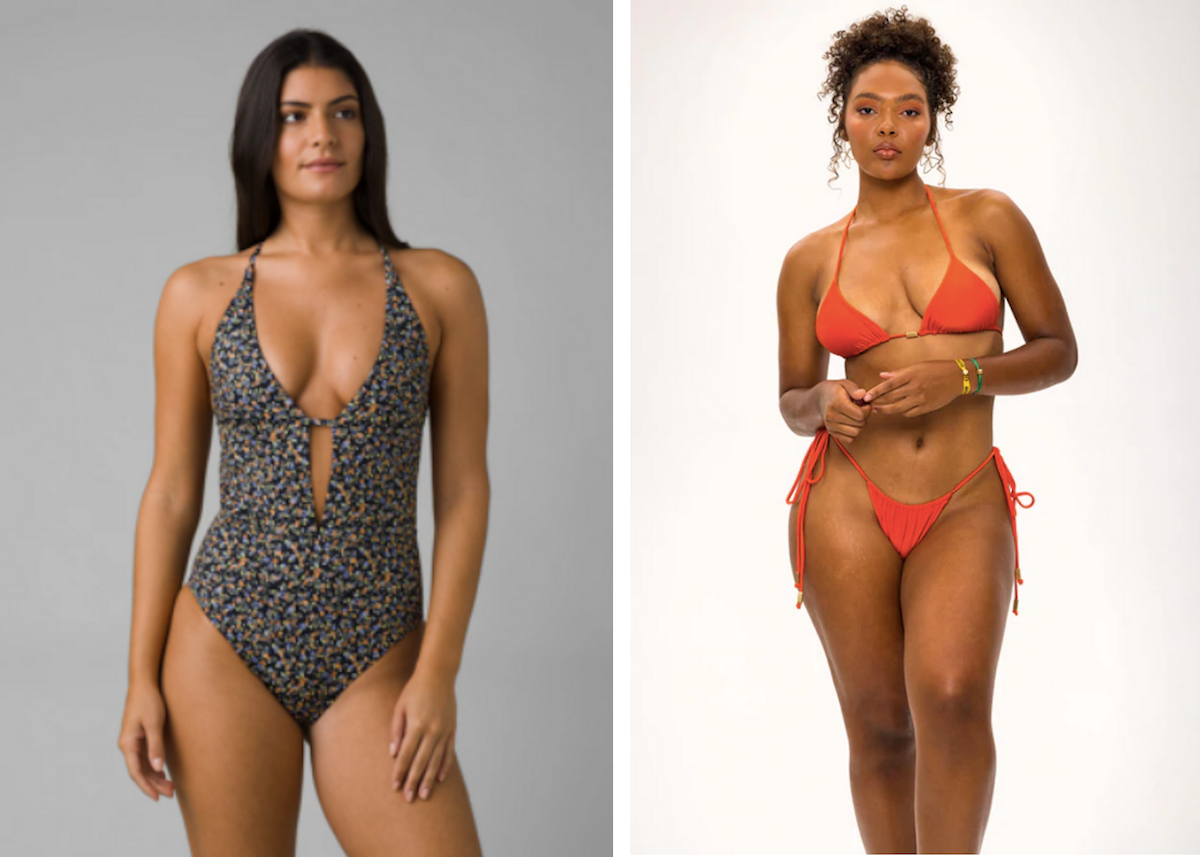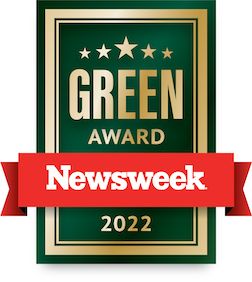 You can't have a hot girl summer without a rockin' hot bathing suit! As you prepare for a day in the sun or maybe your next tropical beach getaway, you'll need a swimsuit—or two or three or four—that you feel good in, that's comfortable and doesn't break the bank. That's why we did the work for you, rounding up the hottest suits of the summer. And as an added bonus? Each swimsuit is sustainably made, too, so you can feel good about your impact on the planet as you frolic along the ocean or tan by the pool.
12 Best Sustainable Swimsuits
Keep reading for the 11 best sustainable swimsuits of 2022—all from beloved sustainable swimwear brands with eco-friendly reputations. As always, the prices listed may fluctuate over time.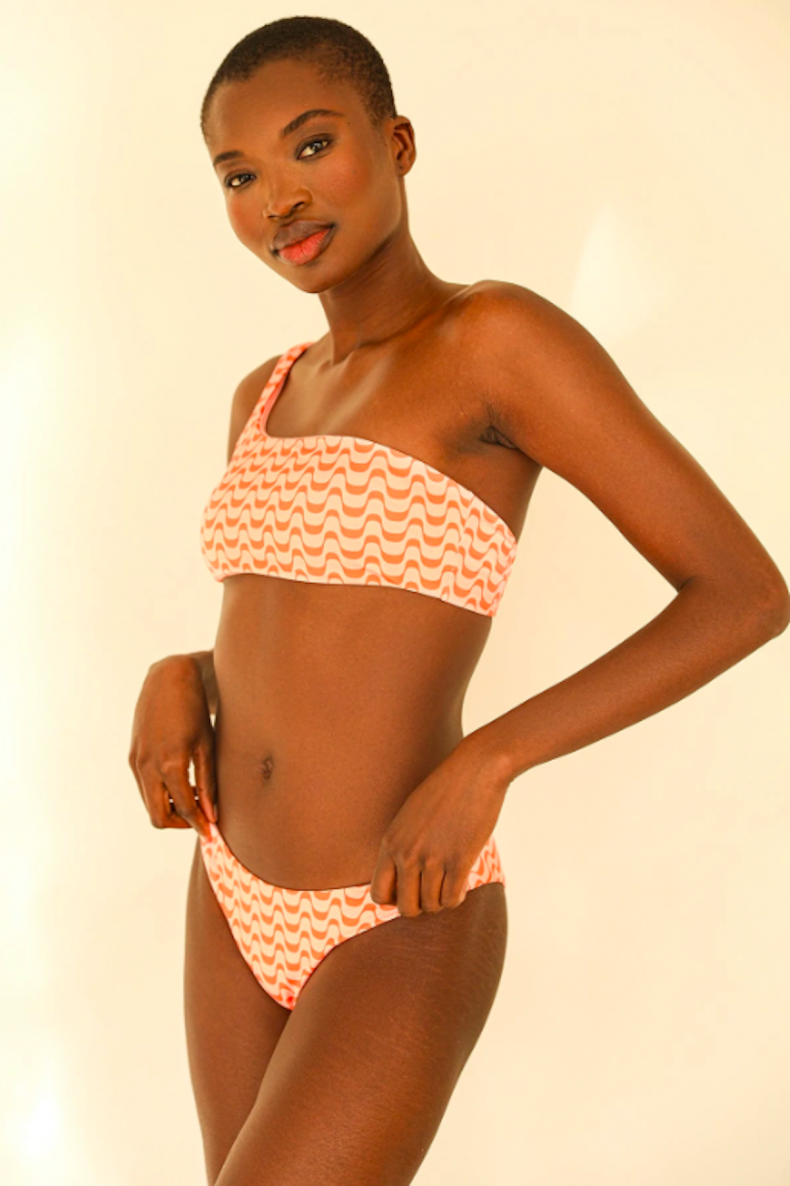 If you're diggin' Dippin Daisys' new wave print, you can mix and match just about any of the tops and bottoms on their website for your best fit. But if you want to up the groovy factor, we highly recommend the Cali Top (the one off-the-shoulder "lewk") paired with the Nocturnal Bottom (for butt coverage that feels adequate but also a little cheeky). For a relatively affordable price, this suit feels and looks exceptionally well-made—expensive, even—and is made in the USA with adjustable back ties and an elastic band for ultimate comfort. Created with 85 percent recycled nylon and 15 percent spandex, this sustainable suit runs true to size and is available in sizes XS through 3X.
Buy at Cali Top for $48 and Nocturnal Bottom at Dippin Daisys for $20.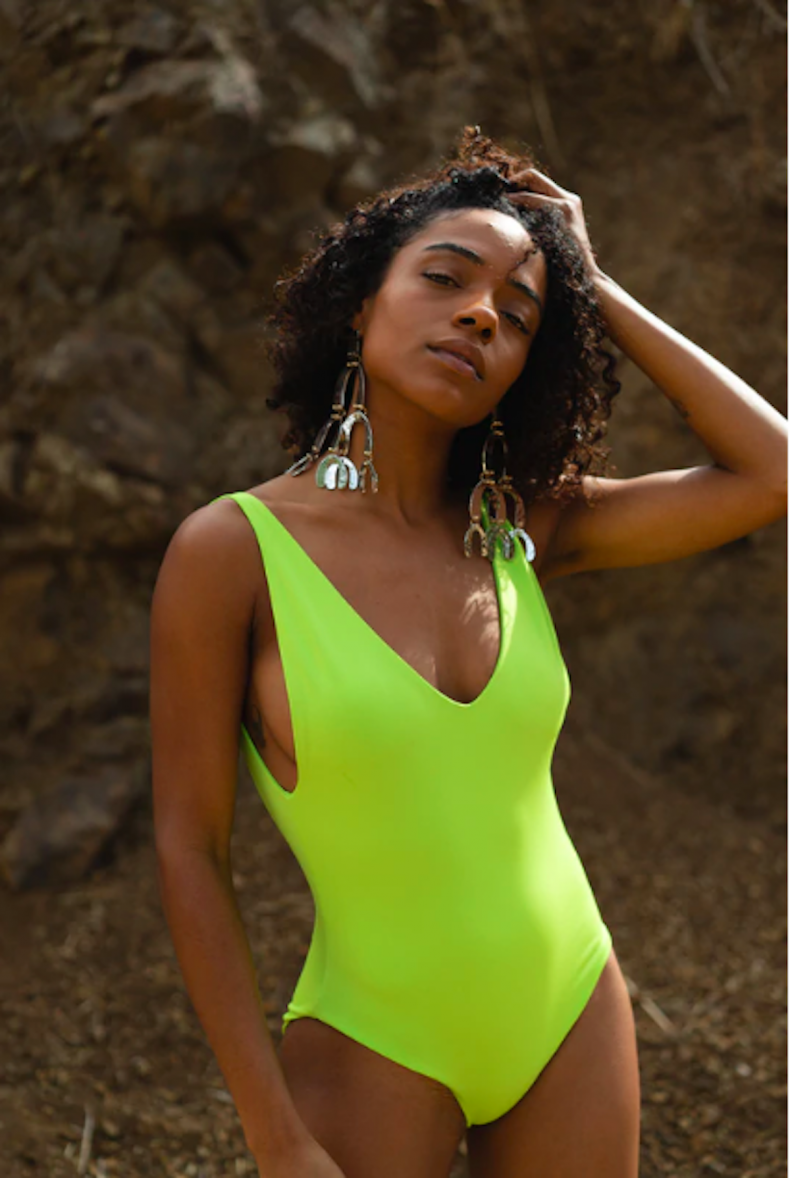 The "zesty lime" color might be the first thing you notice about this curve-hugging one-piece, but being available in more than ten different colors, it's hardly the only reason you'll fall in love with it. The brand's bestselling suit is known to sell out again and again. The Minimalist features a classic fit, enhanced by a low-coverage back, low-scoop front and a flattering butt cut that (unlike so many other suits nowadays) won't give you a wedgie. The one-piece itself is silky-soft to the touch; you'd never even know that each suit is ethically made from six recycled plastic bottles. Who knew plastic bottles could be so soft?!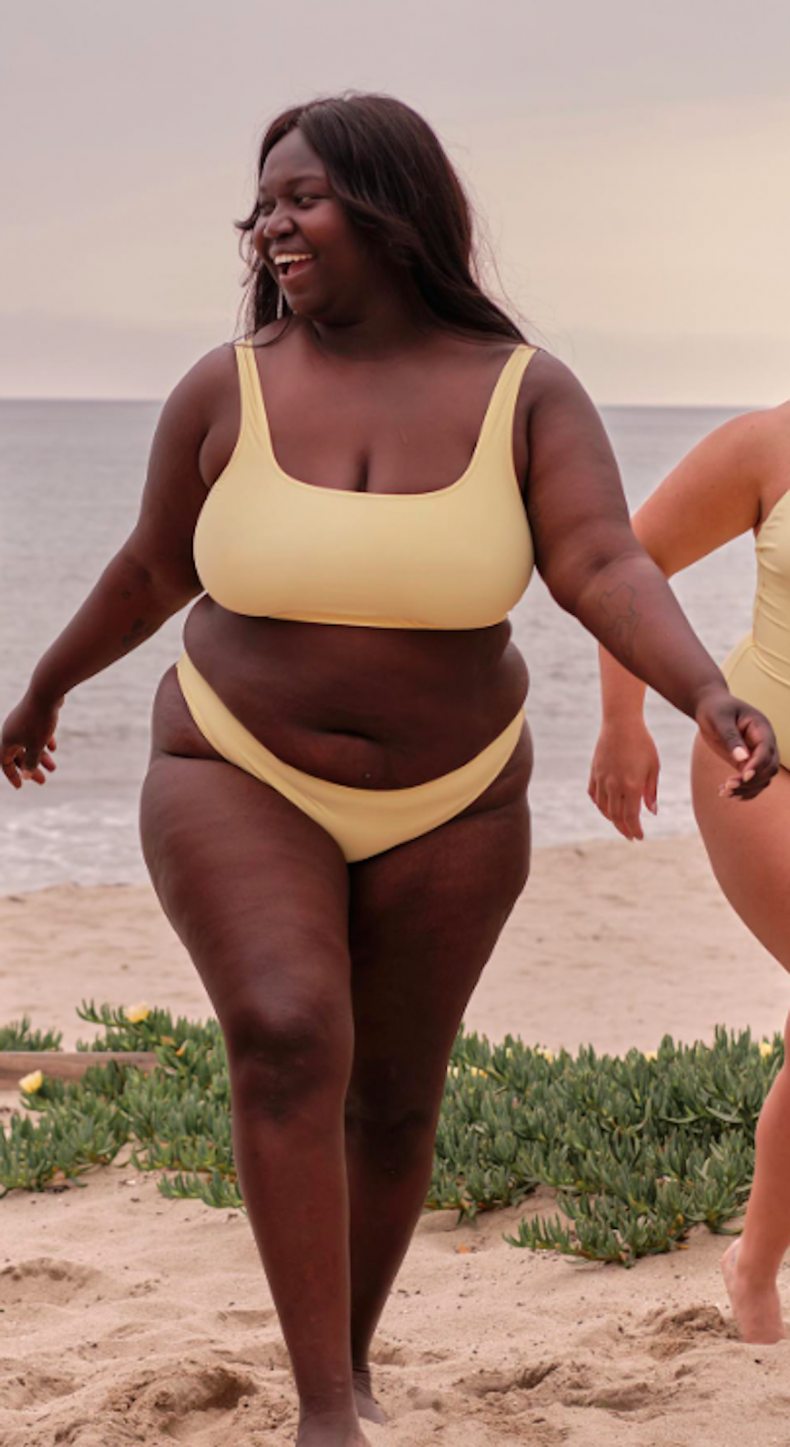 Feeling sporty? Our favorite part of this duo from Girlfriend Collective—the Tahoe Scoop Bikini Top and Volley Cheeky Bikini Bottom, both shown in banana—is how it calls back to athleisure. Sure, it's a bikini, but it's like, a sporty bikini. Like, if you could Peloton in a bikini (which we totally don't recommend), this would be it. The soft-scoop top features removable cups and offers a ton of support, while the bottoms show just enough cheek, thanks to their low-rise cut. Available in various sizes from XXS to 6XL, each suit is made from ECONYL—that's regenerated nylon constructed from nylon waste from things like fishing nets, fabric scraps and even plastic. Plus, 1 percent of each purchase gives back to Healthy Seas, a sustainable initiative that seeks to tackle the problem of ghost fishing, which leads to the needless death of marine life.
Buy Banana Tahoe Scoop Bikini Top for $50 and Banana Volley Cheeky Bikini Bottom at Girlfriend Collective for $45.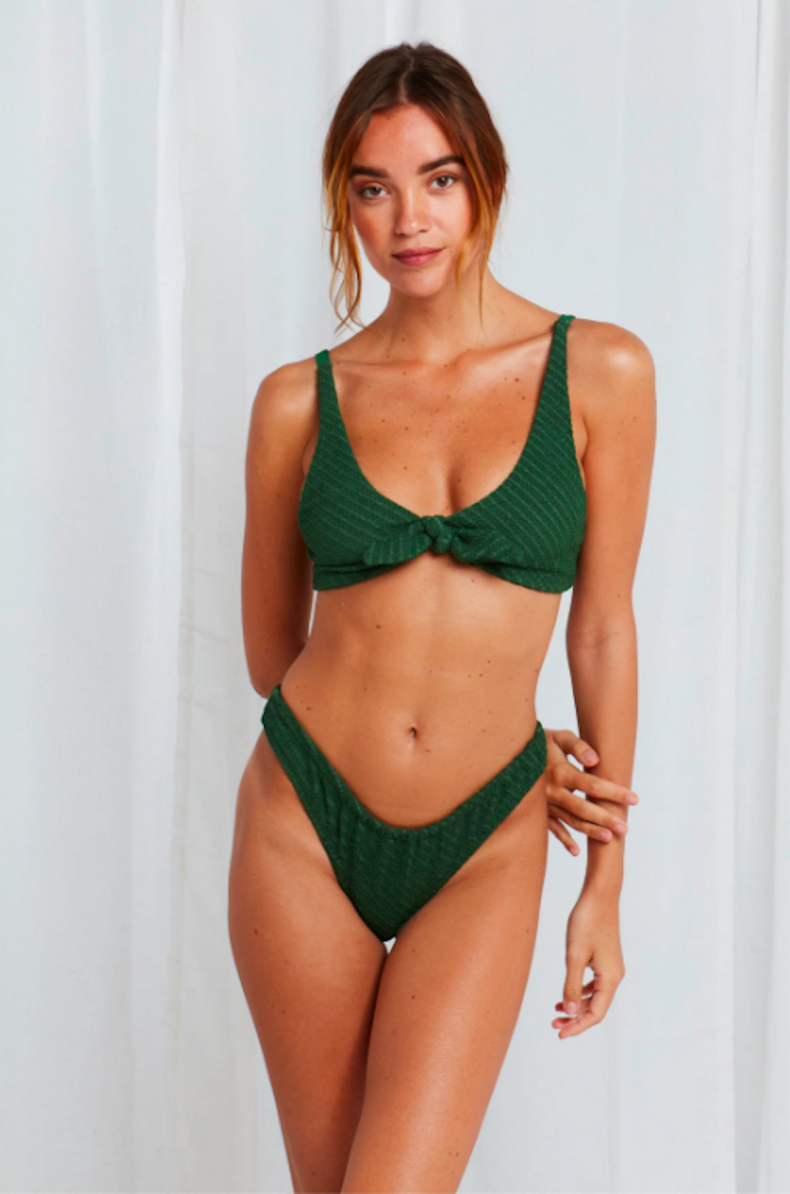 Are you ready to feel the softest bikini alive?! The Palm Kelley Top and Vice Bottom from Sister Swim is not only a gorgeous palm green color, but it's also buttery, buttery soft. With a removable faux tie front and a chic golden clasp closure, the Palm Kelley Top pairs perfectly with Sister Swim's bestselling Vice Bottom. High-cut and vintage-inspired, the Vice Bottom is meant to be worn high on the hip bones to create that va-va-voom look that elongates your legs. Made by women, for women, each Sister Swim suit is made with precise measurements in mind—measurements that naturally enhance your figure.
Buy Palm Kelley Top for $75 and Vice Bottom at Sister Swim for $75.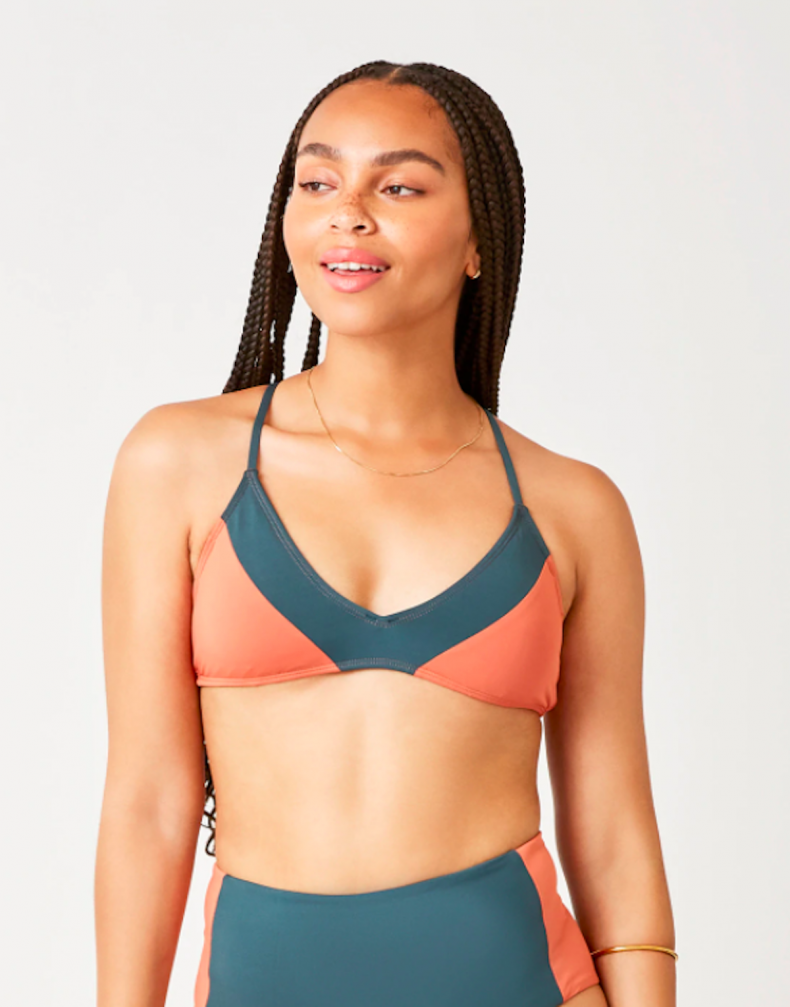 Historically, color blocking has been a beloved trend for how flattering it is on every body and shape. But that's not all you'll obsess over with the Tamarindo Colorblock Top and Maisie Bottom from Carve Designs. Each suit is made from five recycled plastic bottles and is specifically designed to accentuate all your favorite parts. With a high-rise bottom that draws attention to the waist and shows off just the right amount of booty, the waistband on this bathing suit is just as comfortable as your favorite pair of leggings. Plus, for added peace of mind, each suit from Carve is outfitted with UPF 50!
Buy Tamarindo Colorblock Top for $48 and Maisie Bottom from Carve Designs for $52.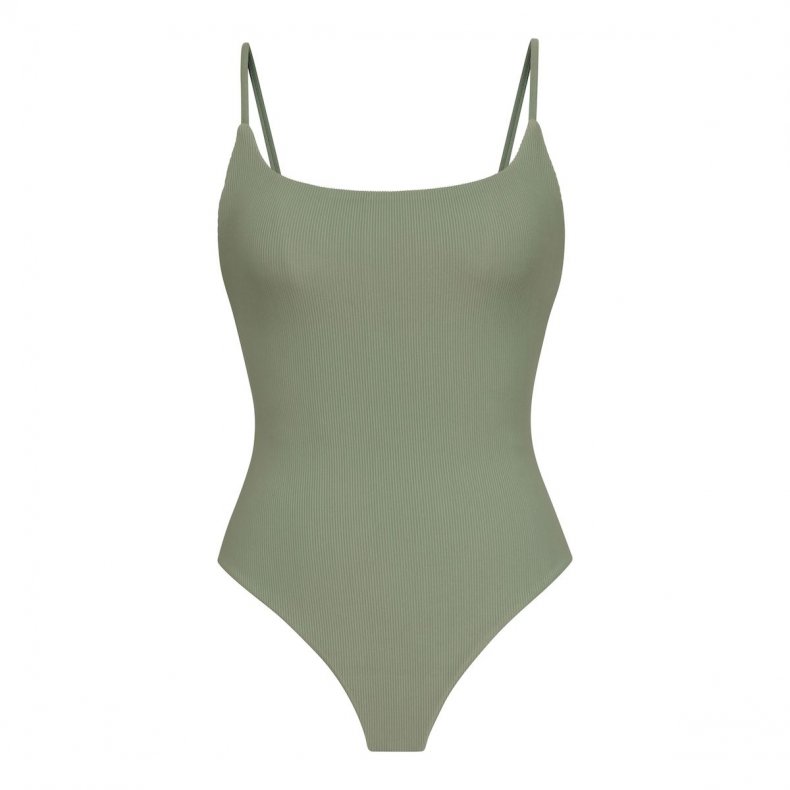 One of the most flattering one-piece suits we've ever found, the Riis One-Piece by Bay 2 Swimwear—to put it frankly—understands the assignment. Plus, so does Bay 2 as a whole! Not only does the Riis One-Piece hug curves in all the right places, it feels super-soft to the touch thanks to its luxurious ribbed fabric. But Bay 2 as a brand also makes a conscious effort to provide packaging made from recycled paper and use locally sourced materials and labor whenever possible. Each suit is also made in New York City with the utmost care. Our favorite feature of the Riis One-Piece is the adjustable straps; they really come in handy when a big wave comes through!
Buy at Bay 2 Swimwear for $160.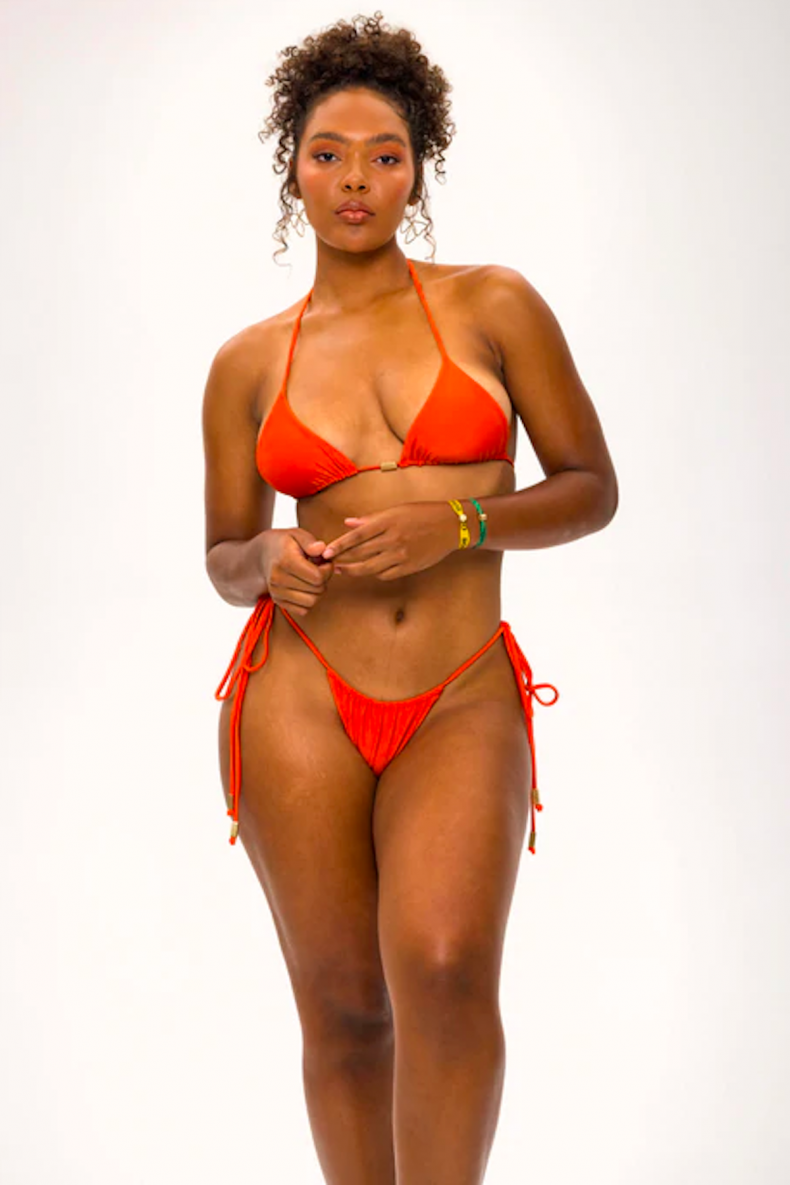 Are you feeling cheeky? If you appreciate a little less coverage—more power to you, girl!—the Terra Valentina Top and Valentina Bottom from Nua Swim are just what you're looking for. Put the goodies on full display with this two-piece, and not only will you love the fit (and the compliments you'll undoubtedly get!), but you'll also get the world's least noticeable tan line. Both pieces are unpadded and double lined with adjustable neck and back ties and made in the USA with luxury recycled fabric (78 percent recycled polyester and 22 percent spandex). If you're looking for minuscule tan lines this summer, you must join the #NuaSquad.
Buy Valentina Top for $85 and Valentina Bottom at Nua Swim for $85.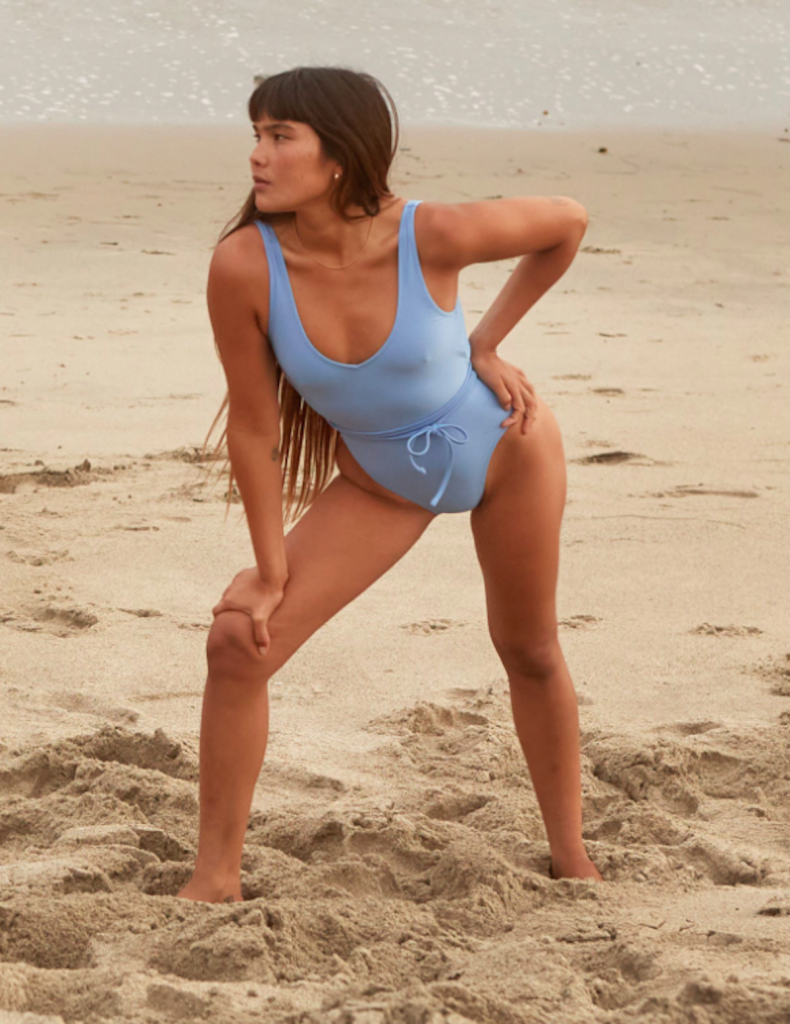 Not going to lie; everything that Girlfriend Collective does and puts out is 100 percent on-point. Still, we have to sing our praises of their Provence Isla Wrap Tie One Piece. Flattering is an understatement (look how that tie-waist cinches!), and with three available colorways—black, Sea and Provence shown above—you'll want to purchase this one-piece in every color. Literally. Like every bathing suit in GF Swim, this one is designed with ECONYL regenerated nylon—AKA fabric made from nylon waste otherwise polluting the planet. Think fishing nets, scraps of cloth and industrial plastic waste—yuck! In fact, the sustainable construction of this bathing suit alone can account for 3.33 ounces of oil conserved, 1.01 pounds of CO2 prevented and 2.13 kilowatts of energy saved! Now, that's a meaningful impact. As if that weren't enough, purchasing the Provence Isla Wrap Tie One Piece gives back 1 percent to Healthy Seas, a sustainable initiative that focuses on tackling the problem of ghost fishing, which contributes to the senseless deaths of so many marine animals.
Buy at Girlfriend Collective for $95.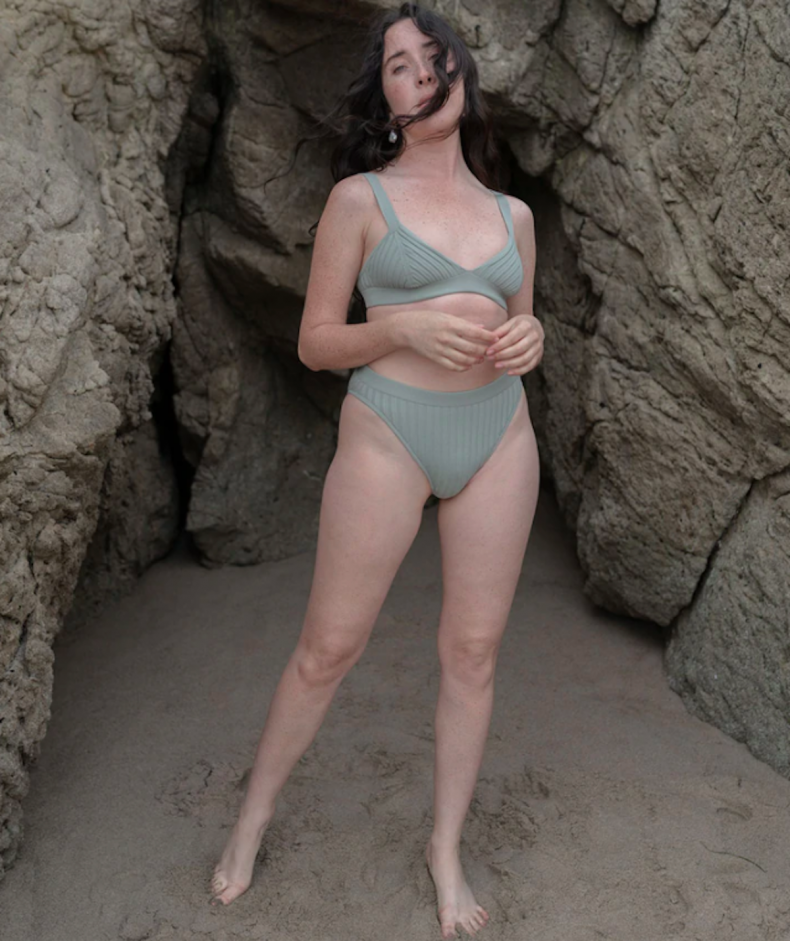 Knits are so hot right now, and while suits from DETA Knits run a bit more on the expensive side, we can guarantee that these are high-quality pieces you're going to have and love for a long time. Bottom line: these suits are sooo worth it! Rib-knitted and high-waisted, the Momo Brief offers medium coverage and gives your legs the moment they deserve. Pair the Momo Brief with the Nicola Top—which, TBH, effectively doubles as a daywear crop top. Both are 3D-knitted in Brooklyn, New York, with no seams and made from 80 percent polyester and 20 percent nylon. That strong, water-resistant yarn is actually designed to repel water, so you'll never feel like it's absorbing so much you have quite literally to ring it out!
Buy Nicola Top for $132 and Momo Brief at DETA Knits for $120.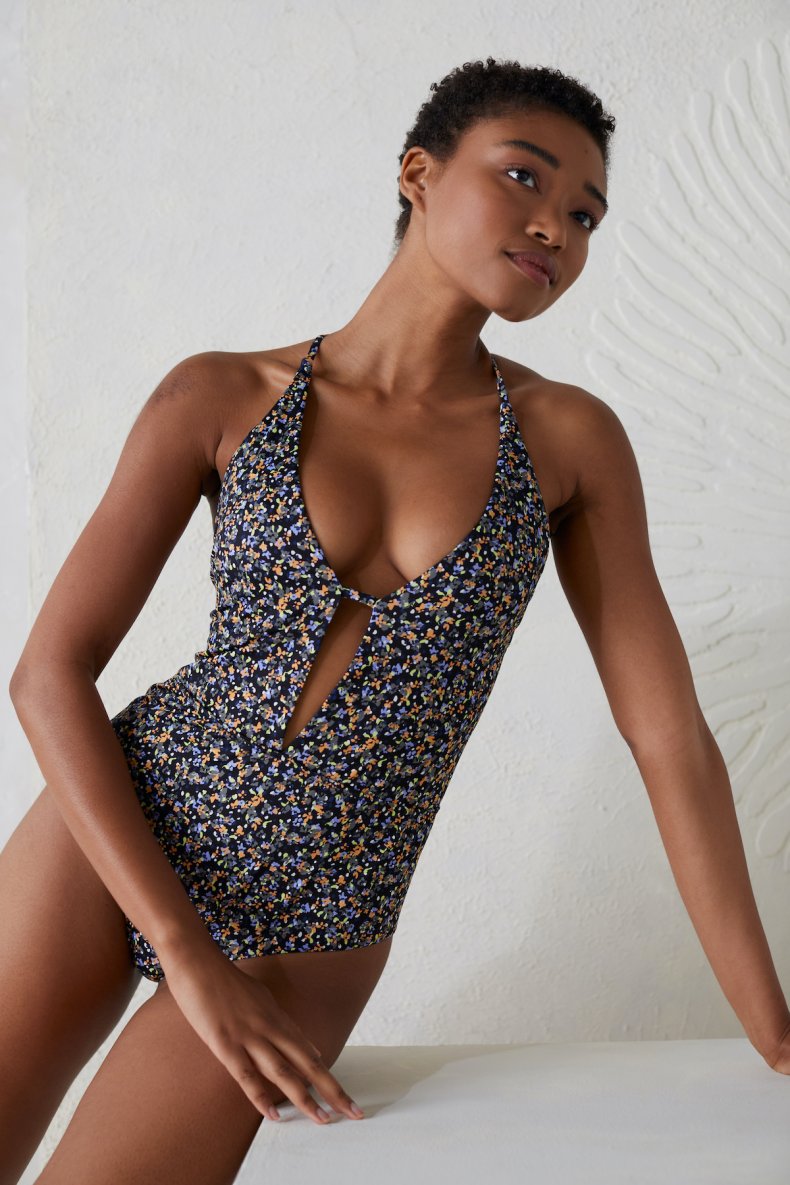 Have you ever seen a bathing suit so chic? With crisp lines and strong attention to detail, we're absolutely obsessing over the La Plata One Piece from prAna. All three available patterns are so cute, but we love the suit in "black petals" as it feels like a fun, vibrant nod to the floral, Bridgerton vibes that people have been loving recently. This one-piece has the ideal silhouette that enhances the feminine body and includes an open back, spaghetti straps, an adjustable tie-back closure, and an on-trend front cut-out detail. Also outfitted with UPF 50+, the La Plata One Piece comes with removable soft cups and is also made in a Fair Trade Certified Factory, so you can feel good about the company you're supporting.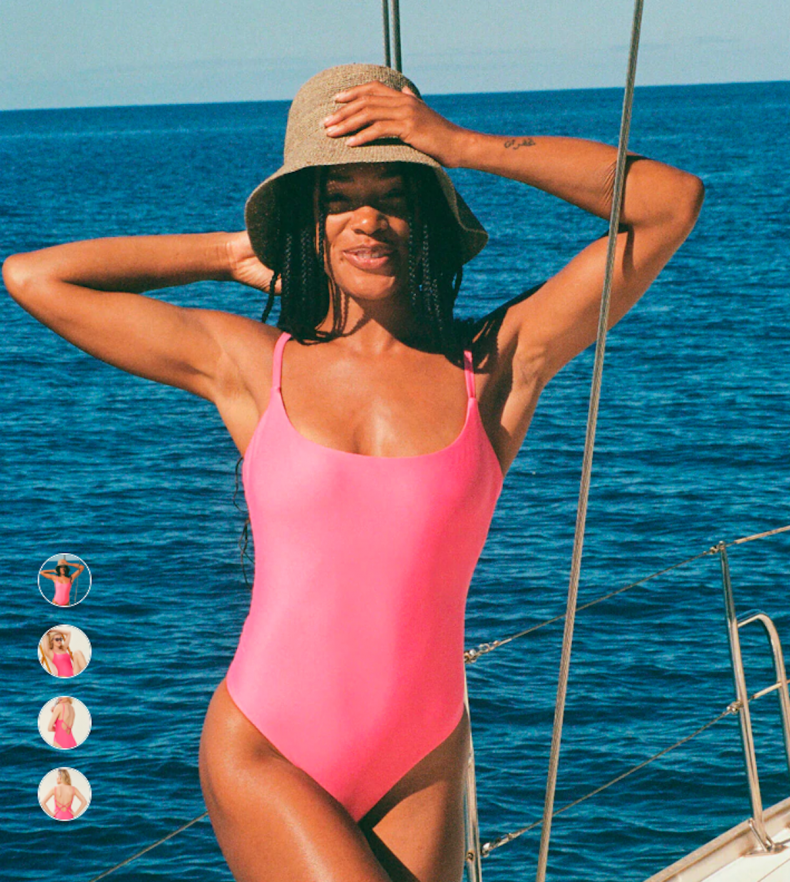 It wouldn't be a swimwear roundup without at least one bright pink swimsuit! With all the vibrant, cheeky vibes of a suit ideal for Malibu Barbie, The Jetties by Andie is a standout suit at the beach. Inspired by two of Andie's bestsellers—the Amalfi and Tulum—The Jetties combines the best of both original suit's designs: a scoop back, adjustable crossover straps and glossy eco-nylon that shimmers and shines from a mile away. It also features removable cups, light bust support and a medium leg cut designed to make you look and feel your best this summer.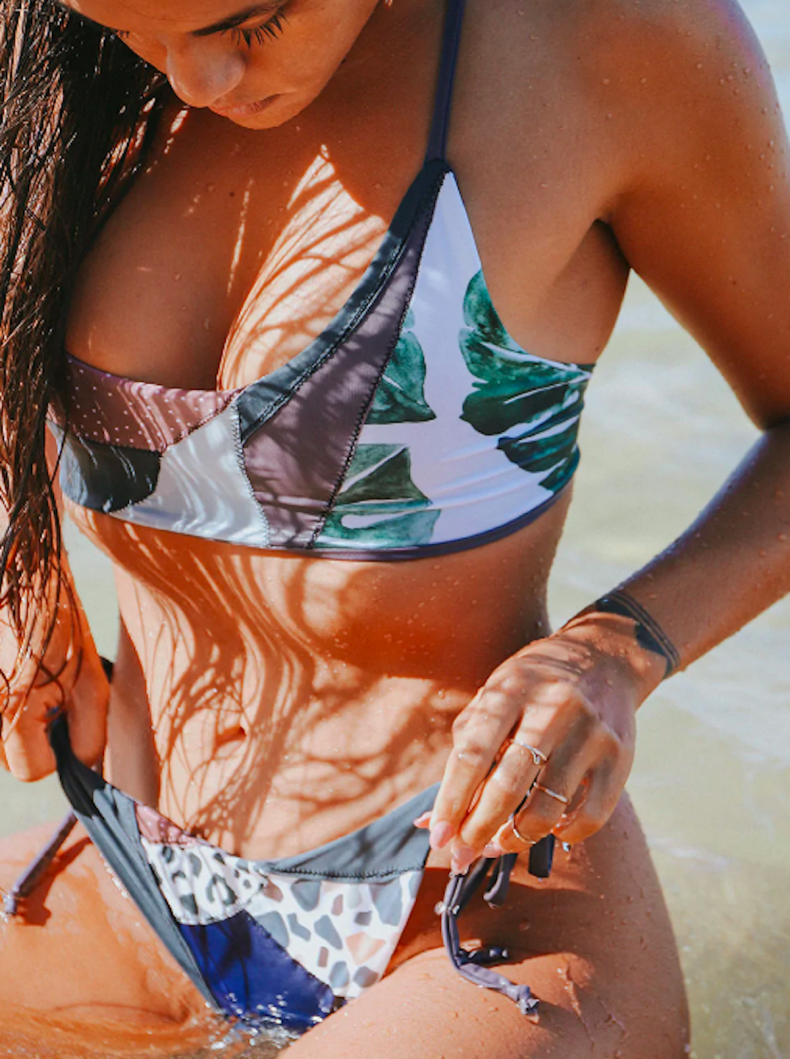 Arguably one of the most sustainable swimsuits on this list, Lagoon Designs really sets the bar high with its Up-cycled Bikini Set. Available for pre-order due to their extreme popularity, the Up-cycled Bikinis are made with the company's scraps from making ready-to-wear versions. Here's how it works: You select your preferred style, size and color scheme. Then, your bikini is made-to-order using Lagoon Designs' fabric scraps. Totally reversible, one side will feature a patched-looking pattern in a similar color story while the other side will be a solid color. All Up-cycled Bikinis are final sale.
Pre-order at Lagoon Designs for $150.
Newsweek's Green Awards highlight companies and products that use sustainable and ethical business practices and deliver exceptional quality, service and value. The evaluation focuses on three key areas; measurable sustainability practices as certified by trusted organizations, product or service quality and overall value. Learn more.
Newsweek may earn a commission from links on this page, but we only recommend products we back. We participate in various affiliate marketing programs, which means we may get paid commissions on editorially chosen products purchased through our links to retailer sites.