'Go Woke, Go Broke': Conservatives Celebrate Failure of CNN+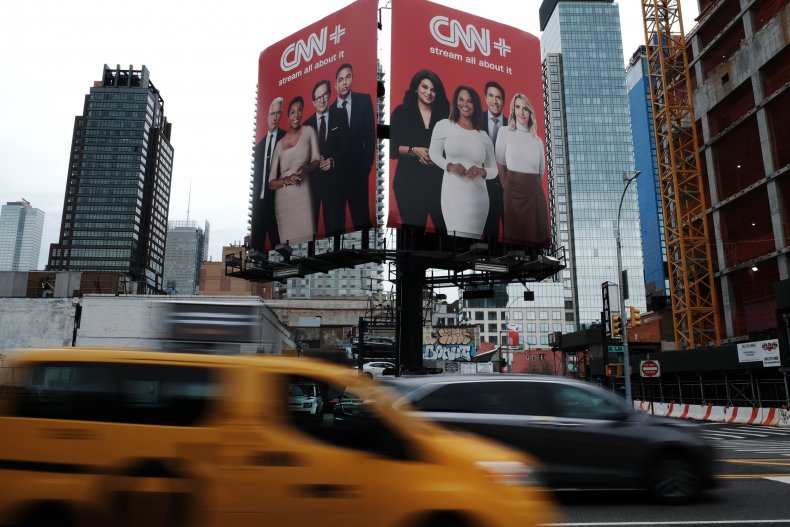 Jubilant conservatives are celebrating the rapid demise of CNN+, the news network's just-launched streaming service.
CNN announced on Thursday that CNN+ would cease operations by April 30. The company said that the decision to end the platform only one month after launching on March 29 was made by a new management team. CNN's former parent company WarnerMedia merged with Discovery to form Warner Bros. Discovery on April 8.
News of the shutdown was celebrated by critics who have accused CNN of an anti-conservative bias. Former President Donald Trump, who has repeatedly denounced the network as "fake news," quickly issued a statement that offered "congratulations" to the platform "on their decision to immediately FOLD for a lack of ratings, or viewers in any way, shape, or form."
Prominent conservatives echoed Trump's sentiments and piled on CNN's failure on Twitter, a platform that the former president has been permanently banned from using himself.
Trump's son Donald Trump Jr. tweeted a short video clip of a group carrying a coffin while dancing. The video was altered to superimpose the CNN+ logo on the coffin and was accompanied by the comment: "Celebrating the life of CNN+"
"CNN+ is getting shut down," Republican U.S. Representative Lauren Boebert of Colorado tweeted. "Go woke, go broke wins again!"
Erin Perrine, a former Trump campaign director of communications, shared the comment "Things that lasted longer than CNN+" while tweeting a wedding photo of Kim Kardashian and Kris Humphries, who were married for 72 days before Kardashian filed for divorce in 2011.
"Fake News Plus (aka CNN+) is dead," tweeted Republican Representative Andy Biggs of Arizona. "Americans rejected a network that no longer pushed out real news. Americans made the right choice."
"If you think you're having a bad day, imagine being Chris Wallace who left Fox to be the star of CNN+ and CNN+ immediately failed," tweeted Tim Young, a conservative columnist for The Washington Times.
Fox News hosts also weighed in on the demise of the platform. Sean Hannity shared links to articles on the shutdown, including one with the headline "CNN+ Killed," as well as several on his own website. Laura Ingraham tweeted: "Now it's CNN-. Nice ring to it."
"I CALLED IT about 'CNN Plus' the MOMENT it debuted. MY Tweet from FEBRUARY 23rd, when they Kicked off this Bad Idea," boasted Newsmax host Greg Kelly, while sharing a tweet that claimed the platform was "the same as Regular CNN, except Stupider" more than a month before it started.
"Rest In Peace CNN Plus," pro-Trump comedian and pancake seller Terrence K. Williams tweeted. "CNN's streaming service is shutting down after launching a month ago. They thought people would pay to watch Fake News & to see Chris Wallace. The Best News of the Day!"
CNN+ was described as "the evolution of video news and the start of a new era for the company" when it was first announced in July 2021. Top CNN personalities like Anderson Cooper and Jake Tapper hosted shows on the subscription service, in addition to new faces like Wallace and former CBS News correspondent Kassie Hunt.
Other notable streaming platforms that closed shop after relatively short runs include Quibi, which specialized in videos 10 minutes or shorter and shut down months after launching in April 2020, and the Black News Channel, which announced it was ceasing operations and filing for bankruptcy last month, two years after launching.
Newsweek reached out to CNN+ for comment.