GoFundMe Raises More Than $500,000 for Dallas Hair Salon Owner Arrested for Opening Business Despite Coronavirus Restrictions
A GoFundMe campaign accruing donations for Texas salon owner Shelley Luther has exceeded its half-million-dollar goal as of Tuesday afternoon. Luther, who was arrested, fined and placed in jail last week after refusing to suspend operations at her Dallas establishment, Salon à la Mode.
The campaign has raised $500,040 since it was created on April 23, one day before Luther reopened her business in spite of restrictions set by Governor Greg Abbott's statewide reopening plan. The plan called for industries to return to work in stages, originally allowing personal care service facilities like salons to resume operations on May 18. Abbott amended the guidelines to allow salons and barbershops to reopen with added safety measures in place starting May 8.
"Shelley Luther is an American Hero that has decided to resist tyranny by opening her business against an unlawful State Executive Order," reads a description for the GoFundMe campaign. It was created by Rick Hire, who mentions his affiliation with a group called the Woke Patriots Organization in an update posted to the fundraiser's webpage on Monday.
Soon after Salon à la Mode reopened against Abbott's regulations, Luther received a cease-and-desist letter from Dallas County Judge Clay Jenkins requiring her to close the business. Dallas Judge Eric Moyé issued a restraining order against Luther several days later, after she neglected to comply with Jenkins' mandate. Moyé's order similarly instructed Luther to close her salon, saying failure to do so would result in penalties including imprisonment and a fine.
Salon à la Mode remained open for another week before Luther appeared in court on May 5. Moyé initially proposed clemency if the owner acknowledged her actions were "selfish," being that mandated business closures have been imposed in Texas to mitigate spread of the new coronavirus, but Luther did not accept his offer. She was sentenced to seven in a Dallas County jail and fined $7,000—$500 for each day her salon operated against government orders.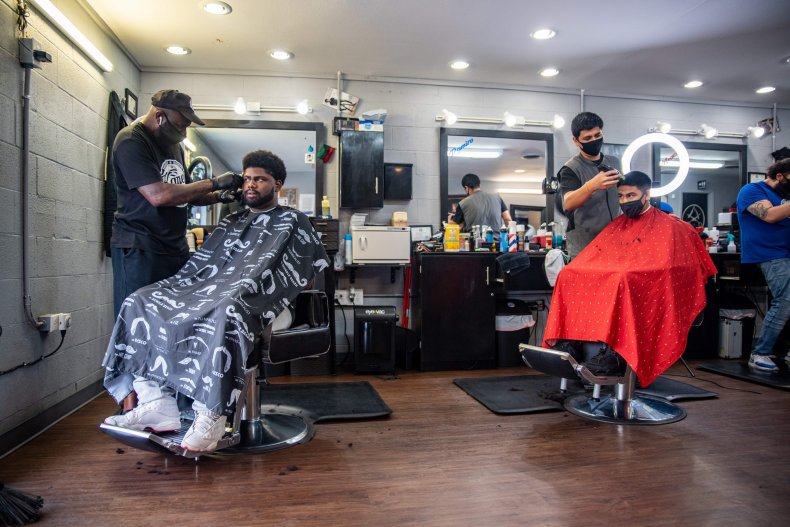 At the request of Abbott as well as Texas Attorney General Ken Paxton, Luther was released two days later. Texas Lieutenant Governor Dan Patrick announced he had paid the fine himself on May 6, before her release. A spokesperson for Patrick confirmed he paid the fine to Newsweek last week.
"7 days in jail, no bail and a $7K fine is outrageous. No surprise Texans are responding," Patrick wrote on Twitter, referencing support shown for Luther through civilian protests as well as the GoFundMe campaign. "I'm covering the $7K fine she had to pay and I volunteer to be placed under House Arrest so she can go to work and feed her kids," his tweet finished.
As Newsweek previously reported, Patrick's $7,000 sum was donated to the GoFundMe campaign. Its original goal of $250,000 was doubled later that day. As of Tuesday, the campaign is no longer accepting donations.
Texas had confirmed at least 40,625 cases of the new coronavirus, as well as 1,119 deaths and 21,713 recoveries, by Tuesday afternoon, according to Johns Hopkins University's tracker.