On Friday, U.S. Republican Senator Ted Cruz of Texas received his first haircut in three months from Shelley Luther, the owner of Salon Á la Mode in North Texas, who was jailed for violating the state's stay-at-home order by operating her business in defiance of court restraining order.
Luther was released early from her seven-day jail sentence on Thursday after an intervention by Texas Governor Greg Abbott, state Attorney General Ken Paxton and a ruling by the Texas Supreme Court. Abbott, Paxton and the state Supreme Court objected to the court using jail time to enforce the governor's stay-at-home order, especially as some state jails have been releasing prisoners to prevent outbreaks of COVID-19.
"We're thrilled to be with you and know the whole State of Texas is standing with you, so thank you for your courage," Cruz told Luther during his visit, according to KTVT. Cruz's hair had grown so long, he joked, that his wife warned he might "start bringing mullets back" if he didn't get it cut soon.
Cruz's visit and support reportedly moved Luther to tears.
"It's a nice gesture. His family actually called my boyfriend and prayed for him for 20 minutes while I was in jail. To me, that's not political... that's just really nice people reaching out and making sure that our family is okay. When people reach out with true authenticity, it's huge," she said.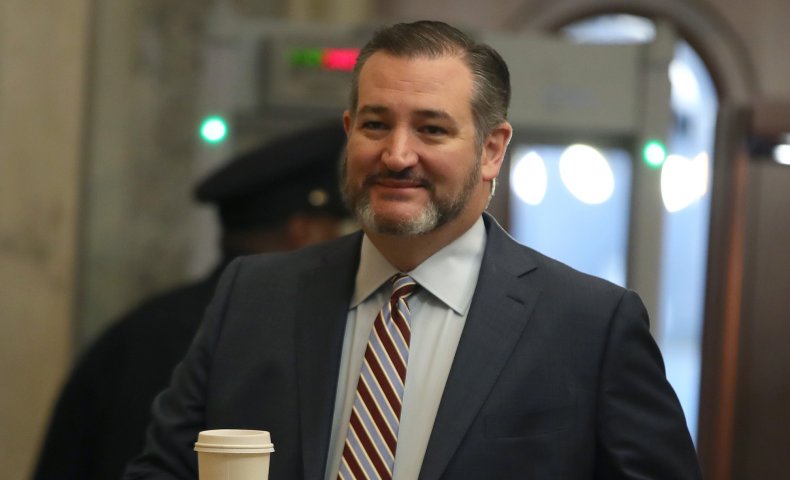 In a tweet published Friday, Cruz wrote, "Shelley Luther was wrongly imprisoned when she refused to apologize for trying to earn a living and provide for her family during the #CoronavirusPandemic. I was proud to show my support for Shelley and other #TX salons and barbershops reopening today."
Newsweek reached out to Cruz's office for comment. This story will be updated with any response.
On Tuesday, Abbott announced that barbers, hair salons and cosmetologists could reopen their businesses, albeit with customers and stylists both being encouraged to wear face masks and other social distancing protocols in place.
Luther's ordeal began on April 24 when she defied a cease and desist letter from Dallas County Judge Clay Jenkins telling her to stop operating her business. Four days later, she received a restraining order from Dallas Judge Eric Moyé telling her to stop operating under penalty of imprisonment and a fine.
When she appeared in front of Moyé on Tuesday, he offered to commute her sentence if she apologized for "being selfish." She refused.
"I have to disagree with you sir, when you say that I'm selfish... I have hair stylists that are going hungry because they'd rather feed their kids. So sir, if you think the law is more important than kids getting fed, then please go ahead with your decision, but I am not going to shut the salon," she said.
When Paxton contacted Moy, accusing the judge of "abuse of discretion" and urging him to drop his sentence and fine against Luther, 12 Dallas County judges issued Paxton a written rebuke telling him not to interfere with a judicial matter.
Paxton subsequently agreed to pay the $7,000 fine levied against Luther and Abbott modified his executive order on Thursday to ensure that no more arrests would occur in its enforcement.
On the same day, the Texas Supreme Court then ordered her release and Luther emerged from jail to a crowd of cheering supporters. During her imprisonment, 2008 Republican vice presidential nominee Sarah Palin stopped by Luther's to take a picture and visit with salon workers.
A GoFundMe campaign for Luther also raised $500,110 before donations were disabled on the crowdfunding campaign page.