Fans Shocked to Realize 'The Golden Girls' and SATC Reboot Actresses Are the Same Age
The recent passing of legendary actress Betty White has rekindled nostalgia for the iconic 1980s sitcom, The Golden Girls.
The series began in 1985 and aired for seven seasons, telling the story of three older women navigating single life in Miami.
Rose Nylund was played by the late White, Rue Mclanahan was cast as Blanche Deveraux, and Bea Arthur starred as Dorothy Zbornak,
The premise is not dissimilar to another popular sitcom, Sex and the City, which follows the adventures of another group of single women, this time in New York.
Three of the original four cast members—Cynthia Nixon, who plays Miranda Hobbes, Charlotte, played by Kristin Davis, and Sarah Jessica Parker, starring as protagonist Carrie—returned to our screens last month.
The trio reprized their roles for And Just Like That, which charts the women's lives in the 21st century, but fans of both shows noticed an interesting link.
TikToker Brownstonedmama, aka Emily Johnson, shared a video pointing out the Golden Girls characters were roughly the same age as Parker, Nixon and Davis.
The clip, which can be seen here, was posted on Monday, and amassed 2.4 million views.
The fan shared the revelation, captioning it: "There are many more comparisons between #goldengirls and #satc #andjustlikethat."
The video shows the 80s cast with their ages superimposed, with Rose, 55, Dorothy, 54 and Blanche, 53, when the show premiered.
"When the Golden Girls premiered the characters were the same age as," the on-screen text says, before cutting to the And Just Like That poster.
It reveals Nixon is 55, Parker is 56—although she's listed as 55 in the TikTok—while Davis is 56, with the TikTok listing her as 54.
"Is this elderly or just middle aged?" asks Johnson.
Johnson, from Brooklyn, told Newsweek: "It's very important that you note that my video was about the characters' ages. The actresses were almost all in their 60s (with the exception of Rue, who was playing close to her own age). Many many people have left comments to this effect."
A big fan of both shows, she continued: "It just sort of occurred to me to look it up this weekend. Maybe because there was so much Betty White (RIP!) content in my world, the Golden Girls were on my brain. And I was home alone sick catching up on And Just Like That—the two worlds merged.
"The hair and styling has so much to do with it! But I think energetically there's another aspect. For so many American women, we are having kids later, which means in our 50s we are still in the midst of a life that women of the Golden Girls era would have been done with. I think that brings with it a need to look like you're still in the mix. Our foot is still very much on the gas!"
Despite the Golden Girls being a few years off the New York cast, over the course of the seven seasons they would have caught up with their fellow actresses.
The ages of Blanche and Dorothy in the pilot are a result of detective work by fans, as the ladies' ages are never explicitly revealed.
Instead viewers pieced together information drip fed in the series to work out Dorothy was roughly 53 in 1985, after her mother, Sophia, lets slip in episode 5, season 3, that she was conceived in 1931.
Blanche went to extreme lengths to cover up her real age from her best friends, but her mother also accidentally reveals her true age, confirming she was 17 in 1949.
The omission, in Season 3 Episode 25, means Blanche would have been around 53 in the pilot as well.
While White's lovable character, Rose, is revealed to be 55 in Season 1, Episode 22, when Dorothy reveals her age.
In real life, the actresses were older than the characters they played, one reason why fans suspect they may appear older than Parker, Nixon and Davis.
The comparisons sparked a debate online, as fans also speculated hair, make-up and clothes were an important factor.
And Johnson shared her own view, saying in general: "And the clothes. Styling is more important than fillers IMO.
"Yes, the actors were older than their characters, which perhaps gave them an older feeling."
Ariella agreed, saying: "The hair and clothing makes a huge difference."
Zainie17 commented: "Wow. How different the 2 generation look why does this one look so much younger?"
Matmicwin said: "Ok but golden girls just dressed and have hair like old women, they still look good for their age."
Jennifer reckoned: "It was the hair style back then—it made them look so much older."
Josh P. Jackson pointed out: "Definitely middle-aged, far from elderly! They are also the same age as Jay Z, Halle Berry, Sandra Bullock, Will Smith, Faith Hill, Salma Hayek, etc."
KJB added: "I saw an ad from the 80s with women in their 30s who looked way older. Hair and makeup makes a huge difference!"
While Marcus joked: "Now I don't feel guilty for having a crush on Blanche when I was younger."
White passed away on December 31, just a few weeks before of her 100th birthday on January 17.
The 10-episode mini series of And Just Like That is running from December 9 until February 3.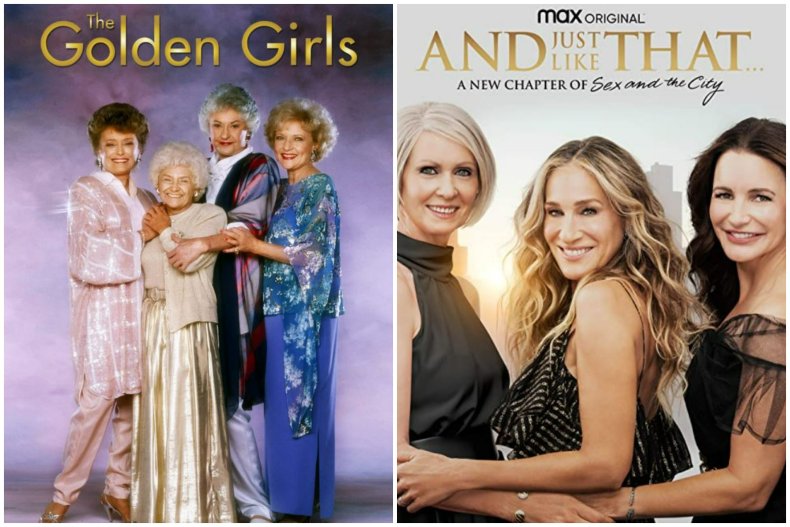 Update 6/1/22, 7:11 a.m. ET: This article was updated with comment and video from Johnson.