Watch as Toddler Helps Golden Retriever Master Walking Down Stairs
A golden retriever and toddler duo has gone viral for trying to master the staircase together, one step at a time.
Shep the golden retriever was filmed trying to tackle the stairs with the help of his human sister, but even while watching the toddler go down each step, Shep still looked rather nervous.
The viral video was posted on the @lurbsurban TikTok account on February 6 and it quickly generated plenty of attention online. The video now has over 2.6 million views, and more than 177,000 likes, as TikTok users adore seeing the duo learn together.
The adorable video was captioned: "Someone was quite the slowpoke this morning," referring to Shep's reluctance to brave the stairs.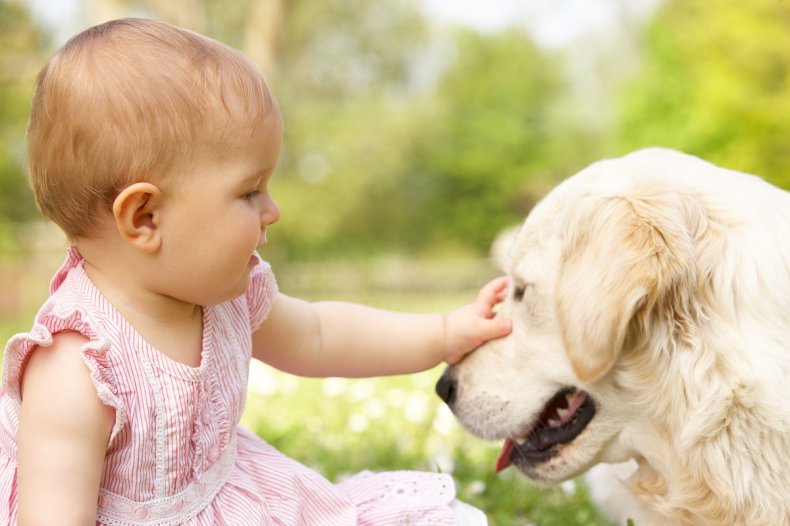 Although Shep is trying his best to get better at descending stairs, there are still things that his owner can do to help him. The website PetMD suggests a few tips for dog owners to help their pets learn how to go up and down the stairs in their home.
PetMD suggests always supervising the dog as they use the staircase to reassure them and be there in case of any difficulties. Good visibility on the stairs is another important factor, as well as having a stair runner if the stairs are hardwood floors.
Thankfully, Shep isn't deterred by the stairs and continues to attempt them each morning. The TikTok account regularly shares new videos of him, as followers have grown accustomed to seeing the dog walking down the stairs at a sideways angle, rather than facing them head on.
"Kids interacting with dogs as they grow up can be an incredible experience and opportunity – depending on the dog that is," dog trainer Leigh Siegfried of Opportunity Barks told Newsweek. "But these two are clearly buddies. Young kids and young dogs can grow up together and have such a tight, intimate bond. That's a lifetime experience that I wish for everyone."
If a dog and child are growing up together and learn things as a pair, it's still important for the parents to be responsible for both and make sure that the child and dog are always comfortable.
"Sometimes when people have kids and dogs together, the dog will be doing its thing, and the kid can just do whatever they want to do to the dog," Siegfried said. "That's not how I would love for people to think about it. It's about reading the dog's body language and making sure that they're advocated for and feel safe.
"Then also, the parent has to be in a role where they're willing to wrangle and guide the child. There still needs to be a parental figure towing the line and advocating for both. What I'll say above all is, yes, it can be incredible to include young children and dogs in play, but it's important to also give the dog a child-free zone at times, too."
Much like humans often need their own space, dogs need theirs. So while dogs and kids might be inseparable for a lot of time, sometimes it's best to let dogs have a few moments to themselves.
Shep's mastering of the stairs has been a huge hit with TikTok users, as the video has hundreds of adoring comments.
One person commented on the video: "That's so precious! The patience he has for her," and another person wrote: "cutest dog and girl on the internet."
Do you have funny and adorable videos or pictures of your pet you want to share? Send them to life@newsweek.com with some details about your best friend and they could appear in our Pet of the Week lineup.