Golden Retriever Pup Proves Why She's the 'Best Study Buddy' for Students
Being a student can be challenging, especially when an exam or assignment deadline is approaching. But for this group of management students, their stress has been relieved by Cookie, the golden retriever.
In a viral TikTok clip shared to @she.is.one.smart.cookie—a page dedicated to the dog—Cookie, 1, can be seen lapping up the love while her owner's friend strokes her with one hand and uses her laptop with the other.
Newsweek spoke to her owner, Francisca Guedes, 23, about the clip that has racked up 470,400 views and 101,600 likes since it was shared on March 5.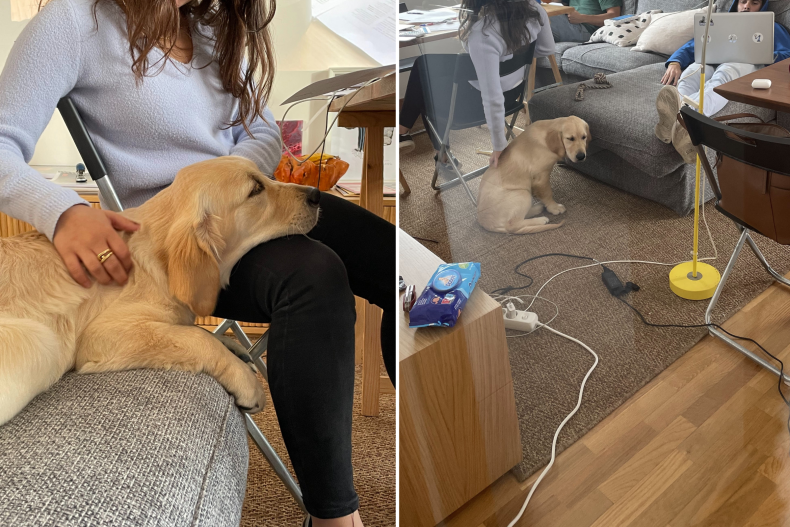 Guedes, from Portugal, said: "In March of 2022, on a whim, we decided to get Cookie and our family has never felt more complete.
"My friends and I are students in college. In June, we had our big exam season. In that context, we created a group of close friends and decided we were going to study together every day for that month. Cookie was only 4 months old, so we couldn't leave her alone for long periods so I started to bring her to the study sessions.
"After a while, she stopped being my puppy and became the puppy of the group. We shared many special moments with her, like the one showcased in the video.
"She was and is the calmest and sweetest puppy so she always makes everyone's day better."
Previously a study revealed dogs can improve a student's mood and reduce anxiety. In 2019, 82 students who were attending the University of Warwick, U.K., were split into two groups.
One group played with a 2-year-old golden retriever for 10 minutes and the other group watched a montage of cute clips of golden retrievers for the same amount of time.
After, they were asked to fill out a form to help researchers determine if their anxiety and stress levels improved. The study found that there was a significant positive effect on the students who had a physical interaction with the dog.
TikTokers couldn't get enough of the adorable video and many wrote that they wished they had a furry companion to help them get through their studies too.
One user said: "She understands the assignment!!"
"I got my golden in my 3rd year and now I am in my 5th and final year. They are truly the best study buddy," said another.
Another user referred to the breed as a "golden reliever."
"I wouldn't get a single thing done, even if the good doggo is sitting there peacefully," said another person.
Do you have funny and adorable videos or pictures of your pet you want to share? We want to see the best ones! Send them in to life@newsweek.com and they could appear on our site.