Golden Retriever Trapped in Sinkhole for Hours Rescued by Firefighters
Firefighters were called out to rescue a golden retriever who had been missing for around 24 hours, after she fell in a sinkhole.
Crew from the Streator Fire Department, in Illinois, headed to Marilla Park after a man walking his own dog spotted something amiss.
The man's pooch alerted him to the fellow canine, trapped around five feet below the cold ground, which was covered in snow.
The retriever, called Macy, had been missing for hours before the rescue on Saturday morning, a press release on Firehouse.com revealed.
Firefighters, including Fire Chief Fred McClellan, headed to the park to rescue the dog, which proved harder than first anticipated.
A video shared to the Streator Fire Department's Facebook page shows Chief McClellen emerging from the hole, after the dog wasn't able to climb out on the ladder they had maneuvered in.
The team secured webbing around Macy and hauled up the heavy pup, but Chief McClellen nearly fell in himself as the ground began to give way around the mouth of the hole.
"If you can see me falling. It was because the ground started to break on my one-foot underneath, so I stepped across the hole to grab and then it collapsed again.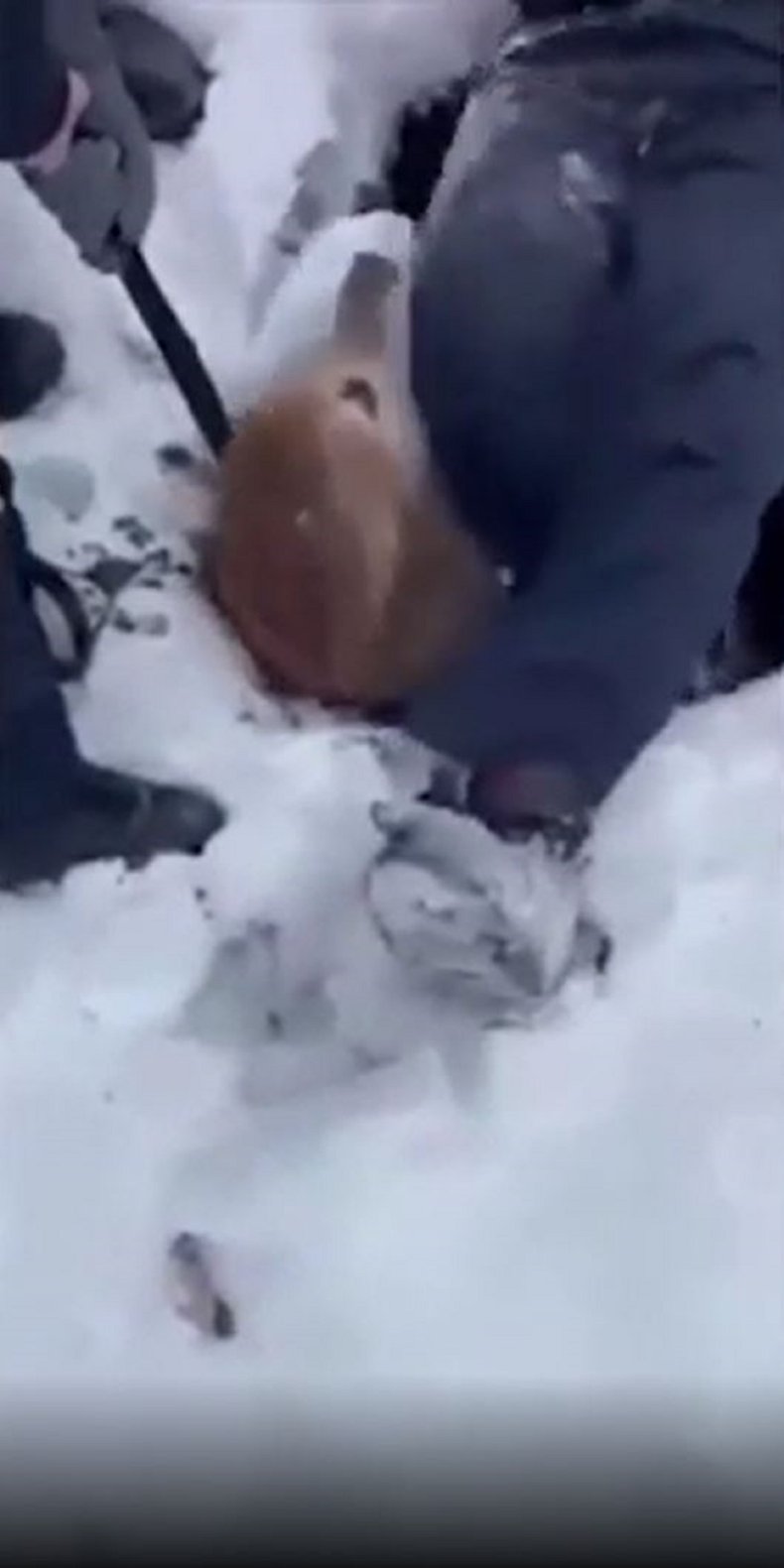 "Luckily my engineer Tim Redd was able to finish pulling the dog out safely," Firehouse.com quoted.
Heart of Illinois ABC shared more details about the rescue, as they quoted Chief McClellen explaining: "This dog had fell into a five-foot hole and who has been missing for about 24 hours, from what I understand."
Dogs are America's favorite pet, with 69 million households home to a mutt, followed by 45.3 million who have a cat, Statista reported for the years 2021/22.
But according to the American Humane Society, around 10 million pets are lost across the US each year.
A release from 2019 said: "Tragically, only 15 percent of dogs and two percent of cats in shelters without ID tags or microchips are reunited with their owners."
Macy was understandably reeling from her ordeal, but McClellen claimed she calmed down once being reunited with the owner.
"The owner got very muddy from the dog," he added, according to Heart of Illinois ABC.

The Facebook post, shared on Saturday, was captioned: "This morning the Streator Fire Department received a call of a missing dog stuck in a sinkhole. Streator Fire Fighters responded and were able to help Macy out safely.#AFFIatWork."
The clip was seen 18,000 times, as people praised the work of the firefighters, as Jane Christie wrote: "Thank you for saving Humans and animals."
Patty Speaks commented: "Way to go SFD sinkholes are scary!! Wow great job glad dog will be ok! Pray no child or other pet has that happen!"
Lois Hoffman said: "Wonderful to know such kind-hearted men are out there! you are heroes!"
While Chris Brown Benckendorf wrote: "Phenomenal job by Streator Fire Department and Streator Animal Control! Sink holes are a real thing around the Streator area and may be a good time to reacquaint the public of the hazard."
Meanwhile, Streator Animal Control, who were credited as the original videographers, said in their own caption: "Kudos Streator Fire Department and to the doggo that alerted that Macy was in the hole!
"Again please stay away from marilla today until they get it secure. Streator is built on mines... please USE A LEASH."
Streator Animal Control shared updates on Macy after she was returned safely home.
Alongside a snap of the muddy dog in a car, they wrote: "Macy is HOME!!! She fell into a sink hole at Marilla and the fire department just rescued her! Kudos to them. Please do not go down there until the get the area secure."
And they captioned another photo of her: "Macy is HOME," as she happily ran across a lawn.
Newsweek reached out to Streator Animal Control for comment.