GOP Candidate Jarrin Jackson Shoots Mock Dominion Voting Machine in Video
One person running for office in Oklahoma made a video in which he shot up an old printer because he claimed it was a Dominion voting machine.
Jarrin Jackson, a Republican running in Oklahoma's District 2 state senate race, posted a video on Rumble last week that shows him firing several shots into an old printer, which has "Dominion" written on it, equating it to a Dominion voting machine. This comes as Dominion is fighting in court for similar accusations.
In the video, Jackson, who is "patrolling the mean pastures of the homestead" on a John Deere mower as the theme song to the show Cops plays in the background, comes across the voting machine, which is laying in the middle of the field.
In the video, after coming upon the scene, Jackson claims that those machines are "how they stole the 2020 election."
He continues to look into the machine further and while asking himself, "Who owns this?" He lifts the lid of the machine and reveals, written in black marker, "Property of: Godless Commies." He also uncovers other messages written on the machine such as "Don't Believe the Gospel of Jesus Christ" and "I'm not legal" and "I'm coming for your children."
Jackson pulls out one of the trays on the printer and written on a piece of paper is "Burn the Bible." The second piece of paper reveals a list "1. Steal Elections 2. Destroy America 3. New World Order" also written in black marker.
After several seconds, Jackson claims he's seen enough and will have to call in the scene in order to see what "the Constitution says about this." He then goes on to say that most Dominion voting machines are not that truthful, choosing instead to hide behind "politicians, mainstream media and stuff."
In the video, he also says he's surprised to make such a discovery on his property. A few moments later, after Jackson says that he "just got off the horn with the Constitution," he claims that the voting machine represents "major threats to my life, me and my way of life, my family, my future."
He also states in the video that the printer, acting as a stand-in for a Dominion voting machine, has "a lot of everything wrong with America wrapped up there." He goes on to say that after consulting with the Constitution, he's going to "dispense with some justice" and "take care of it real fast" and then proceeds to shoot the printer a number of times.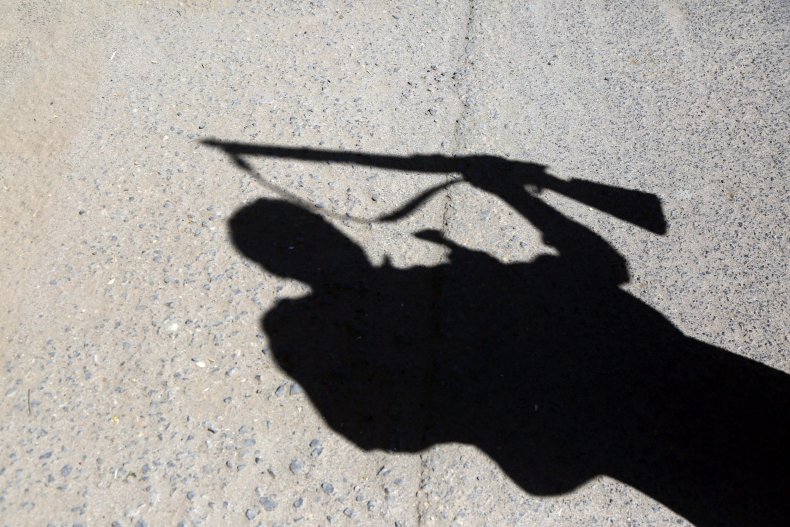 On his campaign website, Jackson states he's running for office to "defend Oklahomans against further communist infiltration, and to change our path from godlessness to humility and hard work."
Currently, Dominion Voting Systems is suing MyPillow CEO Mike Lindell for $1.3 billion in a defamation lawsuit for claiming that the machines were used in order to help commit voter fraud during the 2020 presidential election. Dominion has also filed a suit against pro-Trump lawyer Sidney Powell for defamation.
Late last year, a judge refused to throw out Fox News' motion to have a billion-dollar defamation lawsuit from Dominion Voting Systems against the network thrown out.
In response to Newsweek, a Dominion spokesperson called election misinformation dangerous.
"Election misinformation is dangerous on its own, but violent demonstrations directly endanger our employees and customers who have been targets of ongoing harassment and threats," a Dominion spokesperson said.
Newsweek reached out to Jarrin Jackson's campaign and Dominion for comment but did not hear back before publication.